Claim Your Inch of the Earth This Earth Day at MyInchofTheEarth.com to Support America's National Parks
Social Enterprise, TerraYebo, Launches MyInchofTheEarth.com, the First Global, Geocentric Social Network; Announces Partnership With National Park Foundation
(April 19, 2012)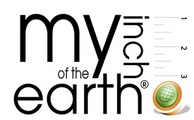 MADISON HEIGHTS, MI -- (Marketwire) -- 04/19/12 -- TerraYebo, Inc. has launched MyInchofTheEarth.com, the first patent-pending technology allowing people to claim any virtual piece of the earth or ocean while supporting worldwide causes and nonprofit organizations. In recognition of Earth Day (April 22) and National Park Week (April 21-29), people can use MyInchofTheEarth.com to claim their virtual square inch of America's National Parks, with proceeds supporting the National Park Foundation (NPF), the official charity of America's national parks. Through its works, NPF is dedicated to raising private funds that directly aid, support and enrich the country's nearly 400 national parks and their programs.
Through MyInchofTheEarth.com, users can virtually own real-world locations, and post a picture and story to help explain why the place is so important to them. Users can also create a memorial or give the claimed inch as a gift. Each square inch of America's national parks is available to claim for a donation of $1 a month; paid annually. The service allows users to share their exclusive inches and posts across more than 300 other social media options. Each inch purchased is authenticated and rewarded with a personalized GoodDEED™ for the selected latitude/longitude coordinates.
"On Earth Day, what better way to contribute to conservation than by supporting our national parks," stated Michele Favoretto, CEO of TerraYebo. "Did your family visit Yellowstone every year? Did you propose at Arches? Was your first climb at Grand Teton? MyInchofTheEarth.com is the only social network to ask people, 'What is your favorite place on earth?' and then gives them the ability to virtually claim that spot, preserve their memories online, and contribute to global good and preservation. Our relationship with the National Park Foundation is one that we hope will inspire people to give back in a fun, affordable and social way."
Favoretto added, "I have worked with nonprofits for 20 years and have seen them struggle to raise funds. MyInchofTheEarth.com is an effective way for any nonprofit organization to reach the next generation of donors who are social, tech savvy and want to have a voice. The rise of social media has paved the way for solutions like MyInchofTheEarth.com to help people with common interests and causes connect and influence positive change. We are working with many nonprofit organizations that are developing creative ways to use our technology and change the world one inch at a time."
MyInchofTheEarth.com is a patent-pending web platform that helps nonprofits to launch and manage campaigns that increase donors and generate annuity-based revenues. The software is free for nonprofit organizations at start-up and to use, and includes analytic tools to help the organizations support their donor bases. TerraYebo also provides its customers with brand promotion across MyInchofTheEarth.com. Charities interested in using MyInchofTheEarth.com for their fundraising campaigns can learn more at www.MyInchofTheEarth.com or by contacting 248.677.5581.
About TerraYebo
TerraYebo, Inc. is a Michigan-based technology company and social enterprise, creating web and mobile solutions designed to generate user interest, educational insights and connect people to global causes and preservation organizations. My Inch of The Earth® is a patent-pending web application that connects people around common interests and converts the sharing of everyday life experiences into social acts for global good. For more information, visit www.TerraYebo.com or www.MyInchofTheEarth.com.
Add to Digg Bookmark with del.icio.us Add to Newsvine
Media Contact:
Kevin Wilson
Email Contact
513-898-1008


Copyright @ Marketwire
Page: 1
Related Keywords:
social media, social network, nonprofit, social enterprise, national parks, earth day, charity, fundraising, Marketwire, Inc., , Internet Technology, Family, Other,
---