Cistera Networks Partners With Desktop Alert to Extend Cisco Alerting Integration Capabilities to the US Federal Government Worldwide
(July 19, 2010)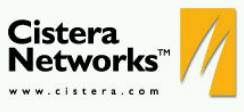 PLANO, TX -- (Marketwire) -- 07/19/10 -- Cistera Networks® (OTCBB: CNWT), a leading provider of enterprise application platforms and engines for unified communications, announces the partnership with Desktop Alert Inc. to enhance Cisco unified communications (UC) integration capabilities for the Federal Government and Healthcare markets.
Event Alerting and Notification (EAN) is now a critical must have component of communication platforms for any organization that has a public safety or defense mandate. From education, healthcare to government, an effective real-time preparedness and response strategy is key. Desktop Alert Inc. and Cistera Networks combined together offer the most complete EAN solution for Cisco UC infrastructure available on the market today.
"With over 700 Cisco UC customers using the award winning Cistera Convergence Server, Cistera is one of Cisco's largest developer partners worldwide," says Greg Royal, CEO and Founder of Cistera Networks. "Cistera recognizes Desktop Alert Inc. as a worldwide leader in the development, marketing and sales of mass notification systems to the U.S. Government, U.S. Military and commercial markets. The Desktop Alert Notification Platform together with Cistera enhances the capability of Cisco to deliver a comprehensive notification solution. Now there is no device or uniformed professional that either platform cannot touch. From desktops, to Land Mobile Radio (LMR), to IP phones, to Zone Audio Paging Systems and mobile devices such as iPhone and Android, the combined Cistera/Desktop Alert solution is the only truly comprehensive total mass notification solution on the market today," Royal added.
"As one of Cisco's largest developer partner worldwide, we're pleased to be partners with Cistera. Cistera's worldwide proven experience with Cisco's open platform for safety and security integrates perfectly with our mass notification platform and enables Desktop Alert to continue its leadership role with state-of-the-art IP-Based emergency preparation and response technologies," said Howard Ryan, CEO and Founder for Desktop Alert Inc.
Cistera and Desktop Alert are both compliant with DoD security standards, replete with Air Force and U.S. Army enterprise-level certifications and share a number of customers including the US Air Force, Department of Defense, National Guard, US Army, the Multi-National Forces in IRAQ among many others.
About Cistera Networks, Inc.
Cistera Networks is a leading provider of enterprise application communications platforms and services. The company blends powerful application infrastructure with industry-specific business processes, to deliver the benefits of voice, video and data convergence to the user. Cistera's industry-leading platform delivers the most reliable, scalable and secure application services for IP-based network environments. Its broad portfolio of application services enables users to improve customer service and satisfaction, increase productivity and collaboration, improve responsiveness to critical incidents and to provide a safer environment. For more information, please see http://www.cistera.com
About Desktop Alert Inc.
For large-scale enterprise-level alert system deployments, Desktop Alert provides U.S. Government and Military Agencies with the fastest alert delivery platform available in the marketplace with certifications, credentials and upwards of five years of sustained performance for the U.S. Air Force and The U.S. Army and numerous other governmental level agencies. Worldwide U.S. Military organizations such as The United States National Guard, The United States Air Force Academy, The United States Military Academy at West Point, Multi-National Forces in IRAQ, The U.S. Air Force, and The U.S. Army now utilize the DTA mass notification platform daily for their organizations emergency communication requirements. Desktop Alert can contact thousands of computer users at their desktop and require them to click to confirm receipt of the message flashed on their screen. Those not verified can then be listed on a report and/or sent as a "Target Package" to be automatically contacted by other means such as email, SMS, phone calls and other devices. Please see http://www.desktopalert.net.
This release may be deemed to contain forward-looking statements that are subject to the safe harbor provisions of the Private Litigation Reform Act of 1995. These forward-looking statements include, among other things, statements regarding future events and the future financial performance of Cistera Networks that involve risks and uncertainties. Readers are cautioned that these forward-looking statements are only predictions and may differ materially from actual future events or results. Readers are referred to the documents filed by Cistera Networks with the SEC, specifically the most recent reports on Form 10-K and 10-Q, each as it may be amended from time to time, which identify important risk factors that could cause actual results to differ from those contained in the forward-looking statements.
Media and Investor Contact:
Cistera Networks Inc.
972-381-4699 x75003
Email Contact


Copyright @ Marketwire
Page: 1
Related Keywords:
Cistera Networks, Inc., Sales,Marketing,Sales & Marketing,Education,Productivity Applications,Security,Internet,Business Issues,Security,Sales,Sales,USA,Iraq,Marketwire, Inc.,Apple Computer,healthcare,Financial,Business,Military,Email,iraq,Other,
---