Cisco Introduces New Linksys Smart Wi-Fi Routers With App Enabled Capabilities to Deliver New Home Experiences
Cisco Connect Cloud Software Simplifies the Next-Generation Home Network
(April 05, 2012)
SAN JOSE, CA -- (Marketwire) -- 04/05/12 -- Cisco (NASDAQ: CSCO) today unveiled a new line of Linksys® Smart Wi-Fi Routers with app enabled capabilities for consumers to power and enjoy their connected homes of today and tomorrow. The three new Linksys Smart Wi-Fi Routers offer exceptional wireless performance and maximum throughput, as well as support for Cisco Connect™ Cloud, the next generation of Cisco Connect software, which provides simple anytime, anywhere management of multiple home networks. Cisco also announced it is working with top device manufacturers to simplify their networked products, (such as TVs, entertainment devices and home appliances) enabling new consumer experiences in the future.
"The proliferation of wireless devices and the explosion of video streaming have redefined the importance of the home network. Today's connected consumer has high expectations for reliability, simplicity, and software and apps that grow with them over time," said Brett Wingo, vice president and general manager, Cisco Home Networking. "Our new Linksys Smart Wi-Fi Routers are game-changing products that put intelligence into the home network so consumers have a platform that makes it easy to manage and optimize their devices, and enjoy apps that deliver great new experiences."
The new Linksys Smart Wi-Fi Routers (the EA Series: EA4500, EA3500 and EA2700) deliver the latest home Wi-Fi technology and offer a range of prices and performance for active online homes -- easily handling everything from streaming HD video and multiplayer gaming to downloading large files, adding storage or printers, and connecting multiple devices. These advanced wireless capabilities are timely considering that globally there will be 15 billion networked devices in 2015, up from 7 billion in 2010.* Home networks will need to support an increasing number of devices added to the home, the bandwidth required to run all the devices, and the ability to easily and more securely add and manage these devices.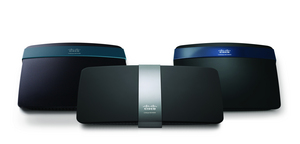 Software intelligence in the home network is increasingly critical to enabling a new category of apps for new home experiences. The new Linksys EA-Series is now app enabled, to provide consumers with all-new, anytime and anywhere experiences and solutions in areas such as home control, entertainment and protection.
New Cisco Connect Cloud Extends Home Networking Options
Cisco Connect is the highly acclaimed software that guides consumers through simple setup and management of their Linksys E-Series and X-Series home routers. Cisco Connect Express is the company's first mobile app providing home network management from smart phones and tablets while on the home network. The next generation of Cisco Connect software, called Cisco Connect Cloud, works with new Linksys EA-Series products and enhances the users' experience by giving them anytime, anywhere access to multiple home networks, from their smart mobile device, tablet app or web browser. Users can give guests Internet access, set parental controls, and add devices to their network from anywhere at any time through Cisco Connect Cloud's easy-to-use password-protected site. New apps coming from Cisco and partners will deliver additional capabilities for connected devices, so that consumers can benefit from improved home network experiences right away and for years to come.
Partners See Home Network Opportunity
Cisco is currently working with Whirlpool and more than two dozen other industry-leading companies, app developers and service providers who view the home network as a new frontier for providing innovative solutions for consumers.
"We are collaborating with Cisco to create compelling consumer solutions in the smart grid and connected home space," said Warwick Stirling, Global director of Energy and sustainability for Whirlpool. "The next generation of Cisco home Smart Wi-Fi Routers together with our smart appliances will allow consumers to effortlessly control their devices in or away from their home."
"We are fortunate to have high demand from top-tier partners in all segments of technology and business that share our vision for a simple connected home enabled by the network. Cisco is known worldwide for working with partners to deliver great experiences to our mutual customers, and these new Linksys products expand those opportunities into the home," Wingo added.
Linksys Smart Wi-Fi Routers Product Info
---------------------------------------------------------------------------- EA-Series Product Model Key Features Ideal for MSRP Price ---------------------------------------------------------------------------- Linksys EA4500 EA4500 -- Wireless-N -- Large, multi-room homes $199 App Enabled Dual- Dual-Band (Up to and home theaters Band N900 Router 900 Mpbs**) -- Faster HD video with Gigabit and -- App Enabled streaming on Tablets, TVs USB -- 4 Gigabit and mobile devices Ports -- Connecting multiple -- USB Port devices -- DNLA Media -- Adding storage, Server printers, or other devices -- Basic Parental -- Adding apps via Cisco Controls Connect Cloud -- Guest Access -- IPV6 ---------------------------------------------------------------------------- Linksys EA3500 EA3500 -- Wireless-N -- Active online households $139 App Enabled Dual- Dual-Band (Up to and home theaters Band N750 Router 750 Mpbs**) -- Streaming HD video and with Gigabit and -- App Enabled music plus multiplayer USB -- 4 Gigabit gaming Ports -- Connecting multiple -- USB Port devices -- Basic Parental -- Adding storage, Controls printers, or other devices -- Guest Access -- Adding apps via Cisco -- IPV6 Connect Cloud ---------------------------------------------------------------------------- Linksys EA2700 EA2700 -- Wireless-N -- Networking larger $99 App Enabled N600 Dual-Band (Up to households and home offices Dual-Band Router 600 Mpbs**) -- Surfing the Web, with Gigabit -- App Enabled emailing and printing -- 4 Gigabit wirelessly Ports -- Connecting multiple -- Basic Parental devices Controls -- Streaming multimedia and -- Guest Access gaming -- IPV6 -- Adding apps via Cisco Connect Cloud ----------------------------------------------------------------------------
The Linksys EA Series is now available at major retailers including Amazon.com, Best Buy, New Egg, Target and Walmart, as well as the Linksys online store.
The new Cisco Connect Cloud Web-based software is planned for availability worldwide at no additional cost in June. New apps and partner solutions that take advantage of the Cisco home network platform are also planned for availability in June, with details to be announced at that time.
About Cisco
Cisco (NASDAQ: CSCO) is the worldwide leader in networking that transforms how people connect, communicate and collaborate. Cisco's vision for the consumer is to transform the home network into a solutions and services platform that delivers great customer experiences. Further information about Cisco and its full line of consumer products including Linksys can be found at www.linksys.com, and www.cisco.com/consumer.
Follow Us:
*Cisco Visual Networking Index
**The maximum performance for wireless is derived from IEEE Standard 802.11 specifications. Actual performance can vary, and might result in lower wireless network capacity, data throughput rate, range and coverage. Performance depends on many factors, conditions and variables, including distance from the access point, volume of network traffic, environment building materials and construction, operating system used, mix of wireless products used, interference and other adverse conditions. To achieve up to 900 Mbps, routers must be paired with 3X3 adapters/and or computers in both the 2.4 and 5.0 GHz band such that the maximum performance will be up to 450 Mbps for each GHz band.
Cisco, the Cisco logo and Linksys are trademarks or registered trademarks of Cisco and/or its affiliates in the U.S. and other countries. A listing of Cisco's trademarks can be found at www.cisco.com/go/trademarks. Third-party trademarks mentioned are the property of their respective owners. The use of the word partner does not imply a partnership relationship between Cisco and any other company.
RSS Feed for Cisco: http://newsroom.cisco.com/rss-feeds
Image Available: http://www2.marketwire.com/mw/frame_mw?attachid=1940201

Add to Digg Bookmark with del.icio.us Add to Newsvine
Press Contacts:
Karen Sohl
Cisco
949 823-1578
Mobile: 949 302-3470
ksohl@cisco.com

Rich Mullikin
CommStrat Public Relations
925 779-9115
Mobile: 925 354-7444
rich@commstrat.com

Analyst Contacts
Analyst Relations
Cisco
Vince Vittore
vvittore@cisco.com
847 678-7604

Investor Relations
Cisco
Carol Villazon
carolv@cisco.com
408 527 6538


Copyright @ Marketwire
Page: 1
Related Keywords:
Cisco, Linksys, Home Network, Wireless Router, Smart Router, EA2700, EA3500, EA4500, Router, , Home, Internet, Networking, Appliances, Digital Media Software, Computers/Home Office, WiFi, Movies & Music, Web, Tablets, Networks, Hard Drives & Storage, Handheld, Home Networks, WiFi Routers, Printers, wifi standards, Music, Video, browser, Storage, Networking, Computer Technology, Internet, Services, Software, Misc, Networks, Server Hardware, Server Computers, Routers, Mobile Devices, Management, Broadcast, Management, Streaming, Computers/Peripherals, Internet/Web, Prosumer/Consumer, Business, Input/Output, Network (LAN), WiFi/Wireless, Internet, Web, Gaming, Internet Media, OS (Operating System), streaming, USA, Marketwire, , Appliances, Theaters, Music, Internet Technology, Business, Entertainment, Internet, Other,
---