Cisco, Cognitec, Keyscan, Pelco, Videx and Wave Systems Discuss Security Solutions in SecurityStockWatch.com Thought Leadership Interviews
(May 13, 2012)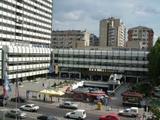 RYE BROOK, NY -- (Marketwire) -- 05/14/12 --

CISCO
Dr. Guido Jouret, Vice President and general manager of Cisco's Emerging Technologies Group, told us, "We are committed to accelerating the physical security industry toward all-IP solutions because we believe this creates greater efficiency and flexibility for customers. We are also committed to using our expertise in networking and virtualization to automate the deployment of physical security solutions. This is the innovation the industry has been waiting for, and we intend to lead the way."
For the complete interview: http://www.securitystockwatch.com/Interviews/in_Boardroom_cisco_GJ.html
For more information: http://newsroom.cisco.com/press-release-content?type=webcontent&articleId=754184
Cisco Videos
Guido Jouret explains what medianets (http://www.youtube.com/watch?v=gJE3QEUm2h4) are and how companies can deploy video with a media architecture.
Guido Jouret discusses Cisco Connected Physical Security (http://www.youtube.com/watch?v=CPqpAHfBHCQ&feature=related) solutions.
The Cisco Serbia team talks about the Serbian Postal Bank's installation of video surveillance from Cisco (http://www.youtube.com/watch?v=4_uiABWrcdo).
********
COGNITEC
Mr. Alfredo Herrera Hernandez, Chief Executive Officer, Cognitec Systems, told us, "Face recognition applications are moving from analyzing still images to recognizing faces in real-time via video cameras. These applications bring new challenges to recognition engines. Video cameras usually produce images with lower resolution. Inside buildings and venues, people move quickly and in groups, they rarely look directly into the camera, or their faces are hidden by hats, objects, and other people. Therefore, we are concentrating our algorithm development on low-quality facial images, with faces turned sideways, up and down, or partially hidden, and on the speed of our recognition engine. Our latest algorithm B6 shows significant improvements in these areas."
For the complete interview: http://www.securitystockwatch.com/Interviews/in_Boardroom_COGNITEC_AHH.html
For more information: http://www.cognitec.com
Cognitec Company Video: http://www.cognitec-systems.de/fileadmin/cognitec/media/Mediaclips/Cognitec_Streaming.wmv
Cognitec Company Brochure: http://www.cognitec-systems.de/fileadmin/cognitec/media/company/Cognitec-Brochure.pdf
********
PELCO
Mr. Dean Meyer, President, Pelco by Schneider Electric, told us, "With a long and prestigious history offering high-quality, innovative products and exceptional customer service, Pelco by Schneider Electric has become the most sought-after brand in the video security industry. Pelco by Schneider Electric is a global leader in the design, development and manufacture of video security systems ideal for any industry -- the most respected offering of camera domes and enclosures, megapixel IP and HD cameras, video management systems, next-generation DVRs / HVRs, integrated cameras, positioning systems, thermal imaging for security, and much more."
For the complete interview: http://www.securitystockwatch.com/Interviews/in_Boardroom_pelco_DM.html
(PARIS: SCHN)
********
KEYSCAN ACCESS CONTROL SYSTEMS
Mr. Steve Dentinger, Director of Sales and Marketing, Keyscan Access Control Systems, told us, "Many end-users are guarding their capital expenditures and with staffing levels at an all time low employers are seeking ways to optimize staff productivity and stay focused on the core competencies of the business. Centrally Managed Access Control addresses many of the concerns of business owners today; they don't need an access control administrator, they don't need an onsite computer, they don't need to manage/maintain the access control database, they don't need to perform software updates -- all this and if they desire, they can lock/unlock doors, run reports, add or delete access permissions all via an internet connection using their smartphone, iPad, or laptop without any special software."
For the complete interview: http://www.securitystockwatch.com/Interviews/in_Boardroom_Keyscan.html
For the Keyscan Corporate Video: http://www.keyscan.ca/video.html
For Keyscan Case Studies: http://www.keyscan.ca/casestudies.html
For more information: www.Keyscan.ca
********
Videx CyberLock
The CyberLock (http://www.cyberlock.com/utility_security.html) family of access control products by Videx allows users to track and control access throughout a facility. The audit trail provided by the lock and key helps water utilities meet Environmental Protection Agency (EPA) security guidelines aimed at protecting watersheds and sources of drinking water.
The CyberLock system includes electronic locks and keys that enable water utilities to control and monitor access to entry gates, chemical feed areas, watersheds, water wells, and other water sources. The electronic locks and keys record openings including exceptions such as unauthorized attempts to gain entry. The detailed audit reports of each person's key activity and lock openings demonstrates a water utility's due diligence in securing their physical assets. The system's email alerts keep management updated so informed decisions can be made when security issues arise.
James Price, Technical Support Professional for the Collier County Water Department (http://www.videx.com/AC_PDFs/Case%20Studies/CollierCounty.pdf), oversees security processes and special projects, implemented CyberLock in order to meet EPA regulations. Price states, "With CyberLock, we can provide substantial proof to the Health Department and EPA that we are diligent in our efforts to secure our facilities and keep the public water supply safe."
Videx, Inc. will be showcasing the CyberLock system of electromechanical cylinders, smart padlocks, and programmable keys at the AWWA show in Dallas, Texas, June 10-13, booth #1234.
For the complete interview with Mr. James McGowan, V.P. of Sales and Marketing, Videx: http://www.securitystockwatch.com/Interviews/in_Boardroom_VIDEX.html
For CyberLock News & Events: http://www.cyberlock.com/news_events.html
For the CyberLock Solutions Center: http://www.cyberlock.com/solutions_center.html
For more information: http://www.cyberlock.com
********
WAVE SYSTEMS
Wave recently reported Q1 revenues of $7M. "Wave has made significant strides to date in 2012, extending our reach into exciting new markets like mobile, expanding our channel partnerships and increasing the number and quality of customer prospects in our sales pipeline on a global basis," commented Wave CEO Steven Sprague. "We've long espoused the benefits of trusted computing and this year, more than ever, we're seeing interest in the market. The National Institute of Standards and Technology (NIST) has published standards that call for industry standard hardware security to help thwart today's most serious cyber threats. Microsoft, too, has stepped up awareness with its new Windows 8 operating system that builds upon the advanced security features pioneered by Wave and the Trusted Computing Group."
Wave also recently announced scrambls (https://scrambls.com/) launched as a free service empowering users to control and protect the messages they post to the web. Scrambls works on all of the most popular social media sites by means of a simple, yet secure web browser plug-in. It gives everyone the ability to share private communications online, and establishes personal control of every tweet, blog post or status update.
To see what scrambld messages look like, view the short startup video here: http://www.youtube.com/watch?v=poGlcHmpBew&feature=channel&list=UL.
For complete details about these announcements: http://www.wave.com/news/
For Wave Webcasts and Presentations: http://www.wave.com/news/webcasts.asp
For the Wave Blog: http://blog.wave.com/
For our exclusive interview with Mr. Steven Sprague, CEO and President of Wave Systems: http://www.securitystockwatch.com/Interviews/Conversation_WAVE_trusted.html
See Wave's "White Paper" Network Security: How to Defend an Infinitely Expanding Frontier: http://www.wave.com/collateral/03-000273_TPM-SED_whitepaper.pdf
For more information: www.wave.com (NASDAQ: WAVX).
********
Mr. Joseph E. Hauhn, Chairman - Security Industry Association
Mr. Joseph E. Hauhn, Chief Technology Officer and Vice President of Industry Relations, ADT Security Services North America, Chairman - Security Industry Association, told us, "2011 was a year of significant change and progress for the organization. The first annual Security Week was held in New York City in November and included the Securing New Ground conference -- the first since SIA acquired SNG.
"SIA Standards released Roadmap 2.0, a revised standards strategy that focuses on harmonization of industry standardization and specification initiatives. SIA Research launched the SNG Business Intelligence Service, an online portal providing SIA members and others with financial information on the Security Sector.
"The Government Relations department made a significant impact by working to exempt manufacturers from proposed energy-efficiency legislation, which was signed by President Obama in January 2010."
For the complete interview: http://www.securitystockwatch.com/Interviews/in_Boardroom_SIA_JH.html
For more information about the Security Industry Association: http://www.siaonline.org
********
Biodefense Vaccines & Therapeutics Conference
June 5-8, 2012, Almas Temple Club, Washington, DC
Hear from over 50 leading experts from BARDA, CDC, DOD, DTRA, FDA, MIDRP, NIAID, USAMRIID, WRAIR, and other key players in the CBRN community at the 10th Biodefense Vaccines & Therapeutics Conference, June 5-8, as they explore opportunities to speed development of needed MCMs against the public health threat of biodefense and emerging infectious diseases. Get progress-to-date of various MCM initiatives from the PHEMCE Review, how these initiatives are helping to incentivize private sector and academia participation, and what opportunities are being created to drive growth in MCM development for CBRN and emerging infectious disease threats. Visit www.infocastinc.com/biodef for more information.
ASIS International 58th Annual Seminar & Exhibits
September 10-13, 2012 I Philadelphia, Pennsylvania
ASIS 2012 -- DRIVING SECURITY'S FUTURE
www.asis2012.org
More than 20,000 security professionals will head to Philadelphia this September 10-13 for the most exciting, informative, and innovative security event of the year -- ASIS 2012 (http://www.asis2012.org/Pages/Seminar-Home-Page.aspx ). If you are responsible for protecting human, logical, or physical assets for your organization, city, or nation, you can't afford to miss ASIS 2012. It is here that you will discover what's changed, what works, and what's next in the industry.
Best education program in the industry
Unparalleled networking opportunities
Exhibit hall packed with innovative solutions
Register today! www.asis2012.org
*****
NFC Solutions Summit 2012
Smart Secure Mobile Payments and Non-Financial NFC Apps
May 22-24, Hyatt Regency San Francisco Airport, Burlingame, California
www.smartcardalliance.org/nfcsolutions
The Smart Card Alliance and the NFC Forum present the first comprehensive American showcase to cover the state of Near Field Communications technology, developments in new NFC devices and add-ons, the status of the growing NFC ecosystem, the promise of NFC-enabled payments and other popular applications, NFC implementation, and American and international market forecasts.
*****
PSA Security Network
PSA-TEC -- May 14 - 18, 2012 in Westminster, Colorado
www.PSATEC.com
"For over 35 years PSA Security Network has brought you PSA-TEC. This year PSA-TEC offers you hundreds of hours of education and networking, focusing on Business Optimization, Physical Security, IT and Managed Services -- all specific to the physical security community.
"Join us May 14 - 18, 2012 in Westminster, Colorado and get the training you and your staff need to meet everyday challenges and succeed in the security industry.
"On behalf of PSA, we look forward to seeing you in Colorado!"
Bill Bozeman, CPP, CHS
President and CEO
PSA Security Network
Register for PSA-TEC here: http://www.cvent.com/events/psa-tec-2012/event-summary-f2ba1ca43c004a79b01c4e2156183c39.aspx
For our interview with Mr. Bill Bozeman: http://www.securitystockwatch.com/Interviews/in_Boardroom_PSA.html
For more PSA Security Network News: http://blog.buypsa.com/category/press-releases
For the PSA blog: http://blog.buypsa.com/
For more information about PSA Security Network: http://www.buypsa.com/
*****
Security Document World 2012
The Global Hub for Next Generation Citizen & Government ID Solutions
21-23 May 2012, Queen Elizabeth II Conference Centre, London, UK
Following the outstanding success of SDW 2011, which saw a packed exhibition floor and more than 1200 attendees, SDW 2012 will return to the Queen Elizabeth II Conference Centre, London UK on 21-23 May 2012.
The show will continue its focus on advanced security documents, border control, ePasports, eID, registered traveller and for 2012 will have a special focus on document anti-counterfeiting.
With over 85 companies on the exhibition floor, and an exciting two-day conference programme, this event is designed for government officials, company executives and technologists in the ePassport, visa, eID, driving license, registered traveller, law enforcement, digital identity, employee ID, security printing, biometric and smart card industries. Find out more at: www.sdw2012.com
Contact: Mark Lockie at Science Media Partners, Tel: +44 1491 672381,
Email: m.lockie@sciencemediapartners.com, Web: www.sdw2012.com
*****
Please read our Terms of Use, Conditions and Disclaimers ("Terms"): http://www.securitystockwatch.com/Main/Terms_of_Use.html.
By using our website and any information located at www.SecurityStockWatch.com you agree to these "Terms."
Add to Digg Bookmark with del.icio.us Add to Newsvine
Copyright @ Marketwire
Page: 1
Related Keywords:
SecurityStockWatch.com, Computers/Peripherals, Camera, Family, Internet, Computer, Notebook/Laptop, OS (Operating System), Tablets, Education, Family, Digital Media Software, Computers/Home Office, Communications, Web, Tablets, Notebooks, Networks, Security, Handheld, Utilities, Smart Phone, Applications, Security, Family, Training, Research, Video, Images, browser, Blogs/videoblogs, EMail, Social Media, Sales, Applications, Marketing, Sales & Marketing, Education, Security, Networking, Database, Internet, Business Issues, Hardware, Threats, Other, Business Intelligence, Architecture, Security, Social Media, Internet Server Applications, E-mail, IT Management, Law & Regulations, Management, Sales, CEO/CFO, Sales, Post/Production, Management, Director, Internet/Web, Camera/Film, Business, Internet, Web, Email, Social Media, Marketing, Law, PDA/Smartphone, Standards/Initiatives, OS (Operating System), email, Marketwire, Inc., , IT (Information Technology), Networking, Security, Disease, Surgery, Financial, Water Utilities, Environmental Technology, Internet Technology, Medical, Business, Internet, Science, Email, Family, Technologists, Other,
---