Ci&T Completes Mobile Development Project for International Karate Organization
New iKyokushin Social Networking App Unites More Than 12,000,000 Karate Enthusiasts Across the Globe
(December 11, 2011)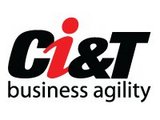 KING OF PRUSSIA, PA -- (Marketwire) -- 12/11/11 -- Ci&T, a technology outsourcing and software product engineering company, today announced that it has successfully completed a mobile development project for the International Karate Organization Kyokushinkaikan (IKO). Connecting more than 12,000,000 worldwide students and fans of Kyokushin kaikan, a stand-up, full contact style of karate that is rooted in a philosophy of self-improvement, discipline and hard training, the resulting iPhone app, iKyokushin, combines social networking, games, training support, shopping and a host of other features, delivered using Ci&T's cloud computing services to ensure consistent availability and reduced infrastructure costs.
When the IKO was seeking a development partner to launch a new digital communication and business platform for its global members, it was imperative that this partner have extensive experience in building and launching iPhone apps to truly speak to a global audience. After considering multiple providers, the IKO turned to Ci&T. The company's reputation for having high-performance development teams comprised of talented, highly productive and enthusiastic developers, combined with its extensive iOS experience, ensured that the project would be delivered quickly and with features that would deliver the utmost value to the IKO's business.
"Ci&T's team demonstrated that they understood exactly what we were looking for in an iPhone application, and possessed the agility and expertise in mobile development to turn that vision into a reality," said a spokesperson of IKO. "The final product lets our members connect with each other no matter where they are in the world and share their passion for karate on a truly global level."
The iKyokushin application was developed and delivered by Ci&T's high-performance development teams, which have become renowned for their talent, autonomy and attitude toward each and every project. Ci&T's teams feature the best and brightest development talent, working in a high-trust environment with a focus on optimal productivity and collaboration. Imbued with the principles of Agile development and Lean principles, Ci&T's teams share a vision and purpose that result in nothing but value for the company's clients.
"Organizations like the IKO want mobile apps that can engage their users with features that speak directly to their needs and desires," said Leonardo Mattiazzi, vice president, international business for Ci&T. "As with all of our projects, our high performance team shared an enthusiasm for the IKO's business that enabled them to truly understand and deliver what its users wanted from the iKyokushin app. We are proud to have brought this level of quality and agility to the IKO, and hope that the success of this project will lead to a lasting relationship that mutually benefits both of our organizations going forward."
About Ci&T:
Ci&T (www.ciandt.com) employs agile methodologies and Lean principles to deliver application outsourcing, software product engineering and digital marketing services from development centers in Brazil, Argentina and China. A strong commitment to innovation has put Ci&T on the forefront of discovering new ways to deliver value and eliminate waste to help clients reduce costs and improve quality, speed and business agility. Established in 1995, Ci&T serves companies of all sizes from its global headquarters in Campinas, Brazil, with additional offices in Philadelphia, Atlanta, New Jersey, New York, London and Tokyo. For more information, visit www.ciandt.com.
Press Contact:
Mark Van Hook
Articulate Communications Inc.
212.255.0080, ext. 33
Email Contact


Copyright @ Marketwire
Page: 1
Related Keywords:
Ci & T, Sales & Marketing,Networking,Business Issues,China,Brazil,Argentina,Marketwire, ,Apple Computer,Marketing Services,Business,Social Networking,china,Other,
---