Ci&T Achieves 35 Percent Revenue Growth for Third Straight Year
New Client Wins, Innovative Service Offerings and Industry Accolades Contribute to Successful 2011
(January 25, 2012)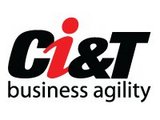 KING OF PRUSSIA, PA -- (Marketwire) -- 01/25/12 -- Ci&T, a Nearshore provider of value-driven web and mobile application services and software product engineering, today announced that the company has achieved revenue growth of more than 35 percent for the third consecutive year. This achievement caps off a stellar 2011 driven by new client wins, global office openings, new and expanded internal and external programs and multiple industry awards.
Ci&T's notable achievements in 2011 include:
New Client Wins: Among the new projects in 2011, Ci&T was tapped by one of the world's largest pharmaceutical companies to deliver essential application services, while NSK Americas, a global manufacturer of motion and control products, engaged Ci&T for deployment of a mission-critical enterprise system in its commercial business. Additionally, Ci&T demonstrated its mobile development aptitude by delivering multiple mobile applications and service projects that leveraged its expertise in user experience design, social media integration and digital marketing to create value-generating applications and unique mobile experiences.
Global Growth: Ci&T expanded its North American presence in 2011 with the opening of new offices in Somerset, NJ and Atlanta, and added a new Nearshore delivery center in Argentina. Driven by increased demand for its service offerings globally, the new offices enable Ci&T's high-performance development teams to support new and existing clients in the region.
New Service Offering: In April 2011, Ci&T announced its Accelerate solution, a software product engineering service that helps companies turn innovative ideas into value-generating web and mobile products and deliver them to market quickly.
Entrepreneurship Program: Early in the year, Ci&T officially launched its employee Entrepreneurship Program, which was featured in a March 2011 independent Forrester Research, Inc. report titled "Case Study: Ci&T -- High Performance, Brazilian Style." The program gives employees the resources and mentorship to launch their own unique projects and has already resulted in the release of two successful mobile endeavors, runens and Ipanema Games.
Industry Accolades: 2011 saw Ci&T's executives and teams score multiple industry awards. The company's founder and CEO, Cesar Gon, was named to Globalization Today's "Powerhouse 25" and the Nearshore Americas "Power 50," both of which honor innovative leaders in outsourcing. Ci&T was also named to the Global Services 100, a list of the top IT and business process outsourcers in the world. Additionally, both runens and Smelly Cat, the first game from Ipanema Games, were named winners in their respective categories in the tenth annual Mobile Star Awards™ program, while Sprite City, an iPad app developed by Ci&T for Coca-Cola, was named "Mobile of the Day" by the Favorite Website Award group. And finally, 2012 is already off to an excellent start, as runens was awarded the Favorite Website Award "Mobile of the Day" on Jan. 6, 2012.
"The successes we achieved this year are a direct result of the hard work and collaboration of our employees," said Cesar Gon, founder and CEO, Ci&T. "Our high-performance development teams work tirelessly to deliver projects that bring greater value to our customers' businesses. This has resulted in tangible business benefits for both our clients and our organization as a whole, and we look forward to raising the bar even higher in the year to come."
About Ci&T:
Ci&T (www.ciandt.com) provides value-driven, Nearshore web and mobile application services and software product engineering. The company's high-performance teams employ agile methodologies and lean principles to deliver innovative, value-generating projects for companies of all sizes, by leveraging the latest mobile, cloud and web technologies. A truly global company established in 1995, Ci&T is headquartered in Campinas, Brazil, with strategic locations across Latin America, North America, Europe and the Asia-Pacific region. For more information, visit www.ciandt.com.
Press Contact:
Mark Van Hook
Articulate Communications Inc.
212.255.0080, ext. 33
Email Contact


Copyright @ Marketwire
Page: 1
Related Keywords:
IT outsourcing, application development, Applications, Sales & Marketing, Productivity Applications, Internet, Business Issues, Other Applications, Engineering/Scientific Software, Social Media, Internet Server Applications, Brazil, Argentina, Marketwire, Inc., , Internet Technology, Medical, Business,
---