Chef & Photographer Join Forces to Envision New Art Form
Fusion of Food and Form Give Life to La Figa
(October 06, 2011)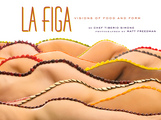 SEATTLE, WA -- (Marketwire) -- 10/06/11 -- For Tiberio Simone and Matt Freedman, two of the most beautiful things in the world are food and the human body -- not necessarily in that order.
"Food is not just sustenance to me," said Simone, a James Beard award-winning chef. "In culinary school, it is taught that how one serves and arranges a meal on the plate is almost as important as the preparation of the dish itself. Our senses are aroused not only by the taste, smell and texture, but also by how food is presented visually."
Freedman, known as one of Seattle's finest photographers, agrees with Simone, and also believes that one of the oldest traditions in art is the photographic representation of the human form.
"Photographing the nude is one of the most revered tests of a photographer's mettle," Freedman said. "It's not about sexuality, but sensuality and how a photographer can transcend modern mores and portray the simple, elegant beauty of the human form. When Tiberio -- who was already one of my best friends -- had the crazy idea of making art by placing fruits and vegetables on people's nude bodies, I knew I had to photograph it. His artistic vision was a perfect match for my own."
That project became "La Figa: Visions of Food and Form" (www.LaFigaProject.com), a coffee table book that features a spectacular collection of sensual photography -- models wearing nothing but Simone's edible creations.
"La Figa examines the relationship between food, touch and the ingredients that make life delicious," said Simone. "It's a hybrid of fine art photography and food. We combine the images with stories and even a collection of my favorite recipes. To us, it's about our human connection with the food that we eat and how fresh food brings our senses to life, and tunes us in to our most primal instincts for flavor and pleasure."
About Tiberio Simone & Matt Freedman
Born in southern Italy, Tiberio Simone is a James Beard Award-winning chef and pleasure activist. After working as the pastry chef at Seattle's Four Seasons Olympic Hotel, Tiberio launched his own company: La Figa Catering.
Matt Freedman is both a professional photographer and technologist. In 2009, Matt merged photography and technology to produce "Burning Man: A Photo Essay" -- the first iPhone app about the Burning Man festival.
Add to Digg Bookmark with del.icio.us Add to Newsvine
Contact:
Ginny Grimsley
[email protected]


Copyright @ Marketwire
Page: 1
Related Keywords:
La Figa Project, Italy, Marketwire, Apple Computer,
---