Check Point Introduces ZoneAlarm SocialGuard to Help Parents Protect Their Kids Against Social Threats on Facebook
New, Unique Application Enables Parents to Protect Against Cyberbullying and Other Social Threats, While Maintaining Their Children's Account Privacy
(April 26, 2011)

REDWOOD CITY, CA -- (Marketwire) -- 04/26/11 -- Check Point® Software Technologies Ltd. (NASDAQ: CHKP), the worldwide leader in securing the Internet, today announced a new product in an emerging social networking security category, ZoneAlarm® SocialGuard -- designed for parents who want to protect their kids against social threats on Facebook, such as online predators, cyberbullies, hacked accounts and malicious links. SocialGuard enables parents to monitor their children's Facebook accounts for illicit content in status updates, wall postings, messages, and friend requests -- providing them with real-time alerts when suspicious activity is detected. ZoneAlarm SocialGuard is available now and can be purchased from the ZoneAlarm website: http://www.zonealarm.com/security/en-us/zonealarm-socialguard-facebook-parental-control.htm.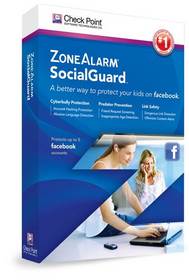 "Too often in the past year, we have seen instances of real-world consequences of social threats including cyberbullying. In fact, many surveys have indicated that one in five kids today has been a victim of social threats online," said Bari Abdul, vice president of consumer sales at Check Point. "With SocialGuard, we are offering Facebook users a simple way to embrace social networking safely. For parents, it's about protecting your kids from the social threats out there, while still respecting their privacy and fostering open communication."
ZoneAlarm SocialGuard allows parents to monitor all activity in the child's Facebook account wherever they use Facebook, including Windows PCs, Macs, iPads and other mobile devices. By scanning profiles, communication and friend requests within the monitored account and using unique algorithms to identify threats, SocialGuard will send real-time alerts to parents by email or through the SocialGuard interface when suspicious activity is flagged. SocialGuard runs silently in the background, only alerting parents to specific dangers based on their customized security settings, keywords or pre-defined categories. ZoneAlarm SocialGuard enables parents to protect their kids against social threats, while still respecting their child's privacy as they cannot see or comment on wall posts or join in their conversations.
"Parents are increasingly concerned, and rightfully so, about the dramatically increasing trend of criminals, predators and bullies targeting children over social networks," said Rob Enderle, president and principal analyst for the Enderle Group. "SocialGuard provides a strong suite of tools that can effectively protect children from these types of social threats that are keeping parents awake at night -- and it can become an effective method these parents can use to keep their loved ones safe."
SocialGuard can monitor children's Facebook accounts for a variety of social threats, including:
Cyberbullying -- Identifies inappropriate or threatening content sent to a Facebook account in private messages, status updates and wall postings -- alerting parents when the child may be exposed to illicit content, such as violence, sex, drugs and suicide.
Age Fraud -- Detects false reporting of ages through advanced search and scanning -- ensuring children are not befriended by adults outside of their networks and posing as children or teens.
Friend Requests -- Calculates the degree of social separation, identifying and alerting parents to strangers outside of the child's network.
Hacked Account -- Closely monitors for signs that a kid's Facebook account may have been hacked by flagging unauthorized status updates, suspicious profile changes or other explicit content on the user's account.
Link Safety -- Flags dangerous or offensive links sent in private messages, status updates and wall postings to prevent malware attacks and access to inappropriate content.
Check Point's award-winning ZoneAlarm products leverage the same advanced technology trusted by over 100,000 businesses worldwide and provide millions of consumers with powerful protection in an easy-to-use package available at: http://www.zonealarm.com.
"Cyberbullying, online predators and malicious links continue to be a concern in the U.S. and around the world. Check Point remains committed to raise awareness of the issue and provide parents and youth with the security tools they need to safeguard against social threats, a new generation of Internet risk," concluded Abdul.
Pricing and Availability
ZoneAlarm SocialGuard by Check Point is available now and can be purchased from the ZoneAlarm website for an introductory pricing of $1.99/month or $19.99/year. For more information and security tips for protecting against the latest social networking risks, visit the ZoneAlarm blog at: http://blog.zonealarm.com/.
About Check Point Software Technologies Ltd.
Check Point Software Technologies Ltd. (www.checkpoint.com), the worldwide leader in securing the Internet, provides customers with uncompromised protection against all types of threats, reduces security complexity and lowers total cost of ownership. Check Point first pioneered the industry with FireWall-1 and its patented stateful inspection technology. Today, Check Point continues to develop new innovations based on the Software Blade Architecture, providing customers with flexible and simple solutions that can be fully customized to meet the exact security needs of any organization. Check Point is the only vendor to go beyond technology and define security as a business process. Check Point 3D Security uniquely combines policy, people and enforcement for greater protection of information assets and helps organizations implement a blueprint for security that aligns with business needs. Customers include tens of thousands of organizations of all sizes, including all Fortune and Global 100 companies. Check Point's award-winning ZoneAlarm solutions protect millions of consumers from hackers, spyware and identity theft.
©2011 Check Point Software Technologies Ltd. All rights reserved.
Image Available: http://www2.marketwire.com/mw/frame_mw?attachid=1588559
Embedded Video Available: http://www2.marketwire.com/mw/frame_mw?attachid=1588537

Media Contact
Stephanie Look
Check Point Software Technologies
+1 650.628.2171
press@us.checkpoint.com

Investor Contact
Kip E. Meintzer
Check Point Software Technologies
+1 650.628.2040
ir@us.checkpoint.com


Copyright @ Marketwire
Page: 1
Related Keywords:
ZoneAlarm, SocialGuard, Facebook, Social Threats, Cyberbullying, hacked account, parents protect kids, Sales, Sales & Marketing, Security, Networking, Internet, Threats, Theft, Hackers, Architecture, Security, Search, Sales, Sales, Mac, OS9, OSX, USA, Marketwire, Internet Technology, Computer Science, Business, Internet, Social Networking, Email, Adults, Teens, Children, Parents, Other,
---