Certify Launches Certify Wallet to Simplify the Process of Expense Reporting
New Mobile Application Makes It Easier Than Ever to Visually Capture and Record Receipts on the Fly
(December 16, 2009)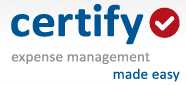 PORTLAND, ME -- (Marketwire) -- 12/16/09 -- Certify, a leading online expense management company for the SMB marketplace, today announced Certify Wallet, http://www.certify.com/Certify_Wallet, a personal tool that eliminates the hassles of expense reporting and speeds up the reimbursement process. The company also released the Certify Wallet Mobile Application, http://www.certify.com/Certify_Wallet/GetTheApp.aspx, available for free download to iPhone, BlackBerry and Windows Mobile device users. The new solution makes it easier than ever for business travelers to visually capture receipt information with a snapshot and create reports that can be printed, submitted online or channeled through any expense reporting tool for fast approval and reimbursement.
Certify Wallet and the Certify Wallet Mobile Application are included with Certify's flagship offering, Certify Corporate. The Corporate edition is an online, self-service offering that enables companies to manage each step in the expense reporting process from receipt to reimbursement. Every Certify Corporate user has a unique login to a personalized Web page that provides automated expense category management, travel policy information, currency conversion, extensive reporting and workflow to simplify and expedite the entire process.
"At Certify our goal is to help business travelers and the companies they work for with products that simplify the expense management process," said Robert Neveu, Certify founder and president. "At a time when money is tight and business travel is scrutinized, we are able to improve and streamline the reporting process and speed up reimbursement. From our enterprise class Corporate offering to the new individual Wallet applications, we have a solution that fits every need."
Launched into the market in 2008, Certify recently completed a series A round of financing to help fuel marketing and R&D efforts. The company founders, Bob and Alan Neveu, have a successful history and proven track record starting companies that improve business processes. The pair previously founded applicant tracking software company Recruiternet that was acquired by First Advantage Corporation.
"The Certify Expense Management System helped us significantly reduce the amount of time it takes to process expense reports and make accounting entries. A full array of accounting and management reports makes it easy to compare expenses in Certify to those in our general ledger and corporate credit card system," said David Elstron, CPA, controller, Aioi Insurance Company. "In addition, the new Certify Wallet application helps our agents to efficiently track and report their spending on the road. The system is simply the best value for the money."
Pricing and Availability
Certify Wallet and Certify Corporate solutions are available at www.Certify.com and are priced per user. The solutions are available on a month-to-month basis and do not require a contract or an implementation fee. For custom pricing options please contact the company.
About Certify
Certify, LLC, is an online expense management company that provides expense report services to corporations and individuals. The company provides the only SaaS expense management solution for capturing receipts via smart phone, camera phone, SMS message, email, scan, fax and image upload. Founded in 2008, Certify is financed by the founding team and a group of angel investors. Headquartered are located in Portland, Maine. For more information, call 207-773-6100 or visit http://www.Certify.com.
Add to Digg Bookmark with del.icio.us Add to Newsvine
Media Contact:
Traci Massaro
Certify
978-255-1231
Email Contact


Copyright @ Marketwire
Page: 1
Related Keywords:
Certify , Marketwire,Apple Computer,Internet Technology,Business,Email,
---