Celtra Announces the First Rich Media Product for Facebook
Brands Can Now Take Facebook Posts to the Next Level With Highly Engaging HTML5 Rich Media Experiences
(March 20, 2012)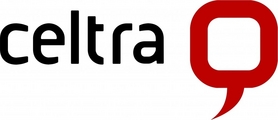 CAMBRIDGE, MA -- (Marketwire) -- 03/20/12 -- Celtra, Inc., the industry leader for rich media advertising and analytics across mobile devices, today announced the availability of Rich Media Post for Facebook which is designed primarily for mobile platforms and HTML5 browsers but works across all screens. Rich Media Post gives brands the ability to create branded content on their Facebook Pages that their fans can engage with and share with friends. Brands participating in the launch include Angry Birds, AT&T, Dunkin' Donuts, Macy's, Mars Chocolate North America and Paramount Pictures.
Nearly half of Facebook's 845 million monthly users are logging in to the social network via mobile devices. Facebook believes that its next one billion users will access the service mainly from mobile devices. Celtra Rich Media Post gives brands many more options for engaging with their mobile audience beyond just "liking" sharing or commenting.
Using Celtra's AdCreator platform, brands can quickly and easily build rich media experiences and publish them on their Facebook Pages as Facebook posts. The HTML5 rich media units are tailored for Facebook's mobile audience and take advantage of the unique capabilities of smartphones and tablets such as touch, gyroscopic features and location-awareness. When fans tap the post within their News Feed, they immediately start interacting with an immersive full-screen experience, which leverages the user's Social Graph and generates personalized visual branded content that can easily be shared with their friends. Friends can seamlessly jump into the brand experience themselves by tapping on the generated content seen in their News Feed. Brands can also monitor how well their fans are engaging with the unit in real-time using Celtra's AdCreator Analytics.
Facebook recently announced changes to the layout and functions of its Facebook Pages, which redefined the use of Custom Tabs for branding and promotional purposes. Celtra Rich Media Post is an ideal solution for marketers and brands to engage their fans through visually distinctive, innovative and unique branded experiences that are not possible through basic Facebook communication channels.
For example, Dunkin' Donuts' Facebook page is filled with fan posts of users who consistently share their favorite Dunkin' Donuts beverage, including flavor and add-ins. With Rich Media Post, Dunkin' Donuts fans will be able to share what's keeping them running by "building" their own drink in an engaging, interactive 3D environment. The fan can select their coffee variety and watch it pour into the cup while their phone vibrates as if the cup were actually filling. After their coffee is poured into the cup, the fan can then select their preferred dairy and sweetener options. After creating their beverage, the fan can share it with their friends by posting it to their Facebook wall.
Macy's launched a "Follow Your Heart" Rich Media Post in time for Valentine's Day. The brand posted a call to action for its fans to "Send a Valentine heart to your loved one!" The fans either selected a heart or made their own by dragging colors into the heart. They could then select to post the heart directly to their own wall or select a friend to send the heart to. They could further customize their heart by entering a short message.
Rich Media Post launch partners include BBDO, Digitas, GroupM, Hill Holliday, Joule, and MEC. Joule and MEC partnered with Celtra to deliver this first-of-its-kind opportunity to three of the six brands participating in the launch.
"Celtra's AdCreator platform leverages Facebook's immense mobile audience -- nearly half of the site's monthly users log in via mobile-to create more meaningful brand engagement and interaction," said Michael Collins, CEO of Joule. "These rich media posts will allow our clients to better reach consumers on the go and give them an entirely unique brand experience."
"Celtra has helped Hill Holliday execute the newest breed of mobile+social ads that we haven't seen before," said Johnny Won, Manager of Mobile and Gaming Platforms. "The creative and technology capabilities from Celtra's team have allowed our creative and media teams to think at a whole new level about mobile rich media experiences and lets our clients create new forms of engagement we've never seen before. It's truly some of the most exciting stuff happening in mobile today."
"Quality user engagement has always been at the heart of what Celtra does for its customers," said Matevz Klanjsek, co-founder and chief product officer. "We've always had a laser focus on a superior user experience and delivering real value for brands and agencies, and now we're bringing that expertise to the Facebook ecosystem. Rich Media Post fits seamlessly into the Facebook experience and gives users real value by letting them literally touch the brands they follow."
"There comes a turning point in every industry where innovation takes not just a step but a tremendous leap forward," said Mihael Mikek, Celtra founder and CEO. "Rich Media Post for Facebook solidifies Celtra's position as the leading rich media advertising platform."
For more information about Celtra's Rich Media Post for Facebook, please go to www.celtra.com/rich_media_post_for_facebook
About Celtra Inc.
Celtra offers the most flexible and easy-to-use platform that enables scalable, rich media mobile advertising across native apps and the mobile web on the most popular device platforms. The company's AdCreator lets advertisers easily create, distribute and measure rich media mobile display advertising. AdCreator offers unmatched control for creative campaign execution, cutting-edge ad formats and unified metrics to track and optimize campaigns. Celtra's ads maximize reach because they can run across top mobile ad networks, thousands of premium publishers and DSPs. Leading brands like Volvo, Adidas, Sprint, Starwood Hotels and Resorts, Wrigley, Starbucks and Kmart have utilized Celtra's ads. For more information, follow-us at www.celtra.com or @CeltraMobile on Twitter.
Celtra is headquartered in Cambridge (MA), with offices in New York City, Los Angeles, Chicago, London (UK), and Ljubljana (SI).
Add to Digg Bookmark with del.icio.us Add to Newsvine
Copyright @ Marketwire
Page: 1
Related Keywords:
Celtra, Celtra Mobile, Rich Media, Facebook, Highly engaging HTML5, HTML5, AdCreator, Rich Media Post, Displays, Internet, Communications, Web, Smart Phone, Social Media, Marketwire, Inc., , Internet Technology, Browsers,
---