Cellar Advisors and Socket Mobile Toast to a Perfect Pair
Wine Consulting Company Selects Socket Bluetooth(R) Barcode Scanner for Wine Inventory and Cellar Management With the Apple(R) iPad(R)
(July 06, 2011)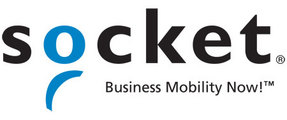 NEWARK, CA -- (Marketwire) -- 07/06/11 -- Socket Mobile, Inc. (NASDAQ: SCKT), an innovative provider of mobile productivity solutions, today announced Cellar Advisors, a full service wine consulting company, have chosen the Socket Bluetooth Cordless Hand Scanner™ (CHS) Series 7 as their recommended barcode scanner for use in wine inventory and cellar management applications utilizing the Apple iPad and other mobile devices.
"The iPad has become very popular for use in wine cellars for a variety of reasons; it has a small footprint; it doesn't take up much space in the cellar, and now with the Cordless Hand Scanner, our clients have the ability to wirelessly scan barcode labels right into the iPad," said Marc Lazar, president of Cellar Advisors.
Cellar Advisors almost exclusively use CellarTracker!™, a web-based cellar management application, for clients who have wine collections that range in size from just a few bottles to thousands of bottles. The CellarTracker! application utilizes a barcode system, which allows wine collectors to keep track of their cellar inventory and record data pertaining to each individual bottle of wine including biographical information, tasting notes and consumption type.
"We like that the scanner is small enough to put in your pocket if you need to pick up a case or you're climbing a ladder to get to a higher rack; it's very easy to carry around with you and it's easy to tether to Apple products, be it an iPhone or an iPad," said Lazar.
"Another great feature of the CHS is the ability to use the scanner at the same time as you're using the on-screen keyboard of the iPad -- there's no need to make an either/or decision," said Lazar. "In CellarTracker that's particularly useful because you may go from scanning a label to typing in a search for a new wine, and you can do both side-by-side without having to disconnect the scanner, so it's always ready when you need to scan another bottle."
"One of the most powerful features of CellarTracker! is the ability to barcode each bottle in a collection," said Eric LeVine, president of CellarTracker!. "The Socket CHS is a clean and elegant scanner that makes it very easy to select a series of bottles to consume or relocate."
"From niche to enterprise, Socket offers a range of CHS models to address the large variety of unique applications in the marketplace," said Samantha Chu, data collection product manager at Socket Mobile. "Customers like Cellar Advisors and applications like CellarTracker! really define the scope of what's possible with the Socket barcode scanning product line."
For more information, watch the video case study featuring Cellar Advisors or read the print version of the case study online.
About Cellar Advisors
Cellar Advisors provides wine consulting services, inventory and cellar management to fine wine collectors around the globe. Their exemplary custom services embody all aspects of the wine buying and collecting life cycle. A strong network, expert systems and dedication to precision, combined with decades of experience in all aspects of the wine trade are hallmarks of the Cellar Advisors team. For more information visit www.cellaradvisors.com
About CellarTracker!
CellarTracker! was built in 2003 by Eric LeVine, a wine geek and fanatic with more than 12 years of former software development experience at Microsoft. With more than 150,000 users and over 25 million bottles of wine cataloged in the system, CellarTracker! gives wine enthusiasts and collectors the ability to manage their cellar inventory, track the value of their collection, record their own tasting notes, access their collection anytime, anywhere from any device with an internet connection, and much more. For more information on CellarTracker! visit www.cellartracker.com
About Socket Mobile, Inc.
With more than 18 years of experience in the Automatic Identification and Data Capture market, Socket makes mobile computing and productivity work. The company offers a family of handheld computers and an extensive portfolio of AIDC peripherals designed specifically for business mobility deployments and to enable productivity increases and drive operational efficiencies in healthcare, hospitality and other vertical markets. The company also offers OEM solutions for the mobile device market. Socket is headquartered in Newark, Calif. and can be reached at 510-933-3000 or www.socketmobile.com.
Socket and Cordless Hand Scanner are trademarks or registered trademarks of Socket Mobile. All other trademarks and trade names contained herein may be those of their respective owners.
© 2011, Socket Mobile, Inc. All rights reserved.
Add to Digg Bookmark with del.icio.us Add to Newsvine
Copyright @ Marketwire
Page: 1
Related Keywords:
wine inventory, cellar management, wine management, iPad wine application, barcode scanning, Marketwire, Inc.,Apple Computer,Communications Technology,Internet Technology,Computer Science,Business,Internet,Family,Other,
---