Catherine Zeta-Jones to Again Host All-Star Benefit Paying Tribute to Hollywood and Broadway
Stars of Stage and Screen Gather for Sixth Annual "A Fine Romance" in Celebration of Motion Picture & Television Fund's 90th Anniversary
(October 16, 2011)
LOS ANGELES, CA -- (Marketwire) -- 10/16/11 -- Stars from Hollywood and Broadway came together tonight for a one-of-a-kind performance featuring some of the biggest names from stage and screen to benefit the Motion Picture & Television Fund (MPTF). Catherine Zeta-Jones returned to host the evening, marking the 6th anniversary of the event and raising $1 million. Funds raised during the evening support the numerous essential health and social services the MPTF provides to more than 60,000 entertainment industry members every year.
"I am so thrilled that what we began six years ago has continued to bring some of Hollywood and Broadway's finest performers together in support of the Motion Picture & Television Fund," said Catherine Zeta-Jones, founding host for "A Fine Romance." "This year, we were able to raise much needed funds and continue the tradition of bringing Hollywood together to take care of each other."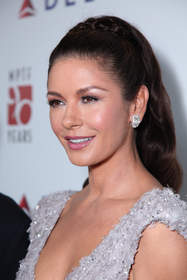 "A Fine Romance" celebrates the ongoing love affair between Hollywood and Broadway, featuring performances from movies that have become stage musicals and stage musicals that were made into movies. The event is based on a book published by MPTF Board member Darcie Denkert of the same title.
"We are delighted by the turnout at this spectacular evening," said event chairman Jim Gianopulos. "The show was brilliantly produced by Laurence Mark and Dan Jinks, under the direction of Adam Shankman and the musical direction of John Mauceri. It was an unforgettable night that reminded everyone of the long relationship between Hollywood and Broadway. Ann and I are extremely grateful to those who supported this event and the Motion Picture & Television Fund, an organization committed to helping out our fellow industry members, often in their most critical time of need. Ken Scherer and his MPTF team did a fantastic job, as always, in making it all possible."
The evening was produced by Dan Jinks ("Milk," "American Beauty") and Laurence Mark ("Julie & Julia," "Dreamgirls"), and directed by Adam Shankman ("Hairspray," "Bedtime Stories"). John Mauceri of the The Hollywood Bowl Orchestra returned as music director, and Ann and Jim Gianopulos chaired the event.
The event was held at Sony Studios and was attended by more than 700 individuals. This year, the MPTF celebrates their 90th anniversary, with a rich legacy of helping the entertainment community give back to take care of its own. The evening began with a cocktail reception and was followed by live celebrity performances honoring musicals from stage and screen.
The show included Catherine Zeta-Jones performing "Send In The Clowns" from "A Little Night Music"; Anne Hathaway, "Adelaide's Lament" from "Guys & Dolls"; Angela Lansbury, "Not While I'm Around" from "Sweeney Todd"; Jesse Tyler Ferguson, "Somewhere That's Green" from "Little Shop of Horrors"; Matthew Morrison, "Lady is a Tramp" from "Babes in Arms"; Carol Channing, "Before The Parade Passes By" from "Hello, Dolly!"; Josefina Scaglione, "Tonight" from "West Side Story"; Darren Criss, "Almost Like Being In Love" from "Brigadoon"; Loretta Divine, "Ain't No Party" from "Dreamgirls"; Kerry Butler, "Magic" from "Xanadu"; Zach Levi and Barrett Foa, "All For The Best" from "Godspell"; Ana Gasteyer, "Don't Rain On My Parade" from "Funny Girl"; Michael Cerveris, "Pinball Wizard" from "Tommy"; Davis Gaines; and "Music of the Night" from "Phantom of the Opera".
Air travel was provided by Delta Airlines, and the venue provided by Sony Studios.
About the Motion Picture & Television Fund
For 90 years, the Motion Picture & Television Fund (MPTF) has served as a beacon of hope for entertainment industry members in their time of need. As a charitable organization, the MPTF provides financial assistance and services essential to the wellbeing of the community and is a leader in the development and implementation of services and programs for seniors and those who care for them. The charity is supported by the generosity of corporate donors and fellow entertainment industry members who contribute their time and money knowing if they were ever in a tight spot, the MPTF would be there for them too. For more information, visit www.mptvfund.org.
Image Available: http://www2.marketwire.com/mw/frame_mw?attachid=1766875

Contact:
Lisa Waters
Edelman
323-202-1051
lisa.waters@edelman.com


Copyright @ Marketwire
Page: 1
Related Keywords:
Motion Picture & Television Fund, Marketwire, Sony, Financial, Television, Music, Entertainment, Other,
---