Case Study by Independent Research Firm Features Acsys Interactive's Work With MassMutual Retirement Services
(August 16, 2011)

FARMINGTON, CT -- (Marketwire) -- 08/16/11 -- Acsys Interactive is pleased to announce that an iPhone application developed earlier this year with MassMutual Retirement Services is the subject of a July 2011 Forrester Research Inc. case study titled "Case Study: Mass Mutual Helps Gen Yers See Into Their Futures."
Acsys and MassMutual Retirement Services developed the app to help educate Gen Yers on the importance of planning for retirement. The app challenges users to see how they will look at retirement age, places them in future humorous outcomes that highlight the need to save properly, and allows them to share their outcome on Facebook.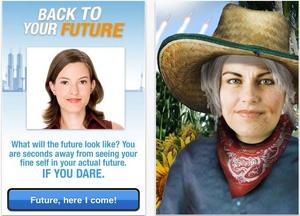 "Your Future Moves engages twentysomethings by giving them the opportunity to take a peek at their future to highlight the need to start thinking about retirement sooner rather than later," says Acsys Executive Creative Director Lino Ribolla. "Part of our ongoing mission is to help our clients remain relevant in an increasingly digital world, and it's in that spirit that we helped MassMutual Retirement Services develop this edutainment-based app."
"The game demonstrates that MassMutual is an innovative company," said Kris Gates, Assistant Vice President of Participant and Interactive Marketing in MassMutual's Retirement Services Division, "and we're counting on the viral aspects of social media to help promote this image."
The Forrester case study is available for download here: http://www.acsysinteractive.com/download/mm_forrester.pdf
Your Future Moves iPhone app is available for download here:
http://itunes.apple.com/us/app/futuremoves/id417535511?mt=8
About Acsys Interactive
Acsys Interactive (www.acsysinteractive.com) is an award-winning, full-service interactive agency focused on delivering quantifiable results for clients. Services include strategy, branding, design, digital marketing, software development and hosting. Acsys delivers technology agnostic Web 2.0 solutions via rich media, social media, intranet, ecommerce, portal and mobile delivery. Its 15 years of experience spans across consumer, financial services, insurance, healthcare, manufacturing, education and non-profit industries. Clients include ESPN, Amica, Timex, ING, Blue Cross Blue Shield of Rhode Island, Sikorsky, New York University, Columbus Regional Hospital and Yale-New Haven Hospital. Acsys is headquartered in Farmington, CT with offices in New York City and Boston.
Copyright ©2011 Acsys Interactive Inc., Farmington, CT 06032. All rights reserved.
About MassMutual
MassMutual's Retirement Services Division has been serving retirement plans for 65 years. It offers a full range of products and services for corporate, union, nonprofit and governmental employers' defined benefit, defined contribution and nonqualified deferred compensation plans. It serves approximately 1.3 million participants.
Founded in 1851, MassMutual is a leading mutual life insurance company that is run for the benefit of its members and participating policyholders. The company has a long history of financial strength and strong performance, and although dividends are not guaranteed, MassMutual has paid dividends to eligible participating policyholders every year since the 1860s. With whole life insurance as its foundation, MassMutual provides products to help meet the financial needs of clients, such as life insurance, disability income insurance, long term care insurance, retirement/401(k) plan services, and annuities. In addition, the company's strong and growing network of financial professionals helps clients make good financial decisions for the long-term.
MassMutual Financial Group is a marketing name for Massachusetts Mutual Life Insurance Company (MassMutual) and its affiliated companies and sales representatives. MassMutual is headquartered in Springfield, Massachusetts and its major affiliates include: Babson Capital Management LLC; Baring Asset Management Limited; Cornerstone Real Estate Advisers LLC; The First Mercantile Trust Company; MassMutual International LLC; MML Investors Services, LLC, Member FINRA and SIPC; Oppenheimer Funds, Inc.; and The MassMutual Trust Company, FSB.
For more information, visit www.massmutual.com or "Like" MassMutual on Facebook at www.Facebook.com/retiresmart
Copyright ©2011 Massachusetts Mutual Life Insurance Company (MassMutual) and affiliates, Springfield, MA 01111-0001. All rights reserved.
PDF Attachment Available: http://www.acsysinteractive.com/download/mm_forrester.pdf
Image Available: http://www2.marketwire.com/mw/frame_mw?attachid=1702387

Add to Digg Bookmark with del.icio.us Add to Newsvine
Contact:
Craig Kallin
svp, marketing services
Acsys Interactive
860.404.3345
Email Contact


Copyright @ Marketwire
Page: 1
Related Keywords:
Acsys Interactive, Inc, Marketwire, Inc., Apple Computer, Financial, Healthcare, Asset Management, Life Insurance, Internet Technology, Computer Science, Web 2.0,
---