Carson City's Transit Agency, Jump Around Carson (JAC), Uses RouteMatch Software's End-to-End ITS Solution to Deliver Integrated Paratransit, Fixed Route and Traveler Information Services
(June 21, 2012)
CARSON CITY, NV and ATLANTA, GA -- (Marketwire) -- 06/21/12 -- Carson City, Nevada's transit agency, JAC (Jump Around Carson), operates a top notch fixed route and an ADA-complementary paratransit system, paired with traveler information services and tablet mobile data technology. These technologies, provided by RouteMatch Software, have helped support the city's increase in ridership and generate greater operational efficiencies. Over the past year, JAC has seen a 21% increase in JAC's fixed route ridership, and an overall positive public response to its services. Seniors account for nearly 40% of their overall ridership, and are able to use free bus passes, which are courtesy of a state grant.
Today, JAC operates a technologically progressive set of services, making use of integrated paratransit and fixed route systems, both mobile data computers and more recent cutting-edge tablets, as well as RouteMatchs's RouteShout traveler information delivered via smart phones, SMS texting, a web site and web portal.
However, this wasn't always the case. In 2005, JAC was working with a contract operator that had developed a home-grown system for their paratransit service. Instead of offering automated solutions, dispatchers had the practice of writing trip requests on paper and then re-entering them into the computer system.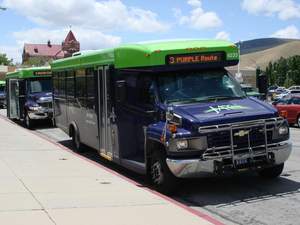 "We knew there had to be a better way," says Ken Smithson, Transit Coordinator with Carson City. "The system seemed antiquated, and we wanted a solution that we could grow with, and expand to the fixed route side of our operations in time. We also wanted control of the software, and to have something that the city would own."
In early 2010, JAC sought a new ITS software provider and chose RouteMatch Software.
"RouteMatch seemed to have similar goals for the future, and advanced fixed route solutions. We have historically enjoyed strong ridership and we had matching funds and support from the local government. We also liked that RouteMatch is a U.S. company as we were using American Recovery and Reinvestment Act (ARRA) dollars for the purchase. Things just fell into place," explains Smithson.
Paratransit Software, Hosting, and Moving from Paper to Digital Manifests
JAC began their migration to a fully automated, sophisticated ITS system by installing RouteMatch Software's paratransit solution along with mobile data computers (MDCs) in the paratransit vehicles. RouteMatch's technologies helped reduce the agency's dependence on paper manifests. The agency could more quickly accommodate last minute trip requests and schedule and dispatch trips more efficiently. And, as an agency that heavily runs different levels and layers of reports, the ability to run ad hoc reports and gain key insights and business intelligence helped save time and improve planning.
JAC also decided to utilize RouteMatch's cloud services platform for a full service hosting solution. After examining their own internal needs, the agency would have required a new server if they chose to host the software locally which meant large capital costs.
"Our IT department thought it would be better if RouteMatch hosted the system for ease of implementation and maintenance, and convenient upgrades -- this was probably a wise decision in hindsight," said Smithson.
Merging Fixed Route and Paratransit and Delivering Traveler Information to Riders
After evaluating the success of the paratransit solution, JAC decided to expand RouteMatch for their fixed route services.
"We saw how effective the paratransit side was, and we wanted our fixed route side to gain the same benefits and efficiencies," said Smithson.
"The learning curve for our drivers was minimized, because they were already familiar with RouteMatch, and were simply building upon their skill set," explains Smithson.
The agency also switched from the traditional mobile data computers initially installed in their paratransit system to the Galaxy tablets on their fixed route buses due to the tablets' lower purchase price and ongoing maintenance costs, its portability, and touch screen ease of use. The tablets are mounted to the dashboard of each vehicle, and locked up in the office every night.
"We are excited about all the additional functionalities the tablets can give us such as the ability to keep passenger counts on them in the near future," said Smithson. "They are easy to use for our drivers, and they have proven to be a valuable investment for us."
Further Expansions with RouteShout Traveler Information Services
To improve ridership services and maximize the investment in the tablets, JAC invested in RouteMatch's turnkey traveler information services platform, RouteShout.
"We wanted to use GPS technology to track our fixed route buses, since about 70% of the calls coming into the operations office were people asking, 'where's my bus?,'" says Smithson.
"The ability to push real-time transit information out to the public is a big bonus," Smithson explains. "We've noticed that a good number of our riders -- including a growing number of college students -- have cell phones and are inclined to texting, which is a natural fit with RouteShout."
JAC has deployed RouteShout at 25 bus stop locations as of March 2012, on which small sticker signs were visibly placed to promote the new RouteShout service. So far, the public reception to traveler information -- both scheduled and estimated times of arrival -- has been enthusiastic and strong.
"We haven't even really told anyone about RouteShout as it is still early, but already we can see it is being used and where the most riders are using it," says Smithson. The agency can now more effectively capture ridership trends, such as where the popular trip origins and destinations are, which include the area's Walmart, colleges, shopping centers, and the downtown transit center where buses meet.
With the combination of their RouteMatch fixed route service and traveler information technology, JAC estimates their ridership will grow to over 180,000 passengers this year. "RouteMatch even offered helpful tips to begin marketing RouteShout in the community," added Smithson, "and we look forward to implementing some of the ideas to expand the use of this feature by our customers."
Using the Right ITS Technology to Grow and Expand Services
For other similarly sized small urban agencies considering an ITS change, Carson City exemplifies how an agency can build upon services and competencies in a practical, results-driven way to further their strategic vision.
"Smaller systems like ours probably don't have the technical expertise to develop specs for an off-the-shelf solution," explains Smithson. "My advice to other agencies is to figure out where you are, and where you want to end up. Really look at your own needs, and find a company that will listen to you and help you get to where you want to go. We found that with RouteMatch -- they listen to us; they provide a system that fits our unique needs; they train us and help us understand how the system works, and they are always only a phone call away. We appreciate that partnership and support."
"JAC is a great example of an agency's ability to embrace technologies and add on new technologies as their needs change, continually making improvements over time," says RouteMatch's Executive Vice President, Tim Quinn. "Even more impressive is their ability to stay engaged with their ridership, and to consistently raise the bar of service -- whether it's through use of tablet technology or delivering traveler information via text, web, and phone. We are excited that they are our partners."
About JAC
JAC (Jump Around Carson) is Carson City, Nevada's public transit system serving the community with a fleet of bright green and purple buses that feature a sleek, hopping jackrabbit (a Northern Nevada icon). JAC began operating in October 2005 and is governed by the Carson City Regional Transportation Commission. The JAC system features the JAC fixed route system as well as JAC Assist, a curb-to-curb program that provides transportation for eligible persons with disabilities.
About RouteMatch Software
RouteMatch is the leading provider of end-to-end transit ITS software and innovative passenger and vehicle technology solutions. The company is headquartered in Atlanta, GA and works with more than 500 transit agencies across the U.S. and internationally, providing quality software and customer service. Partnering with public and private sector passenger transportation providers, the company's products address routing, scheduling, dispatching, billing, reporting, fixed route CAD/AVL, paratransit and fixed route integration, traveler information services, fleet management, mobility management, and more. Additional information about RouteMatch's ITS technologies are available at www.routematch.com or by calling RouteMatch toll-free at (US) 1-888-840-8791.
Image Available: http://www2.marketwire.com/mw/frame_mw?attachid=2019595

Add to Digg Bookmark with del.icio.us Add to Newsvine
Media Contact:
Brooke Phillips
P: 404-253-7839
E: Email Contact


Copyright @ Marketwire
Page: 1
Related Keywords:
Carson City, fixed route, paratransit, traveler information, transit, ITS, RouteMatch, tablets, , Internet, Digital Media Software, Web, Sales & Marketing, Computer Technology, Internet, Mobile Devices, USA, Marketwire, IT (Information Technology), Internet Technology, Medical, Computer Science, Business, College Students, Other,
---