Canadian Pop Singer Rosette Partners With Facebook App Pholiofy for Music Video Release to Fans
Rosette's New Single "Amnesia" With Ian Carey Featuring Timbaland Released Directly to Fans of Her Facebook Page
(January 24, 2012)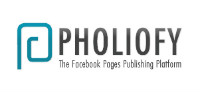 VANCOUVER, BRITISH COLUMBIA -- (Marketwire) -- 01/24/12 -- Canadian pop singer and songwriter Rosette (http://www.therealrosette.com) is launching her new single "Amnesia" with Ian Carey featuring Timbaland exclusively with fans of her Facebook page. She has partnered with the Facebook app Pholiofy (pronounced Pho-Lee-Oh-Fye) to make it happen. Check out: https://www.facebook.com/RealRosette.
"My new Pholiofy page shows my personality. It's fun, colorful and it showcases my latest songs and videos," said Rosette. "As a musician, it's important for me to have a strong online image and Pholiofy allows me to do it easily."
"When we designed the Pholiofy Facebook app we envisioned everyone from small to large businesses and brands to entertainers like Rosette using it," said David Miller, Principal, Pholiofy. "Pholiofy is the first of its kind in Canada to use WordPress to design Facebook pages. It fills a huge need out there for customized pages to share cool content, like Rosette's new single."
Pholiofy also allows page owners to have a fan gate - only letting people who have "liked" their page see additional content, coupons and promotional information. For Rossette, this means that each of her fans can like her Facebook page and be the first to see her new video.
"I want at least half a million fans on Facebook and Twitter. With services like Pholiofy, I feel like I can do it without a label," added Rosette. "With my new official Facebook page, I have a lot more control. I'm so grateful that Pholiofy can get me that much closer to my goals."
"Using Pholiofy for Facebook is a wonderful way for recording artists like Rosette to connect with fans and share exclusive content with those who like her page," said Miller.
About Rossette
Rosette, a beautiful, beguiling mix of exotic backgrounds that have fused into a stunning beauty with the voice, the moves and the song writing talent of a new urban pop artist. Rosette's first single "Delirious" was a top 10 Hit Pick in Canada and was in heavy rotation for months in major markets, going top 5 on several stations nationwide. Rosette's second single is an urban crossover ballad called "Crushed". This song hit Number 1 nationally for 3 weeks, followed by "Uh Oh" which went to the top 10 song in Canada. Currently you can find her on the Radio singing her vibrant, upbeat, song "FIRE". Rosette is not afraid to compete with the best America can offer and is re-writing the book on Canadian talent for the international audience.
https://www.facebook.com/RealRosette
About Pholiofy
Pholiofy is a Facebook Pages publishing platform that removes all the barriers to businesses, artists and non-profit organizations, who are trying to engage with their customers on Facebook. Built on easy-to-use WordPress, with a one time, one click application install, designers and non-designers can publish their content on Facebook quickly and easily. You can upload images, embed videos, create polls for your users, run your twitter feed into your Page, have multiple pages with a menu system - just like a regular website, and create a fangate and reward your customers for a Facebook like with exclusive content, coupons and give-aways. Pholiofy, launched in the winter of 2011, was created by Vancouver's Split Mango Media Inc. and Patio Social Inc., and is being used throughout North America.
www.pholiofy.com
Contacts:
Patio Social Inc.
Carly Nicol
Media Relations
604-868-1712
[email protected]


Copyright @ Marketwire
Page: 1
Related Keywords:
Pholiofy , Canada, Marketwire, Inc., , Music,
---