Calling All IT Pros: thwack(R) Invites You to Share and Vote for Favorite "Tales From the Trenches"
Top Five Stories to Win an Apple(R) iPad(R), ThinkGeek Gift Card or Custom IT Artwork
(June 27, 2012)

AUSTIN, TX -- (Marketwire) -- 06/27/12 -- thwack, the SolarWinds® Inc. (NYSE: SWI) online community for IT professionals, today announced its "Tales From the Trenches" contest in recognition of the 13th annual System Administrator Appreciation Day on July 27, 2012.
"All IT Pros have at least one, must-share story where they've experienced a replace-user-and-try-again scenario. What's yours?" asked Denny LeCompte, VP of product management, SolarWinds. "Shock or even scare us with the strangest request you've ever gotten, the dumbest question a user ever asked or a critical moment where you had to think on your feet. We want to hear it all."
IT Pros can share their best original "tale from the trenches" on thwack now through July 27 for a chance to win an iPad, a ThinkGeek gift card or an original piece of artwork depicting their story.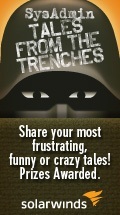 Submissions will be evaluated by thwack's community members and by a panel of judges, including:
Wesley David, a sysadmin that has been in many trenches with many of his own tales, but he can't tell any of them without weeping. Wesley blogs at The Nubby Admin.
Ted Kekatos, the founder of System Administrator Appreciation Day, built his own computers and acoustic-coupled modem in the late '70's. He has enjoyed working in IT services for 20+ years, but still misses the sound of 9-track tape drives rewinding.
Denny LeCompte, the VP of product management at SolarWinds. Denny believes that if a company understands its customers and the problems that they face every day, creating products that they can enjoy using becomes simple.
Trevor Pott, a sysadmin and writer from Edmonton, Alberta, Canada, who built his first network at eight years old and hasn't stopped building them since. Trevor blogs at The Register on systems administration.
Matt Simmons, a 10+ year sysadmin who is active in the League of Professional System Administrators (LOPSA) as well as other professional IT organizations and currently works for the College of Computer and Information Systems at Northeastern University in Boston. Matt blogs at Standalone Sysadmin.
The "tale" that is ranked the highest by the judges will win an iPad and the original art based on their story. Four additional winners will be chosen by the thwack community, and will each win a $50 gift card to ThinkGeek.
Members of the thwack community will select their favorites by voting for their favorite story using thwack's new Ideation platform -- technology that allows thwack members to vote up or vote down ideas and product feature requests.
View the complete contest rules.
thwack, an IT Management community
thwack aims to serve as the go-to resource for all IT professionals, delivering unmatched value to 100k+ members of the IT management community as the central hub for industry insight, camaraderie, questions and answers, and more.
After its recent relaunch, thwack now incorporates several improved user experience and user engagement elements, including:
Gamification - Point system recognizing members through participation and content sharing
Crowdsourcing - Help determine upcoming SolarWinds' product features by voting up and down requests
Ambassador Program - Enlists top industry experts to engage with the community through timely and thought-provoking posts
Social Groups - Ability for users to create new groups to gather and focus on a specific topic or area
@thwack - Follow the community on Twitter for real-time updates on the latest in thwack
Intuitive navigation and improved intelligent search functionality
About SolarWinds
SolarWinds (NYSE: SWI) provides powerful and affordable IT management software to customers worldwide from Fortune 500 enterprises to small businesses. In all of our market areas, our approach is consistent. We focus exclusively on IT Pros and strive to eliminate the complexity that they have been forced to accept from traditional enterprise software vendors. SolarWinds delivers on this commitment with unexpected simplicity through products that are easy to find, buy, use and maintain while providing the power to address any IT management problem on any scale. Our solutions are rooted in our deep connection to our user base, which interacts in our online community, thwack, to solve problems, share technology and best practices, and directly participate in our product development process. Learn more today at http://www.solarwinds.com.
SolarWinds and SolarWinds.com are registered trademarks of SolarWinds. All other company and product names mentioned are used only for identification purposes and may be trademarks or registered trademarks of their respective companies.
Image Available: http://www2.marketwire.com/mw/frame_mw?attachid=2024338

Add to Digg Bookmark with del.icio.us Add to Newsvine
MEDIA CONTACTS:
Grace Pai-Leonard
Text100
Phone: 212.871.5194
[email protected]

Tiffany Nels
SolarWinds
Phone: 512.682.9545
[email protected]


Copyright @ Marketwire
Page: 1
Related Keywords:
thwack, community, IT professionals, SysAdmin Appreciation Day, SolarWinds, contest, Computer Technology,Business Issues,IT Management,Management,IT Professionals,Canada,Marketwire, Inc.,Other,
---