Callidus Software Recognized for Excellence in Customer Support
TSIA and Impact Learning Systems Extend Recognition to Callidus Software for Achieving Support Staff Excellence Center Certification
(November 03, 2011)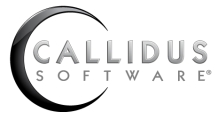 PLEASANTON, CA -- (Marketwire) -- 11/03/11 -- Callidus Software Inc. (NASDAQ: CALD), the leader in Sales Performance Management (SPM), announced today that the Technology Services Industry Association (TSIA) and Impact Learning Systems (ILS) have recognized Callidus Software's Customer Support center as a Certified Support Staff Excellence Center (CSSEC). TSIA and ILS announced the recognition on October 26 at the Technology Services World conference in Las Vegas, Nevada.
The TSIA and ILS have collaborated to offer this formal recognition for companies that achieve certification in the Support Staff Excellence (SSE) program. Support Staff Excellence, offered by TSIA and delivered by ILS, is a powerful staff development program that enables the delivery of a superior customer service experience through the development of the most critical service delivery resource a company has: its people. As a result of their achievements through the SSE program, Callidus Software achieved the "Certified Support Staff Excellence Center" designation.
"We are honored to recognize Callidus Software for achieving this high industry standard," said Tom Rich, Senior Vice President of Programs for TSIA. "TSIA's Support Staff Excellence program focuses on the key drivers in finding, motivating, and retaining top talent. Having earned the Certified Support Staff Excellence Center designation, Callidus has demonstrated an enduring commitment to service excellence, with highly engaged and customer-focused employees driving loyalty and retention."
"Driving customer value and satisfaction is our top priority here at Callidus," said Meredith Calvert, Senior Vice President of Technical Services, Callidus Software. "Our sustained investment in our customer support organization, including rigorous training programs, high frequency coaching, and ongoing customer feedback reports, has helped us achieve high levels of customer satisfaction and some of the highest customer retention rates in the industry. This achievement is a great testament to the efforts of our team, and we dedicate it to the continued success of our customers."
The TSW conference is the preeminent source of learning and peer networking in the services industry and is hosted by TSIA, the leading association for today's technology services organizations. ILS is a provider of industry-accredited customer communications training for front-line technical support and field service professionals. Companies typically initiate the SSE program to achieve a change in a particular business metric such as customer satisfaction or first-time resolution.
Follow Callidus' Sales Pulse blog, join us on LinkedIn and Facebook or follow us on Twitter for real-time updates.
About Callidus Software®
Callidus Software (NASDAQ: CALD) is the market and technology leader in Sales Performance Management (SPM). Callidus customers gain a competitive advantage by maximizing sales cost efficiencies and driving improvements in sales effectiveness. Our award-winning multi-tenant SaaS applications set the standard for performance management of a company's sales force and channel partners. Over 2.5 million users have their performance managed by Callidus Software. For more information, please visit www.callidussoftware.com.
About TSIA
The Technology Services Industry Association (TSIA) is the leading association dedicated to advancing the business of technology services. Technology services organizations large and small look to TSIA for world-class benchmarking and research, exceptional peer networking and learning opportunities, and high-profile certification and awards programs. Find TSIA online at www.tsia.com.
About Impact Learning Systems
As industry leaders in understanding and improving the representative/customer interaction, Impact Learning Systems offers training, consulting, and customized services to help the world's most successful companies build top-performing teams. www.impactlearning.com
©1997-2011 Callidus Software Inc. All rights reserved. Callidus Software, the Callidus Software logo, TrueComp® Manager, ActekSoft and ACom3 are trademarks, service marks, or registered trademarks of Callidus Software Inc. in the United States and other countries. All other brand, service or product names are trademarks or registered trademarks of their respective companies or owners.
Add to Digg Bookmark with del.icio.us Add to Newsvine
Press Contact for Callidus Software:
Rajendran Nair
Callidus Software, Inc.
925-251-2255
[email protected]dussoftware.com

Media Contact for TSIA:
Suzanne Hite
TSIA
[email protected]
410-774-5322


Copyright @ Marketwire
Page: 1
Related Keywords:
Callidus, TrueComp, sales performance, incentive compensation, spm, saas, sales lifecycle, on-demand, Sales,Applications,Sales & Marketing,Networking,Business Issues,Management,Sales,Sales,USA,Marketwire, Inc., ,Technical Services,Business,Other,
---