CaféMap for iPhone Quickly and Easily Maps Nearest Coffee Houses
(March 15, 2011)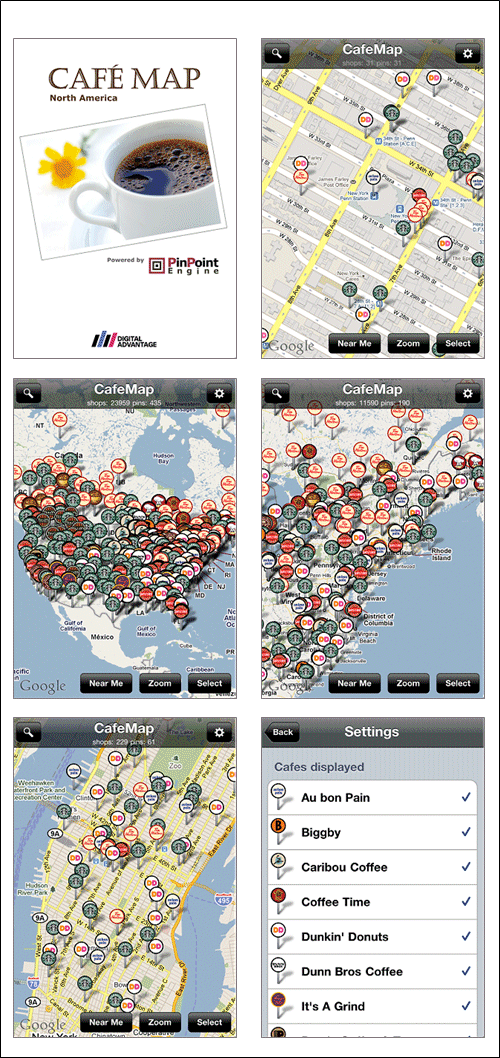 Tokyo, Japan (PRWEB) March 15, 2011
Following on the success of several iPhone/iPad applications in Japan, software start-up company Digital Advantage Corp. has released a North American version of its popular CaféMap for the iPhone/iPad. The 99-cent navigation tool quickly and easily maps out the major coffee houses for your current location, or simply pans and zooms to anywhere else in the US and Canada.
CaféMap (North America version) on the iTunes App Store:
http://itunes.apple.com/app/id423949382
CaféMap for iPhone/iPad shows nearby coffee shops (Starbucks, Dunkin Donuts, etc.) on an interactive map, featuring the top 15 coffee chains in the US and Canada. Whether youre looking for a place to meet someone, need to kill time before your next meeting, or just want some coffee, CaféMap finds nearby coffee shops fast.
Built-in Database Quickly and Easily Locates Nearly 25,000 Coffee Houses in the US and Canada
CaféMap contains data for 24,460 shops of 15 major coffee chains (as of March 3rd, 2011). Store data is updated regularly.

Au Bon Pain (228 shops)
Biggby (123 shops)
Caribou Coffee (470 shops)
Coffee Time (180 shops)
Dunkin' Donuts (6,554 shops)
Dunn Bros Coffee (86 shops)
It's A Grind (66 shops)
Peet's Coffee & Tea (193 shops)
Robin's Donuts (83 shops)
Second Cup (349 shops)
Seattle's Best (361 shops)
Starbucks (11,639 shops)
The Coffee Bean (273 shops)
Tim Horton's (3,721 shops)
Tully's Coffee (134 shops)
CaféMap keeps the location data for all these coffee chains inside the application itself, making searches faster.
The Secret to Fast and Flexible Mapping: The PinPoint Engine
Under the hood of CaféMap is Digital Advantages PinPoint Engine for fast and flexible mapping. Despite a hefty built-in database filled with data, the PinPoint Engine keeps searches speedy and functionality flexible, making the following operations possible.

Prompt location of shops by Pan & Zoom or by text search
Familiar graphics for each chain, making identification easy and intuitive
Zoom function automatically shows the nearest several shops for any given location
A show/hide function for each chain
Displays tally of shops/pins currently on-screen
Search by street address
Displays shop addresses and phone numbers
Displays approximate direct distance to shops
Displays directions to shops
Option to email details of the coffee shop selected
Tweet function for Twitter users
A thinning option for smooth data display
A title-bar asterisk to remind you about hidden chains
Digital Advantage Corp.
Established in 1998 as a spin-off from a leading Japanese technology publisher, the editors and engineers of Digital Advantage are actively engaged in web-based publishing and software development. Digital Advantage specializes in web magazines for technology professionals, web-based applications, and apps for the iPhone/iPad.
Media Contact for CaféMap
Jeff Gedert
Marketing Representative for US/Canada
Mail: cafemap_us-support (at) d-advantage (dot) jp
http://www.d-advantage.jp/company-eng.html
###
Read the full story at http://www.prweb.com/releases/2011/03/prweb5161244.htm.
Page: 1
Related Keywords:
computer crime, lifestyle and leisure, lifestyle (house and home), economy, business and finance, financial and business service, business enterprises, business (general), family, family planning, fishing industry, cinema industry, radio industry, television industry, music industry, process industry, fishing industry, food, cinema industry, radio industry, television industry, music industry, process industry, food, food safety
---