Cabinet NG Document Management Targets Legal Industry With PaperlessAttorney.com
Document Management Company to Showcase Paperless Office Solutions at LegalTech New York
(January 23, 2012)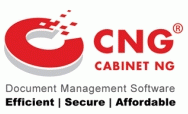 HUNTSVILLE, AL and NEW YORK, NY -- (Marketwire) -- 01/23/12 -- Cabinet NG (CNG), provider of electronic document management and workflow management software, today announced it will debut its new legal targeted website, PaperlessAttorney.com, at LegalTech New York, January 30 through February 1 at booth #2505.
Transactional law firms (personal injury, disability, traffic law, etc.) face a document management problem uncharacteristic of other types of law firms as the more cases taken to closure directly affect their bottom line. Being efficient at closing cases requires a strict and repeatable document management process that will allow the firm to intake initial documents, workflow them electronically and get updates on their status from a workstation or mobile tablet used in the firm.
The core benefits of CNG's document management solutions to legal firms include:
Instant Access: Access documents any time from an Internet connected device such as desktops, laptops, or tablets at the touch of a button. Multiple assistants can work the same case simultaneously and have access to all relevant documentation. If one assistant works the investigation, while another does medical records and a third works with the insurance companies, the system allows all three access to all of the documents at any time.
Share & Collaborate: Use workflow to route documents through a standard process. Letters and other case matter can quickly be reviewed, edited and approved without ever leaving the system. Streamlining collaboration and workflow processes allows more to be accomplished in less time, which translates to higher caseloads at a given headcount without compromising quality.
Integration: Historically reserved for large practices with deep IT pockets, CNG's solutions allow small and medium-sized firms to achieve levels of application integration with other core firm applications to drive efficiency and manage IT costs.
Search: Going paperless dramatically decreases the amount of time spent locating and retrieving documents, both current and archived through various types of searching including structural search, keyword and document title search, and full text search.
"Our productivity has increased as a result of better communication, quicker access to information and flexibility for time in the office," said Danny Meier, firm administrator, Daugherty, Fowler, Peregrin, Haught & Jenson. "Our clients are receiving better service because we are able to research issues and provide answers more quickly than our competitors. And with remote access, the attorneys and paralegals enjoy the ability to work from home or at conferences allowing us to be more effective while traveling and still meet the expectations of our clients."
To match the needs of any law firm or legal organization, CNG's document management solutions can be purchased and installed on premises, or hosted in the cloud for a monthly fee. The software is highly configurable, allowing for the creation of a structured system to meet the needs of each law firm or legal organization. The solution delivers key functionality out-of-the-box and has built-in rights management and security to help users gain control of their valuable documents and information.
"Since inception, CNG's mission has been to help firms achieve their growth and profitability goals. Our passion is to see our customers successfully make the transition to centralized document management allowing them to operate multiple locations, support remote workers, meet compliance requirements, reclaim office space and solve a wide range of business problems," said Andrew Bailey, president, Cabinet NG. "With PaperlessAttorney.com, we can target law firms and legal departments and provide them with the necessary information to help them increase efficiency and eliminate the costly inconsistencies that are common in a paper based process."
For more information about CNG's document management solutions for the legal industry, visit CNG in booth #2505 at LegalTech New York, where CNG executives will showcase the company's document management solutions, contact CNG at 800-621-6501 or visit http://paperlessattorney.com/.
About Cabinet NG:
Cabinet NG (CNG)'s electronic document management software moves manual paper-based processes into efficient document workflows. Its user-friendly products streamline user tasks, delivering gains in office/field productivity and bottom-line savings. CNG's intuitive workflow and scheduling supports secure collaboration with centrally managed and instantly accessible documents. Advanced integration technology ensures smooth workflow and seamless connection to many existing Windows-based business applications. CNG's industry specific configurations help businesses quickly attain a paperless office that scales with business growth. Products can be installed locally or online in a hosted SaaS configuration and used with a desktop or browser interface. www.cabinetng.com.
All trademarks and registered trademarks are property of their respective owners.
Add to Digg Bookmark with del.icio.us Add to Newsvine
Press Contacts:
Angela Tuzzo
MRB Public Relations
732-758-1100, x.108
Email Contact


Copyright @ Marketwire
Page: 1
Related Keywords:
electronic document management, workflow management software, paperless office, paperless attorney, Marketwire, , Internet Technology, Business, Internet, Other,
---