CORRECTION FROM SOURCE: SpillWall Productions Signs 3-Year Operating Agreement With Film Alberta Studio of Edmonton and Hires Accomplished Production Executive, Todd Shotz
Major Step Forward for SpillWall Productions As Strong Growth Continues
(February 01, 2012)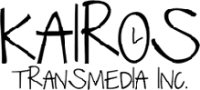 LOS ANGELES, CALIFORNIA -- (Marketwire) -- 02/01/12 --
A Correction from Source is issued with respect to the release issued earlier today at 12:15 PM ET.
Kairos Transmedia Inc. (www.kairostransmedia.com), a new media content creation and distribution company, today announced that its Alberta Canada based subsidiary, SpillWall Productions Inc. has signed a three year operating agreement with Film Alberta Studio of Edmonton, Canada. It has also hired production Executive Todd Shotz as Executive Vice President, Production and Development.
The agreement allows for SpillWall Productions to operate the studio, controlling the asset and leveraging it and other services to gain equity participation, intellectual property and digital rights in content. Dedicated to fun age-appropriate productions for teens and tweens and family-friendly projects, SpillWall Productions will produce content to be featured on SpillWall.com, the company's flagship distribution platform, as well as family friendly content for television and theatrical release.
As a development, financing and production company, SpillWall Productions will also offer television producers and film makers complete production services (principal/post), financing opportunities (debt/equity), manage government initiatives (grants/incentives/subsidies) and consulting on creative, distribution and marketing services. The company will also privately finance select projects along with Canadian subsidies, as well as Canadian and U.S. individual investor groups.
Bill Stuart, Kairos Transmedia's Chief Executive Officer said, "Our strategy is to produce and distribute fun, age-appropriate content for tweens and teens. Film Alberta Studio not only allows for this, but will also facilitate partnerships with others, gaining access to many more original content projects."
"The SpillWall Studio is a state-of-the-art studio and soundstage. Situated in a 51,570-square foot facility, it is comprised of a 15,000-square foot soundstage, 13 production office facilities, underground tank, carpentry/paint shops, mobile unit bay, 9 art department offices, 9 dressing rooms and full makeup, hair and wardrobe facilities," added Stuart.
Kairos Transmedia has also tapped Hollywood executive Todd Shotz as Executive Vice President, Production and Development. After a successful career managing theatrical productions on Broadway, Shotz worked for six years with Cheyenne Enterprises, actor Bruce Willis and producer Arnold Rifkin's production company where he served as its Vice-President. Shotz will oversee SpillWall Productions' feature film and television projects originating both from the company's internal development slate and from strategic partnerships.
"Although the traditional film and television studio industry is an interesting opportunity, SpillWall's new transmedia platform approach to content production, marketing and distribution, supported by an existing broad and deeply engaged audience is why I'm so excited to be involved," said Shotz. "It's one matter to make a film but another to get it distributed. With SpillWall.com we have ready access to distribution. We have over 1 million readers of The Magazine. We produce multiple specialty publications that add to our readership. We also have existing airtime on multiple TV networks as well as our trailers in theatres lend us P&A (print and advertising) capabilities. All these pieces make this a compelling endeavor."
The Kairos Transmedia family companies maintain significant relationships with major studios, television and strategic media partnerships in the Los Angeles, Toronto, New York, London and Edmonton.
About Kairos Transmedia, Inc.
KTI is a new breed edutainment company serving the 8 to 18 year old market with safe, monitored and age appropriate content developed by in-house professionals, media and studios, and generated by our readers. The company is built to service kids, encouraging their creativity and giving them multiple interactive creative venues and outlets to showcase, celebrate and be rewarded for their creativity. KTI offers this compelling content and creative outlet though several business units including The Magazine, social media such as Spillwall.com and via partners such as The Directors Cut. The company believes it will create significant enterprise value for its stakeholders through growing its current business units, buying complimentary youth-centric media content companies and utilizing transmedia to leverage this content across its platforms and media assets. Read more at www.kairostransmedia.com. For more photos, floor plan and technical specifications can be found at filmalberta.com. and www.Spillwallproductions.com.
About The Magazine (www.themagazine.ca)
Launched in 2000, The Magazine is Canada's most popular youth lifestyle magazine, covering music, movies, television, social issues, the environment, health topics and just about anything that affects the lives of 8 to 14 year-olds. Customers including Disney, Warner Bros., YTV, Lego as well as parents, educators and community leaders have praised The Magazine for promoting literacy, media awareness and positive lifestyles, while remaining true to a youthful style and non-condescending editorial voice. The Magazine publishes bi-monthly, plus summer and December holiday editions, and is currently available in most retail stores across Canada including Walmart, Shoppers Drug Mart, Zellers and Indigo. A 2012 launch is planned for circulation throughout the United States via a corporate partner.
Contacts:
Sacke & Associates Inc.
John Sacke
(647) 886.0750
johns@sackepr.com


Copyright @ Marketwire
Page: 1
Related Keywords:
Kairos Transmedia, Inc. , Family, Teens, Children, Parents, Family, Movies & Music, Web, Movies by Genre, Family, Music, Social Media, Canada, USA, Toronto, Marketwire, Inc., , Marketing Services, Film, Television, Music, Lifestyle, Business, Family, Teens, Parents, Other,
---