CNS Response Appoints Maurice J. DeWald to Board of Directors
(March 29, 2012)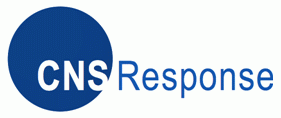 ALISO VIEJO, CA -- (Marketwire) -- 03/29/12 -- CNS Response, Inc. (OTCBB: CNSO) today announced that Maurice J. DeWald has been appointed to CNS Response's Board of Directors. DeWald will also serve as a member of the Board's Audit Committee and newly-created Governance and Nominations Committee.
"We are very pleased to welcome Maury as a director of CNS Response," said George Carpenter, CEO and President of CNS Response. "He brings to our board extensive management, finance, public accounting and corporate governance experience, along with his in-depth knowledge of both the healthcare and technology sectors."
DeWald has served as the Chairman and CEO of Verity Financial Group, Inc., a financial advisory firm, since 1992, where the primary focus has been in both the healthcare and technology sectors. He also serves as a director of public companies Healthcare Trust of America, Inc., Targeted Medical Pharma, Inc. and Emmaus Life Sciences, Inc., and as a non-executive Chairman of public company Integrated Healthcare Holdings, Inc. DeWald previously served as a director of Tenet Healthcare Corporation, ARV Assisted Living, Inc. and Quality Systems, Inc.
From 1962 to 1991, DeWald was employed by KPMG, LLP, where he served at various times as an audit partner, a member of their board of directors, as well as the managing partner of the Orange County, Los Angeles and Chicago offices.
DeWald was recently recognized by the Orange County Forum for Corporate Directors as a 2012 Director of the Year Honoree for his work in corporate governance. He holds a B.B.A. degree in Accounting and Finance from the University of Notre Dame and is a member of its Mendoza School of Business Advisory Council.
About CNS Response
CNS Response provides reference data and analytic tools for clinicians and researchers in psychiatry. While treatment has doubled in the last 20 years, IT IS ESTIMATED THAT 17 MILLION AMERICANS HAVE FAILED TWO OR MORE MEDICATION THERAPIES FOR THEIR MENTAL DISORDER. The company's Psychiatric EEG Evaluation Registry, or PEER Online™, is a new registry and reporting platform that allows medical professionals to exchange treatment outcome data for patients referenced to objective neurophysiology data obtained through an EEG. Based on the company's original physician-developed database, there are now over 34,000 outcomes for 8,700 unique patients in the PEER registry. The objective of PEER Online™ is to avoid trial and error pharmacotherapy, the dominant approach for treatment resistant patients.
To read more about the benefits of this patented technology for patients, physicians and payers, please visit www.cnsresponse.com. Medical professionals interested in learning more can contact CNS Response at PEERinfo@cnsresponse.com.
Safe Harbor Statement under the Private Securities Litigation Reform Act of 1995
Except for the historical information contained herein, the matters discussed above, particularly related to the proposed study to be conducted by CNS, the possible outcomes and the potential benefits of its product, are forward-looking statements made pursuant to the safe harbor provisions of the Private Securities Litigation Reform Act of 1995, as amended. These forward-looking statements involve risks and uncertainties as set forth in the Company's filings with the Securities and Exchange Commission. These risks and uncertainties could cause actual results to differ materially from any forward-looking statements made herein.
Add to Digg Bookmark with del.icio.us Add to Newsvine
Investor Relations:
Marty Tullio
Managing Partner
McCloud Communications, LLC
949.553.9748
Email Contact

Media Relations:
Joyce Johannson
Johannson Communications
612.927.4543 (office)
612.845.3080 (cell)
Email Contact


Copyright @ Marketwire
Page: 1
Related Keywords:
CNS Response, Finance, Database, Business Issues, Management, Finance/Accounting, CEO/CFO, Finance/Accounting, Marketwire, Inc., , Financial, Medical, Business,
---