CNS Response Acquires Intellectual Property, Patent Application and Worldwide Rights to Patient Responsivity Data for Transcranial Magnetic Stimulation for Depression Treatment
Data to Be Available to Physicians in 2012 Through PEER Online(TM)
(November 11, 2011)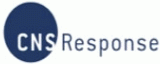 ALISO VIEJO, CA -- (Marketwire) -- 11/11/11 -- CNS Response, Inc. (OTCBB: CNSO) today announced its acquisition of a neurometric platform, and other intellectual property, which may help physicians better understand positive or negative patient response to Transcranial Magnetic Stimulation (TMS). The data is expected to be available to physicians through CNS Response's PEER Online™ database in early 2012.
Transcranial Magnetic Stimulation (TMS) is a non-invasive outpatient procedure that uses magnetic fields to stimulate areas of the brain thought to control mood. TMS, which is approved by the U.S. Food and Drug Administration and offered by around 300 psychiatrists nationwide, is sometimes used as an alternative for patients who have failed one or more antidepressants for treatment of depression. While treatment periods vary by patient, a typical treatment regime involves 20 to 30 treatments over four to six weeks.
"The TMS responsivity data, which is based on an EEG, helps physicians learn how patients with similar EEG patterns responded to TMS, thereby enabling doctors to effectively guide patients most likely to be helped by this treatment," said Dr. Daniel Hoffman, Chief Medical Officer for CNS Response. "This information may be beneficial to physicians, patients and payers."
CNS Response's PEER Online™ enables physicians to compare and learn which medication treatments have been effective, and which have not been effective for their peers treating patients with similar EEGs. The collection of shared physician experience builds on the company's original physician-developed database, Referenced-EEG® (rEEG®).
"Helping doctors share information regarding what worked and what didn't work for patients with similar EEG results is the objective of PEER Online," said CNS Response's Chief Technology Officer Brian MacDonald. "We expect this data will be a significant and valuable addition to our PEER Online database and the company's ongoing efforts to build better evidence for mental health care."
The TMS responsivity data was developed and tested in a multi-site clinical trial in the Netherlands. CNS Response has purchased the intellectual property from this effort, including patent applications, clinical trial data and other documentation. Terms of the deal were not disclosed.
About CNS Response
CNS Response provides reference data and analytic tools for clinicians and researchers in psychiatry. While treatment for mental disorders has doubled in the last 20 years, it is estimated that 17 million Americans have failed two or more medication therapies for their mental disorder. The company recently launched the Psychiatric EEG Evaluation Registry, or PEER Online™, a new registry and reporting platform that allows medical professionals to exchange treatment outcome data for patients referenced to objective neurophysiology data obtained through an EEG. PEER Online builds on the company's original physician-developed database, Referenced-EEG® (rEEG®). Avoiding trial and error pharmacotherapy, the dominant approach for psychiatric treatment, is the objective of PEER Online™.
To read more about the benefits of this patented technology for patients, physicians and payers, please visit www.cnsresponse.com. Medical professionals interested in learning more can contact CNS Response at PEERinfo@cnsresponse.com.
Safe Harbor Statement Under the Private Securities Litigation Reform Act of 1995
Except for the historical information contained herein, the matters discussed are forward-looking statements made pursuant to the safe harbor provisions of the Private Securities Litigation Reform Act of 1995, as amended. These forward-looking statements involve risks and uncertainties as set forth in the Company's filings with the Securities and Exchange Commission. These risks and uncertainties could cause actual results to differ materially from any forward-looking statements made herein.
Add to Digg Bookmark with del.icio.us Add to Newsvine
Investor Relations:
Marty Tullio
Managing Partner
McCloud Communications, LLC
949.553.9748
Email Contact

Media Relations:
Joyce Johannson
Johannson Communications
612.927.4543 (office)
612.845.3080 (cell)
Email Contact


Copyright @ Marketwire
Page: 1
Related Keywords:
CNS Response, USA, Marketwire, , Medicine, Therapy, Surgery, Medication, Physician, Medical, Other, Medical Professionals,
---