CKGSB Partners With Malaysia's Human Resources Development Fund and SRW&Co. to Deliver Executive Education Programs to Southeast Asian Professionals
(November 28, 2011)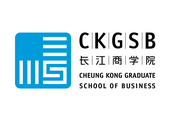 BEIJING -- (Marketwire) -- 11/28/11 -- Cheung Kong Graduate School of Business (CKGSB) announces a partnership today with the Malaysian government's Human Resources Development Fund (HRDF) and SRW&Co., a regional management consulting firm. In this partnership, CKGSB will deliver custom executive education programs to the senior leaders of companies and government agencies from Malaysia, Indonesia and other ASEAN countries.
This educational alliance between leading Chinese business school CKGSB, the Malaysian HRDF and SRW&Co. will enable the ASEAN participants to gain insight into doing business in China and cooperating with Chinese companies operating in Southeast Asia. The alliance, formally titled the "ASEAN Global Leadership Programme -- China," serves as a strategic platform for deepening business ties between China and its Southeast Asian neighbors.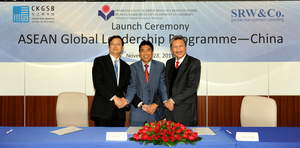 Malaysia's HRDF -- which is operated by the country's Ministry of Human Resources -- and SRW&Co. will enroll and send high-level manufacturing and service sector executives to participate in CKGSB programs in China. The programs aim to develop leaders who can drive the ASEAN's next wave of development. CKGSB's faculty of experts on China's economic development and integration with the global economy will conduct China-focused seminars on topics including leadership, strategic planning, product branding, innovation, business development, financial management and human resource management. Additionally, CKGSB's Dean, Xiang Bing, will deliver a seminar titled "The Globalization of Chinese Companies." Delegates will also visit major Chinese enterprises and multinational companies operating in China to see first-hand the transformation of the Chinese economy.
"[Our] focus is to develop leadership capability and practical solutions needed to respond successfully to the threats and opportunities created by the current economic climate," said Amirnuddin Mazlan, CEO of HRDF, about the partnership with CKGSB. "For Malaysia, we want to develop Malaysian entrepreneurs to innovate, drive change and deliver results in a competitive business environment and during market uncertainties. In a changing economy, they are expected to shift gear to lead a new and bolder strategy."
CKGSB expects to welcome the first class of executives from the ASEAN countries starting in October 2012. It is the first such partnership that HRDF and SRW&Co. have formed with a Chinese organization and is evidence of CKGSB's role in fostering interregional ties in Asia. The partnership is also representative of growing economic cooperation between China and Southeast Asia.
"This pioneer custom program is timely, reflecting the strategic importance of ASEAN as a regional block and the emergence of China as the world's second largest economic power. There are many lessons to be learned and shared between China and ASEAN, and we are hoping to use this program to contribute to this learning and sharing process, aside from the obvious benefits of business networking for the ASEAN participants derived from tapping into the huge alumni network of CKGSB," added Daniel Wong, Chairman of SRW&Co.
The contract signing and launch ceremony today at CKGSB's Beijing campus brought together representatives from CKGSB, HRDF and SRW&Co. Participants celebrating the partnership included Dean Xiang of CKGSB, Amirnuddin Mazlan of HRDF, and Daniel Wong of SRW&Co.
"There is a whole new generation of Asian enterprises that are looking to go global," remarked Xiang. "Today's groundbreaking agreement is a win-win for China, Malaysia and ASEAN nations in general, as it will deepen our mutual understanding and strengthen our bilateral economic ties -- better preparing companies from both China and the ASEAN nations to innovate and compete on the world stage."
Image
Company logo : http://release.media-outreach.com/i/Download/236
Photo : CKGSB Assistant Dean Zhou Li (left); HRDF CEO, Amirnuddin Mazlan (center); and SRW&Co. Chairman, Daniel Wong (right) celebrate the Launch of the ASEAN Global Leadership Programme -- China in Beijing on Monday, November 28. http://release.media-outreach.com/i/Download/260
About CKGSB
Established in 2002, CKGSB is China's first non-profit, independent business school. CKGSB's mission is to generate world-class insights on management theory and practice, and to develop business leaders for a new era of global business in China and beyond. Headquartered in Beijing, CKGSB has satellite campuses in Shanghai and Shenzhen, and a network of overseas offices in London, New York, and Hong Kong. CKGSB offers MBA, EMBA, finance MBA and executive education programs. For more information, please visit www.ckgsb.edu.cn.
Image Available: http://www2.marketwire.com/mw/frame_mw?attachid=1813366

Add to Digg Bookmark with del.icio.us Add to Newsvine
Contact
Assistant Director - International Programs
Vivian Yao
vivianyao@ckgsb.edu.cn


Copyright @ Marketwire
Page: 1
Related Keywords:
Cheung Kong Graduate School of Business (CKGSB), ASEAN Global Leadership Programme-China, Manufacturing, Manufacturing/Production, Human Resources, Manufacturing, Education, Networking, Management, Human Resources, CEO/CFO, Human Resources, China, Hong Kong, Marketwire, , Financial, Business, china, Other,
---