CFEngine Launches New Configuration Management Suite for Automating Distributed Infrastructure
'CFEngine 3 Nova' Gives System Administrators Greater Agility & Control Over Constantly Changing, Increasingly Complex IT Infrastructure
(October 25, 2011)
PALO ALTO, CA -- (Marketwire) -- 10/25/11 -- CFEngine AS, the leading European provider of IT automation software for system administrators, today unveiled 'CFEngine 3 Nova,' a major new version of its commercial configuration management software. The company also announced the opening of its U.S. headquarters in Silicon Valley.
CFEngine configuration management solutions are used by global organizations such as Facebook, AT&T, Cisco, eBay, LinkedIn, AMD, the U.S. Navy, and five of the 10 largest banks on Wall Street to manage servers, desktops and other heterogeneous computing devices. CFEngine's decentralized, autonomous agent technology delivers unmatched scalability -- able to continuously monitor, self-repair, and update the IT infrastructure of a global multi-site enterprise within minutes, with negligible impact on system resources or performance.
"We have built a strong and fast-growing business upon the foundation of CFEngine's open source popularity," said Thomas Ryd, CEO of CFEngine. "Our largest enterprise IT customers are based here in North America -- as are our biggest and best prospects. Now is the right time for us to invest in a U.S. headquarters to better serve them."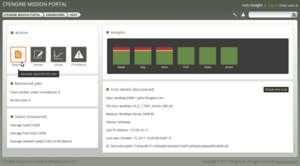 CFEngine 3 is the most advanced open source configuration management platform available, able to precisely manage and automate all facets of large-scale IT infrastructure, including:
System Scalability & Performance
IT Compliance
CMDB
Application Deployment
Desktop Management
Security
Machine Building
System Event Orchestration
Legacy Applications
Embedded Devices
CFEngine 3 Nova
CFEngine 3 Nova is a commercial subscription offering built upon the powerful and widely adopted open source CFEngine 3 project. It is designed to help organizations overcome their biggest IT challenges by increasing agility and consistency, while reducing costs and system outages.
"We have upgraded our IT automation and configuration management from CFEngine 2 to CFEngine 3 Nova," said Marty Getrich, Laboratory Manager for the Bigelow Laboratory for Ocean Sciences. "It has helped our systems become more dependable and our department to become more agile overall."
This major update of CFEngine Nova includes these new and enhanced features:
The 'Nova Mission Portal' dashboard is a graphical user interface (GUI) for setting policies and monitoring system health. The Mission Portal can also produce policy reports on the state of any IT service or machine in the enterprise, allowing executives to develop and review custom IT metrics weighted specifically to the organization's business goals.


Native Support for Windows -- CFEngine Nova users can employ fine-grained management of Microsoft Windows servers and desktops, including native control of the Windows Registry, Windows Services and Windows Access Control Lists (ACLs). A new technical whitepaper on "Windows Management with CFEngine 3 Nova" is available at www.cfengine.com/windows.


Ensure Faster IT Compliance -- CFEngine 3 Nova simplifies the implementation and compliance of commercial and government IT regulations, such as PCI-DSS, SOX 404, STIGs, and accepted industry best practices. Nova supports extensive and flexible customization of policies and reports, allowing organizations to complete IT audits in hours instead of weeks.


Improved Hypervisor Integration -- enhanced support for creating and managing XEN/KVM virtual machines on the fly, using the industry standard libvirt API library.


Support for Mission-Critical High Availability through a fully redundant, lightweight architecture for system information updating. Users get reliable and predictable insight, with fault recovery times of only a few minutes in case of failure -- something that cannot be easily matched by competing software.

"CFEngine's mission is to empower system administrators with automation tools that let them engineer a scalable, reliable and agile IT infrastructure," said Mark Burgess, creator, founder and CTO of CFEngine. "Nova adds capabilities that enable administrators to ensure IT infrastructure can quickly support evolving business requirements."
A free Webinar for systems administrators and their managers -- "An Introduction to CFEngine 3 Nova" -- will be held on Wednesday, November 2 at 9:00 a.m. Pacific. Registration is available at http://bit.ly/NovaWebinar.
Nova Supported Platforms & Availability
CFEngine 3 Nova runs on major enterprise computing platforms, including Linux, Unix, Solaris, HP-UX, AIX, FreeBSD, Microsoft Windows and Macintosh.
Additional Nova information and resources are available at http://www.cfengine.com/nova
The Community version of CFEngine 3 is available for free download from http://www.cfengine.com/download.
New CFEngine U.S. Headquarters
Founded and developed in Norway, CFEngine has opened a new Sales, Marketing, Business Development and Professional Services headquarters in California's Silicon Valley. The company's CEO, Mr. Ryd, and his family have transferred to California in the process. The company's product engineering will continue to be based in Oslo.
The new office contact information is:
CFEngine, Inc
251 High Street, Suite B
Palo Alto, CA 94301
Tel: +1 650 257 0233
Email: [email protected]
About CFEngine: www.cfengine.com
CFEngine software automates large-scale IT computing infrastructure: ensuring the availability, security and compliance of mission-critical applications and services. Based on a popular and flexible open source standard, CFEngine configuration management products are highly scalable through decentralized, autonomous agents that can continuously monitor, self-repair, and update a global multi-site enterprise every five minutes -- with negligible impact on system resources or performance.
CFEngine solutions are used by global organizations such as Facebook, AT&T, Cisco, eBay, LinkedIn, AMD, the U.S. Navy, and five of the 10 largest banks on Wall Street to manage servers, desktops and other heterogeneous computing devices. Built upon well-established theory and high-quality engineering practices, CFEngine enjoys an outstanding security record over its 18-year history.
The privately held company serves its global financial, technology and government customers from international offices in Oslo, Norway and Palo Alto, California.You can follow CFEngine on Twitter @CFEngine_News.
Image Available: http://www2.marketwire.com/mw/frame_mw?attachid=1776724

Add to Digg Bookmark with del.icio.us Add to Newsvine
Contact:
Steve Curry
CFEngine
Tel: +1 831-359-5844
Email: Email Contact


Copyright @ Marketwire
Page: 1
Related Keywords:
CFEngine, Sales, Applications, Marketing, Sales & Marketing, Security, Business Issues, Law & Regulations, Management, Sales, CTO/CIO, CEO/CFO, Sales, Unix, Mac, Unix, Linux, USA, Marketwire, , Financial, Wall Street, Engineering, Business, Military, Family, Other,
---