Bruisers Version 1.0 Released on Facebook
Epic Battle of Pirates vs. Ninjas With a Turn-Based Game Play Strategy
(July 27, 2011)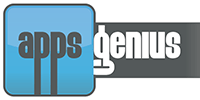 RED BANK, NJ -- (Marketwire) -- 07/27/11 -- Apps Genius Corp (OTCBB: APGS) (www.appsgenius.com), developer and publisher of social games and iPhone apps, today released Bruisers, currently available on Facebook and soon to be released on other leading social networks. Bruisers is built on App Genius's proprietary social gaming engine. Gamers can elect to battle the computer or battle another online player in real-time. Each player can use points to equip their pirate or ninja with various weapons to strategically win their battle. Players can earn points by playing the game and winning battles or they can purchase them directly using Facebook Credits.
With over 45,000 items available in Bruisers for players to earn, every character whether a pirate or ninja can be unique to each user. Players can equip their pirates and ninjas with unique legendary weapons, state of the art bombs and even design their personalized outfits.
"Apps Genius's release of Bruisers is another step in redefining how social games are played. Unlike most games that are played alone or against a computer, Bruisers allows players to play against each other in real-time and players can see each other's movements in real time," said Adam Kotkin, CEO of Apps Genius. "We believe that Bruisers takes social gaming to a new level where players compete and play in real-time. Apps Genius competes against many gaming developers such as Zynga, Electronic Arts and Playdom and utilizes its own social game technology to power and develop our games such Bruisers. As with other games offered by Apps Genius such as My Mad Millions, Bruisers was built with the intent of being distributed among other social networks in addition to Facebook and will eventually allow users from several platforms to battle each other in real-time."
For more information, visit http://apps.facebook.com/bruisers or www.appsgenius.com.
About Apps Genius:
Apps Genius Corp (www.appsgenius.com) develops markets, publishes and distributes social games and software applications that consumers can use on a variety of platforms. The platforms include social networks, wireless devices such as cellular phones and smart phones including the Apple iPhone™ and standalone websites. To date, we have released several applications including 'Bed Bug Alert,' an informational tool for the Apple iPhone™, 'My Mad Millions,' a game application for Facebook™, 'Slap a Friend,' a game application for the Apple iPhone™, 'Bruisers' a game application for Facebook™, 'Angry Turds,' a game application for Apple iPhone™, and 'Crazy Dream' Application for Facebook™. Apps Genius Corp's goal is to develop and publish new titles on a recurring basis that are based on the same property and gaming platform. Examples of this franchise approach are 'My Mad Millions' and 'Rock The House,' currently under development, which both utilize the same underlying platform. A core focus of our Social Gaming and Mobile Application development is to allow users and players to reach across different networks into a virtual application or gaming environment such as Facebook, MySpace, iPhone and Android and be able to play games and use applications from all users no matter what environment they are using the application in.
Contact:
Brian Morris
Public Relations
732-530-1267
Email Contact


Copyright @ Marketwire
Page: 1
Related Keywords:
Apps Genius Corp, Applications, Public Relations, Productivity Applications, Other Applications, Marketwire, Apple Computer, Communications Technology, Game Technology, Gamers, Other,
---