Brooks Brothers to Launch Classic American Style on ShopNBC November 18
(October 25, 2011)

MINNEAPOLIS, MN -- (Marketwire) -- 10/25/11 -- ValueVision Media (NASDAQ: VVTV), a multichannel electronic retailer operating as ShopNBC (www.ShopNBC.com), announced today the premiere of Brooks Brothers, a fashion and accessories brand steeped in American heritage, on November 18. Debuting during ShopNBC's All Star Event, the one-hour show will be the brand's first foray into TV home shopping. The Brooks Brothers collection at ShopNBC will feature women's accessories in their well-known classic American style, ideal for holiday gifting.
Brooks Brothers has an over 190-year legacy of crafting high-quality fashion and is known as the first ready-to-wear clothing retailer in America. As both makers and merchants of fine apparel and accessories, the brand's timeless appeal has shaped American fashion though innovation, exceptional quality and personal service. The classic wardrobe styles of Brooks Brothers have transcended generations from the office to weddings, to special occasions and holidays.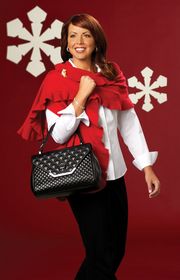 As part of the Brooks Brothers' premiere on ShopNBC, the one-hour show will feature elegant leather handbags, cashmere wraps, and silk scarves. Each versatile accent piece complements most modern styles and is ideal for building a timeless, sophisticated wardrobe. Just in time for the holiday season, the assortment of fine women's accessories from Brooks Brothers makes a perfect gift for that special someone.
"Brooks Brothers is excited to work with ShopNBC," said Lou Amendola, Chief Merchandising Officer at Brooks Brothers. "This is the first time we have offered our products in this format and we believe that this is a unique and modern way to reach women who are already drawn to our products or may be discovering them for the first time."
"We are thrilled to bring the Brooks Brothers legacy of classically styled, fine-quality merchandise to our viewers," said Annette Repasch, Chief Merchandising Officer at ShopNBC. "The addition of Brooks Brothers to our fashion assortment provides our lady with classic wardrobe staples that fit her stylish lifestyle. We look forward to delighting the viewer this holiday season with must-have accessories that are sure to be on every wish list."
For more information about Brooks Brothers, please visit www.ShopNBC.com.
About ValueVision Media/ShopNBC
ValueVision Media, Inc. operates ShopNBC, a multichannel electronic retailer that enables customers to interact and shop via TV, Internet, mobile devices, Facebook, Twitter and YouTube. The ShopNBC television network reaches over 79 million cable and satellite homes, in addition to live nationwide streaming at www.shopnbc.com and iPhone and Android devices. ShopNBC merchandise is focused on Home & Consumer Electronics, Health & Beauty, Fashion & Accessories, and Jewelry & Watches. Revenues for the past 12 months were $587 million, 44% of which was via the Internet or mobile. Please visit the company's investor relations website at www.shopnbc.com/ir for this and other company information.
Forward-Looking Information
This release contains certain "forward-looking statements" within the meaning of the Private Securities Litigation Reform Act of 1995. These statements are based on management's current expectations and accordingly are subject to uncertainty and changes in circumstances. Actual results may vary materially from the expectations contained herein due to various important factors, including (but not limited to): consumer preferences, spending and debt levels; interest rates; competitive pressures on sales, pricing and gross profit margins; the level of cable and satellite distribution for the company's programming and the fees associated therewith; the success of the company's e-commerce and new sales initiatives; the success of its strategic alliances and relationships; the ability of the company to manage its operating expenses successfully; working capital levels; the ability of the Company to establish and maintain acceptable commercial terms with third party vendors and other third parties with whom the Company has contractual relationships; changes in governmental or regulatory requirements; litigation or governmental proceedings affecting the company's operations; and the ability of the company to obtain and retain key executives and employees. More detailed information about those factors is set forth in the company's filings with the Securities and Exchange Commission, including the company's annual report on Form 10-K, quarterly reports on Form 10-Q, and current reports on Form 8-K. The company is under no obligation (and expressly disclaims any such obligation) to update or alter its forward-looking statements whether as a result of new information, future events or otherwise.
Image Available: http://www2.marketwire.com/mw/frame_mw?attachid=1776436

Contact:
Investor / Media Relations:
Anthony Giombetti
ValueVision Media, Inc.
agiombetti@shopnbc.com
(612) 308-1190

Investors:
Norberto Aja, David Collins, Jennifer Neuman
Jaffoni & Collins
vvtv@jcir.com
(212) 835-8500


Copyright @ Marketwire
Page: 1
Related Keywords:
ShopNBC, Home, Internet, Communications, Digital Audio, Web, Accessories, iPods, iphone, Social Media, Broadcast, Consumer Electronics, Streaming, Internet/Web, Prosumer/Consumer, Programming, Internet, Phone OS, Consumer Electronics, Authoring/Programming, Broadcast Technology, Consumer Technology, Internet Media, Broadcast, Consumer Electronics, Marketwire, Inc., , Apple Computer, Television, Lifestyle, Consumer Electronics, Internet Technology, Internet, Other, Women,
---