Brooke Burke-Charvet Stars in a New Short Film Presented by CLARITIN(R) -- Available Today on YouTube
Film Presents a Crazy, Over-the-Top Look at a Busy Mom's Day With Allergies
(March 21, 2012)
WHITEHOUSE STATION, NJ -- (Marketwire) -- 03/21/12 -- Merck, the makers of non-drowsy CLARITIN® products, has teamed up with Dancing with the Stars host Brooke Burke-Charvet this spring to create a new short film titled "The Difference is Clear." The film is a crazy, over-the-top look at two versions of one busy woman's day who is juggling work, life and family while also dealing with allergies. In the first version of her day, Brooke's character doesn't take her allergy medication, and her non-stop allergy symptoms cause an impossibly upside-down day, where nothing goes right and everything goes wrong. In the second version, she treats her allergies and has an impossibly outrageous day, so much so, that there is no limit to what she can achieve.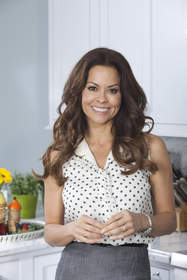 In her real life, Brooke is long-time allergy sufferer. She is eager to show that allergies don't have to interrupt your life. Brooke knows that allergy symptoms can sometimes get in the way, but with non-drowsy CLARITIN, she's able to get relief for her sneezing and itchy, watery eyes.
"My life is pretty hectic, from raising four kids, to hosting Dancing with the Stars, being co-CEO of Modernmom.com and releasing a fitness DVD, so I don't want to let allergies get in my way," said Brooke. "It's important for me to keep my allergy symptoms under control, to help me be at my best on and off camera. That's why I choose CLARITIN for non-drowsy, 24-hour allergy relief. I'm so excited to be starring in 'The Difference is Clear,' and it was really fun to act out the two scenarios for my character in such a crazy, dramatic way."
To view the full film, log on to www.youtube.com/claritin, and stay tuned for more behind-the-scenes footage. For more information on CLARITIN and allergy tips, visit www.Claritin.com.
About CLARITIN®
All CLARITIN® brand products are non-drowsy and available without a prescription. CLARITIN products provide powerful allergy relief for 12 or 24 hours and come in a variety of forms, including: CLARITIN Tablets, CLARITIN® Liqui-Gels®, an easy-to-swallow liquid-filled capsule, and CLARITIN RediTabs® tablets, a quickly dissolving tablet for ages 6 and older.
CLARITIN-D® tablets are available behind-the-counter in 12- or 24-hour extended release tablets and also include the decongestant pseudoephedrine for powerful nasal congestion relief.
CHILDREN'S CLARITIN® comes in great-tasting Grape Chewables or Syrup forms and provides allergy relief for kids 2 and older.
CLARITIN is the No. 1 physician-recommended and pediatrician-recommended non-drowsy over-the-counter allergy brand. The CLARITIN Rx-to-OTC switch in 2002 was the largest switch ever -- and the first for a non-drowsy antihistamine. For more information on allergies and treatment, visit www.CLARITIN.com
About Merck Consumer Care
Today's Merck is a global healthcare leader working to help the world be well. Merck Consumer Care is a subsidiary of Merck & Co., Inc. Each day, millions count on one or more of our industry-leading brands that help prevent or treat various common conditions. These include household names such as CLARITIN for allergies, COPPERTONE for sun care, DR. SCHOLL'S for foot care, and many more. Merck. Be well. For more information, visit www.merck.com and connect with us on Twitter, Facebook and YouTube.
Image Available: http://www2.marketwire.com/mw/frame_mw?attachid=1923842

Add to Digg Bookmark with del.icio.us Add to Newsvine
Media Contact:
Amy Rose
(908) 328-3957
amy_rose@merck.com


Copyright @ Marketwire
Page: 1
Related Keywords:
Merck Consumer Care, Marketwire, Inc., , Film, Family,
---