Broadway In Akron & The University of Akron's EJ Thomas Hall Announce 2012-2013 Season
(May 11, 2012)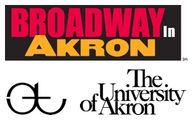 AKRON, OH -- (Marketwire) -- 05/11/12 -- Broadway In Akron and EJ Thomas Hall are proud to announce the 2012-2013 lineup, with the best touring Broadway shows coming to Akron for an unforgettable season!
The 2012-2013 Broadway In Akron Season opens with SHREK THE MUSICAL (January 8-9) -- based on the Oscar-winning DreamWorks film about everyone's favorite ogre, followed by HAIR (March 5-6) -- the exuberant musical that won the 2009 Tony Award for Best Musical Revival. Next up is DREAMGIRLS (April 9-10) -- the sensational new production full of onstage joy and backstage drama and then WEST SIDE STORY (May 7-8) -- the musical that changed theater forever more than 50 years ago is back, mesmerizing audiences once again. The season will close with THE ADDAMS FAMILY (June 12-13) -- the magnificently macabre new musical comedy where the weird and wonderful family comes to devilishly delightful life.
Special presentations will include engagements of SAVION GLOVER'S SOLE SANCTUARY (October 27) -- where the Tony-winning hoofer, choreographer and producer pays his respects to the art of tap, STOMP (February 15-16) -- the international percussion sensation and BOBBY McFERRIN: SPIRIT YOU ALL (April 20) -- where the ten-time Grammy Award winner and his new band invite the audience to sing along on traditional American Spirituals.
Broadway In Akron series packages go on sale May 14 for returning and new subscribers. Package prices are $170, $214.75, $245.25 and $267.75, depending on seating. New subscribers will be seated in August. For further info, contact the Thomas Hall Ticket Office at 330-972-7570 or visit BroadwayInAkron.com.
2012-2013 Season Details
(In Chronological Order)
SAVION GLOVER'S SOLE SANCTUARY
A Hoofer's meditation on the art of tap
October 27, 2012
Saturday 8:00PM
*SPECIAL
In Sole Sanctuary, Tony-winning hoofer, choreographer and producer Savion Glover pays his respect to the art of tap, the craft that he has perfected.
Described by the New York Times as "...barebones and pure, full of the kind of rhythmic innovation that trips down one path, splinters off in different directions and then sweeps back home."
SHREK THE MUSICAL
January 8-9, 2013
Tuesday & Wednesday, 7:30PM
SHREK THE MUSICAL, based on the Oscar®-winning DreamWorks film that started it all, brings the hilarious story of everyone's favorite ogre to life on stage.
In a faraway kingdom turned upside down, things get ugly when an unseemly ogre -- not a handsome prince -- shows up to rescue a feisty princess. Throw in a donkey who won't shut up, a villain with a SHORT temper, a cookie with an attitude and over a dozen other fairy tale misfits, and you've got the kind of mess that calls for a real hero. Luckily, there's one on hand... and his name is Shrek.
Featuring a terrific score of 19 all-new songs, big laughs, great dancing and breathtaking scenery, WWOR-TV proclaims SHREK THE MUSICAL, "FAR, FAR AND AWAY THE FUNNIEST NEW MUSICAL ON BROADWAY!"
SHREK THE MUSICAL is part romance, part twisted fairy tale and all irreverent fun for everyone!
STOMP
February 15-16, 2013
Friday & Saturday, 8:00PM
*SPECIAL
BACK WITH NEW SURPRISES! STOMP is explosive, provocative, sophisticated, sexy, utterly unique and appeals to audiences of all ages. The international percussion sensation has garnered an armful of awards and rave reviews, and has appeared on numerous national television shows. The eight-member troupe uses everything but conventional percussion instruments -- matchboxes, wooden poles, brooms, garbage cans, Zippo lighters, hubcaps -- to fill the stage with magnificent rhythms. As USA Today says, "STOMP finds beautiful noises in the strangest places." STOMP. See what all the noise is about.
HAIR
March 5-6, 2013
Tuesday & Wednesday, 7:30PM
WINNER! BEST MUSICAL REVIVAL 2009 TONY AWARD!
The Public Theater's new Tony-winning production of HAIR is an electric celebration on stage! This exuberant musical about a group of young Americans searching for peace and love in a turbulent time has struck a resonant chord with audiences young and old. HAIR features an extraordinary cast and unforgettable songs, including "Aquarius," "Let the Sun Shine In," "Good Morning, Starshine" and "Easy To Be Hard." Its relevance is UNDENIABLE. Its energy is UNBRIDLED. Its truth is UNWAVERING. It's HAIR, and IT'S TIME.
"THE ULTIMATE AMERICAN ROCK MUSICAL!" - Ben Brantley, The New York Times
"HAIR SPEAKS TO A WHOLE NEW GENERATION!" - Time Out
"IRRESISTIBLE. THE BEST VERSION YET!" - The Washington Post
"EXHILARATING! FLOATING ON A CLOUD OF EUPHORIA." - Los Angeles Times
For Mature Audiences. While many find this show suitable for young adults (13 and older), parental discretion is advised. There is a dimly lit 20-second scene with nudity that is non-sexual in nature.
DREAMGIRLS
April 9-10, 2013
Tuesday & Wednesday, 7:30PM
CATCH THE DREAM! Full of onstage joy and backstage drama, the sensational new production of DREAMGIRLS tells the story of an up-and-coming 1960s girl singing group, and the triumphs and tribulations that come with fame and fortune. With music by Academy Award nominee Henry Krieger and book and lyrics by Tony and Grammy Award winner Tom Eyen, DREAMGIRLS features the unforgettable hits: "And I Am Telling You I'm Not Going," "One Night Only" and "Listen." This Tony and Academy Award winning musical sparkles like never before!
BOBBY McFERRIN: SPIRIT YOU ALL
April 20, 2013
Saturday 8:00PM
*SPECIAL
Bobby McFerrin and his band celebrate the transcendence of the American spirit with joyful new takes on the Spirituals. Ten-time Grammy Award winner Bobby McFerrin will always be the guy who sang "Don't Worry, Be Happy," but his "greatest gift to audiences may be transforming a concert hall into a playground, a village center, a joyous space (LA Times)." What Bobby McFerrin does is not an act; it's spontaneous invention. Bobby's legendary solo vocal performances have dazzled audiences all over the world and sent them home singing. Join Bobby and his band for an evening of virtuosic musicianship, community spirit, and pure fun.
WEST SIDE STORY
May 7-8, 2013
Tuesday 8:00PM & Wednesday 7:30PM
More than fifty years ago one musical changed theater forever. Now it's back and mesmerizing audiences once again. From the first note to the final breath, WEST SIDE STORY soars as the greatest love story of all time. This revival, based on Tony Award-winning librettist Arthur Laurents' Broadway direction, remains as powerful, poignant and timely as ever. The Bernstein and Sondheim score is considered to be one of Broadway's finest and features such classics of the American musical theatre as "Something's Coming," "Tonight," "America," "I Feel Pretty" and "Somewhere." As the Associated Press says, "West Side Story remains Broadway's best dance-driven musical. Five decades have not dimmed the extraordinary choreography or the score that pulsates throughout."
THE ADDAMS FAMILY
June 12-13, 2013
Wednesday & Thursday, 7:30PM
The weird and wonderful family comes to devilishly delightful life in THE ADDAMS FAMILY. This magnificently macabre new musical comedy is "a visually satisfying, rib-tickling, lunatic musical that will entertain you to death!" says Toronto Post City. Created by Jersey Boys authors Marshall Brickman & Rick Elice, Drama Desk-winning composer/lyricist Andrew Lippa (The Wild Party), choreographer Sergio Trujillo (Jersey Boys) and Olivier Award-winning director/designers Phelim McDermott & Julian Crouch (Shockheaded Peter) with production supervision by four-time Tony Award® winner Jerry Zaks, THE ADDAMS FAMILY "is full of charm, wit and surprises that explain why it's a hit on its national tour" (CBS New Orleans).
THE ADDAMS FAMILY features an original story and it's every father's nightmare. Wednesday Addams, the ultimate princess of darkness, has grown up and fallen in love with a sweet, smart young man from a respectable family. A man her parents have never met. And if that weren't upsetting enough, she confides in her father and begs him not to tell her mother. Now, Gomez Addams must do something he's never done before -- keep a secret from his beloved wife, Morticia. Everything will change for the whole family on the fateful night they host a dinner for Wednesday's "normal" boyfriend and his parents.
Come meet the family. We'll leave the lights off for you.
If you would like to receive a Broadway In Akron brochure, please log on to BroadwayInAkron.com.
Find us on Facebook. Follow us on Twitter.
Image Available: http://www2.marketwire.com/mw/frame_mw?attachid=1981313
Image Available: http://www2.marketwire.com/mw/frame_mw?attachid=1981331
Embedded Video Available: http://www2.marketwire.com/mw/frame_mw?attachid=1981381

Add to Digg Bookmark with del.icio.us Add to Newsvine
Contacts:
Elizabeth Randau
BIA Marketing Director
(440) 655-5450
Email Contact

Nancy Logan Barton
EJ Marketing Manager
(330) 972-6842
Email Contact

Beth Lynch
EJ Press/Promotions
(330) 972-2701
Email Contact


Copyright @ Marketwire
Page: 1
Related Keywords:
broadway akron, akron event, akron events, akron shows, shrek akron, dreamgirls, west side story, Pro AV, Presentors, Camera/Film, Business Issues, Presentation, Marketing, Awards, Events, USA, Marketwire, , The Associated Press, Film, Television, Music, Theater, Adults, Family, Parents, Other,
---