Brighter Futures for Beautiful Minds Launches Wonkido Animated Series for Kids
Visually Focused Learning Programs to Teach Autistic Children
(March 30, 2012)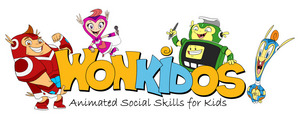 SAN DIEGO, CA -- (Marketwire) -- 03/30/12 -- Tricia Sulpizio Estrada, founder of Brighter Futures for Beautiful Minds (BFBM), announces the launch of Wonkidos Animated Series for Kids. The Wonkido videos and interactive eBook applications teach social and developmental skills to children. Originally developed to teach basic social skills to children on the autism spectrum, the videos and organizers are appropriate for all children from the developmental ages of two to nine. The videos are available on iTunes, and can also be purchased on the Wonkido website www.wonkidovideos.com to allow playback on any computer or mobile device.
A new report by the Centers for Disease Control and Prevention states the number of children with autism in the United States continues to rise. The latest data estimate that 1 in 88 American children have some form of autism spectrum disorder, a 78% increase compared to a decade ago. The release of the Wonkido video learning programs could not have come at a better time.
Estrada, the mother of a son who was diagnosed in 2007 with an autism spectrum disorder, developed the teaching tools to help her son learn everyday life skills and appropriate behavior and responses in common social situations. While many efforts are focused on researching the causes and exploring potential cures for children with Autism, Estrada felt that many children who are developmentally challenged lacked advanced products using visual learning methods to help cope with daily life challenges.
"Many children, especially those along the autism spectrum, learn best when they're visually entertained," notes Estrada. "Wonkido products are fun, animated videos that model proper behaviors, allowing children to learn and be entertained at the same time."
The Wonkido products have quickly garnered praise from some leading researchers in the field of Autism and Pediatrics. Dr. Eric Courchesne and Dr. Karen Pierce of The UCSD Autism Center of Excellence have each endorsed the Wonkido products as valuable tools that can help children on the Autism Spectrum. Leading pediatric expert, Dr. Martin Stein of UCSD Developmental Pediatrics recently stated: "Tricia Estrada has developed a video program that enhances the work of parents. The Wonkidos video series provides opportunities for young children to learn effective ways to negotiate common developmental challenges. The Wonkidos video series is an important contribution to early childhood learning."
Estrada founded Brighter Futures for Beautiful Minds, which produces the Wonkido videos and other learning tools. Utilizing her experience with Corporate Technology, her Masters in Psychology and her personal parenting experience, she began working with the creative team of Tom and Joe Costantini from Two Animators! LP, the resulting Wonkido videos combine current, interactive technology with research in child development.
April is recognized as National Autism Awareness Month.
Add to Digg Bookmark with del.icio.us Add to Newsvine
Contact:
Rita Abbati Albert
Press@bfbm.com
+1-858-201-8965
http://wonkidovideos.com


Copyright @ Marketwire
Page: 1
Related Keywords:
Brighter Futures for Beautiful Minds, USA, Marketwire, , Disease, Pregnancy, Surgery, Childrens Health, Pregnancy, Children, Medical, Children, Parents, Other,
---