BreakingPoint FireStorm ONE, World's First Ultra-Compact and Portable City-Scale Mobile Data Simulation and Testing Solution
BreakingPoint's New 1U Device Delivers the Anywhere, Anytime Testing Needed to Harden and Optimize Mobile Network Infrastructure Using Application and Data Behavior From 12 Million Mobile Users
(May 08, 2012)

LINKOPING, SWEDEN -- (Marketwire) -- 05/08/12 -- Available for shipment today and premiering here during Ericsson's exclusive Process Methods & Tool conference, the FireStorm ONE™ is the world's first and only 1U device capable of creating the wireless behavior of the entire population of Sweden. Harnessing BreakingPoint's patented network processor-driven platform, the FireStorm ONE provides the industry's highest rack unit performance density. This unique combination of portability and performance allows organizations to perform city-scale mobility testing anywhere at any time, using the exact application, attack and load behavior needed to optimize and harden any mobile network infrastructure.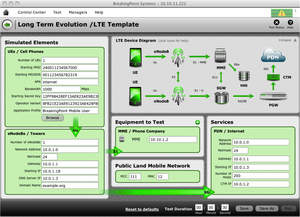 FireStorm ONE: Complete city-scale mobility testing in an ultra-compact device
The unprecedented scale and data complexity of 3G/LTE/4G networks makes optimizing the performance and accuracy of their underlying infrastructures a logistical, economical and functional challenge, at least when using traditional mobility testing systems. The FireStorm ONE, built using the architecture of the award-winning BreakingPoint FireStorm™, is the only fully integrated 1U solution for generating massive-scale application and attack traffic over mobile infrastructures -- from handset data and tower through the backhaul Evolved Packet Core (EPC).
Equipment vendors and carriers now work with one compact device, one interface and one RU to create all key mobility network components in order to:
Measure mobility infrastructure resiliency using the real-world behavior of 12 million concurrent mobile users.
Fine-tune systems while identifying and prioritizing authentic mobile data from 160+ applications from Facebook and Skype to YouTube, mobile app stores and Netflix with configurable QCI.
Establish transportable proof-of-concept labs for customer evaluations using their unique traffic scenarios.
Harden defenses against 34,000 live security attacks including mobile malware covering all phone platforms from Android and BlackBerry to iPhone and S1AP protocol fuzzing.
Put each element of a mobility network to the test with emulation for 12 million concurrent UEs and 8,000 eNodeBs along with configurable MME and SGW/PGW emulation.
Optimize application-aware devices in both 3G/LTE/4G environments with support for 3 million concurrent GTPv1/GTPv2 tunnels.
Assess the performance and security of mobility management entities (MMEs), serving gateways (SGWs), and PDN gateways (PGWs) under true mobile traffic conditions.
Optimize LTE network capabilities for IMS with built-in VoLTE support.
Validate per-UE accounting, billing and policy mechanisms.
"Battle-testing today's mobile data infrastructure requires creating realism, from mobile data and user behavior to the services and applications users depend on to communicate," said Dennis Cox, BreakingPoint's chief technical officer. "Equipment vendors and carriers are moving away from commodity test equipment that sits on illusory platforms and necessitates racks of equipment, disparate reports and days of setup. Using the FireStorm ONE it is now possible to cost-effectively simulate the exact behavior of millions of mobile users using a compact device and a fully integrated LTE/4G testing lab that takes only minutes to configure. And by harnessing BreakingPoint's mobile data testing solutions, customers are dramatically reducing -- to just pennies per mobile device -- the costs associated with generating LTE user behavior."
About BreakingPoint
BreakingPoint Actionable Security Intelligence protects enterprises, service providers and government agencies by providing global visibility into emerging threats and actionable insight to harden and maintain resilient defenses. With the exclusive ability to capture and control global threat intelligence at Internet scale, BreakingPoint delivers the only products capable of battle-testing IT infrastructures, training cyber warriors, tuning systems and policies, and transforming security processes to be proactive and effective. BreakingPoint bridges the gap between IT testing, monitoring and operations, delivering advance insight to harden highly dynamic converged and mobile networks, virtualized data centers and applications.
Embedded Video Available: http://www2.marketwire.com/mw/frame_mw?attachid=1973803
Image Available: http://www2.marketwire.com/mw/frame_mw?attachid=1973800

Add to Digg Bookmark with del.icio.us Add to Newsvine
Media Contact:
Kyle F. Flaherty
Email Contact
512-821-6059


Copyright @ Marketwire
Page: 1
Related Keywords:
lte testing, mobile data testing, ericsson PM&T, 4g testing, EPC testing, mobile malware, mobile app, Marketwire, , Apple Computer, Internet Technology, Internet,
---