BreakingPoint Cyber Range Solution Used by U.S. European Command to Test the Performance, Security and Stability of Mission-Critical Network Communications
BreakingPoint Products and Expertise Help EUCOM and NATO Build a Resilient, Converged Network Infrastructure to Ensure Seamless Multination Communications
(November 15, 2011)

AUSTIN, TX -- (Marketwire) -- 11/15/11 -- BreakingPoint has provided a fully operational cyber range for the second straight year for Combined Endeavor, a multination military communication interoperability exercise conducted by the U.S. European Command (EUCOM) and NATO. BreakingPoint cyber range solutions, capable of stressing devices, systems and personnel with live Internet-scale cyber war conditions, were used during Combined Endeavor to measure and harden network resiliency, validate quality of service, and ensure seamless communications in mission-critical networks.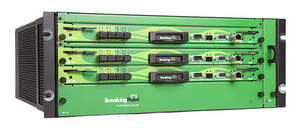 BreakingPoint cyber range solution used to measure and harden network communication resiliency
During Combined Endeavor, BreakingPoint cyber range products created the behavior of millions of users and the unique network conditions needed to validate the performance, security and stability of mission-critical network communications under real-world conditions and massive load. North American and European nations were able to conduct the actual validation of the core network through the re-creation of application and threat traffic from lead nations back to the core network, as well as validate the QoS of these communications. Using BreakingPoint, participating nations were able to conduct testing scenarios for Combined Endeavor, as well as cyber warrior training exercises during Cyber Endeavor, using dozens of blended applications, thousands of live security attacks and the load from millions of users.
About Combined Endeavor
Since 1995, EUCOM has conducted the Combined Endeavor annually, with the mission of building interoperability between North American and European nations to support command and control for military operations and to respond to crisis or disaster. Each year, the Combined Endeavor exercises measure and validate the resiliency of mission-critical network infrastructure. The Combined Endeavor ensures that seamless communications between NATO and partner nations remain available at all times, especially during high-stress events.
About BreakingPoint
As the standard for IT resiliency, BreakingPoint gives you advance insight into the performance, security and stability of applications, devices, networks and data centers under high-stress conditions. BreakingPoint's patented products are comprehensive, easy to use and highly scalable, simulating the behavior of millions of online and mobile application users as they work, shop, post, stream, talk, download, spread malware and steal data. By stressing each element of IT infrastructures under these real-world conditions, BreakingPoint quickly and accurately exposes previously impossible-to-detect stress fractures before they are exploited. Find it before they do, at breakingpoint.com.
For more information, and to find out how network performance and security testing can fit into your budget, schedule a personalized evaluation today.
Embedded Video Available: http://www2.marketwire.com/mw/frame_mw?attachid=1802628
Image Available: http://www2.marketwire.com/mw/frame_mw?attachid=1802625

Add to Digg Bookmark with del.icio.us Add to Newsvine
Contact:
Evan Guthrie
Email Contact
512-821-6000


Copyright @ Marketwire
Page: 1
Related Keywords:
cyber range, cyber range product, network security, virtual test range, breakingpoint, cybersecurity, Applications, Security, Business Issues, USA, Marketwire, , IT (Information Technology), Security, disaster,
---