Brain Fitness Software Company MindSparke Offers Brain Nutrition And Brain Detoxification
(April 19, 2011)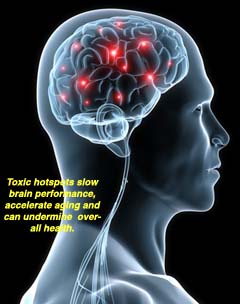 Brooklyn, NY (PRWEB) April 19, 2011
Environmental toxins destroy healthy brain tissue and inhibit brain fitness. In response, brain fitness company MindSparke now offers brain detoxification to its brain training community.
Since 2008 MindSparke has provided advanced brain training for PC and Mac and brain training online. "We have customers from 5-years old to 85-years old," says Martin Walker, MindSparke CEO, "And the range of brain training goals is just as broad -- school, work, restoring memory loss, treating ADD -- you name it." But after a chance conversation with Zortho's Paul Reynolds Walker realized that brain training was only half of the picture. "People can't achieve peak brain fitness if they're suffering from brain toxicity," as Walker puts it, "And that's all of us to some degree."
Zortho's ZeSol proved to be the perfect answer to Walker's new concern. By providing focused nutritional support for cellular cleansing and protection ZeSol helps the body eliminate all manner of environmental toxins and poisons. Safe for children and sensitive adults, ZeSol also incorporates brain nutrition. Dihydroquercetin (DHQ), a super-nutrient, strengthens capillaries and dramatically boosts the activity of other vitamins. "Zortho's brain nutrition has been shown to produce anti-oxidant benefits up to 100 times greater than those of the Goji or Acai berry," says Reynolds.
"In England the hat-makers used to go crazy from ingesting mercury," says Walker. "But you don't need to be a mad hatter to suffer the ill effects of environmental toxins. When I started using ZeSol it was as if a fog had lifted that I didn't even know was there."
MindSparke's brain fitness programs have been featured in the New York Times, PC Mag, and FHM. Its brain training alone can dramatically boost cognition, even increasing IQ. The combination of Brain Fitness Pro and ZeSol for detoxification and brain nutrition promises to be an unbeatable brain fitness duo.
###
Read the full story at http://www.prweb.com/releases/2011/brain-nutrition/prweb5201844.htm.
Page: 1
Related Keywords:
education, adult education, further education, religious education, medical procedure/test, medical research, medical staff, medical specialisation, medical service, medical conditions, family, family planning, market research, research and development, medical research, science and technology, applied science, material science, human science, natural science, philosophical science, research, science (general), animal science, micro science, , weather science, agricultural research and technology,
---