Box Unveils Major Platform Updates
Introduces New API, Achieves 50 OneCloud Integrations, and Partners With TechStars and General Assembly
(April 25, 2012)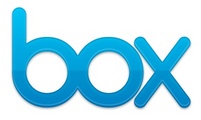 LOS ALTOS, CA -- (Marketwire) -- 04/25/12 -- Box today announced a new API for its open platform, unveiled 15 new OneCloud application partners and formed partnerships with two centers of technology excellence based in New York City -- General Assembly and TechStars. Today's announcements accelerate the pace of enterprise innovation and enhance the entire content management experience for millions of Box users.
"The enterprise technology landscape is experiencing a radical shift toward universal, mobile information access and content sharing," said Aaron Levie, CEO of Box. "The next generation of applications built for this world will look completely different than they do today. Box OneCloud sits at the center of this revolution. OneCloud has seen tremendous adoption and interest from thousands of world-class developers, who are building the next generation of enterprise software."
Box Platform Enhancements
v2 API: Box is introducing v2 of its API, making it dramatically easier for developers to build integrations on Box. The API is fully RESTful, denoting that it leverages common naming standards and output formats. Developers now have a more granular view of how their application is being used on Box, as well as stronger connections to collaborator discussions -- one of Box's most popular social features. Additionally, Box has reduced the amount of documentation for developers to review when building integrations with the platform. These API enhancements will foster the rapid creation of new applications for the more than 120,000 businesses using Box today.


Instant Mode: The Box v2 API also introduces Instant Mode, a new feature that makes it incredibly easy for developers to seamlessly connect their applications to Box's content and collaboration services. Instant Mode removes the user sign-up process for third party applications connected to Box. With Instant Mode, both end-users and developers benefit from an efficient and secure integration for storing and managing data.


Box OneCloud App to App Framework: Box has enhanced the OneCloud developer and end-user experience with the introduction of the Box OneCloud App to App Framework. The framework provides developers with new documentation and user interface guidelines to simplify the application development process. End-users will enjoy a more efficient document management experience and increased security services on the Box platform.


"With the introduction of our new API, Box has made it even easier for developers to rapidly build services that empower productivity and collaboration in today's post-PC era," said Chris Yeh, Vice President of Platform at Box. "Our open platform is accelerating the pace of innovation in enterprise software."
15 New Box OneCloud Partners
Building on the unprecedented success and developer interest following the March 28th launch of Box OneCloud, the company is introducing 15 new OneCloud partner integrations.
These new integrations enable business users to securely access, edit and share content from their iOS-powered devices. To date, there are now 50 OneCloud partner integrations powering millions of next-generation mobile workers to be more productive in the enterprise.
"CloudOn is extremely pleased to integrate its application workspace with the Box OneCloud Platform," said Milind Gadekar, CEO of CloudOn. "CloudOn and Box make creating, editing, saving and sharing information simpler, enabling greater mobile productivity for millions of enterprise workers."
General Assembly & TechStars
Box has partnered with two important institutions in the New York tech community, General Assembly and TechStars, to help drive innovation in enterprise software. The partnerships will provide mentorship and resources to early-stage startups and the rest of the New York tech community. Box and General Assembly will co-develop an education initiative to foster the creation of successful enterprise software companies. With TechStars Box will dedicate resources to mentoring TechStars startups focused on enterprise software and sponsor the group's HackStars program, which hires experienced developers and designers to work with the TechStars portfolio companies.
Availability
The Box API is available today in beta. For more information on today's platform updates, please visit the Box blog - http://blog.box.com/?p=11406
About Box
Founded in 2005, Box provides a secure content sharing platform that both users and IT love and adopt. Content on Box can be shared internally and externally, accessed through iPad, iPhone, and Android applications, and extended to partner applications such as Google Apps, NetSuite and Salesforce. Headquartered in Palo Alto, CA, Box is a privately held company and is backed by venture capital firms Andreessen Horowitz, Draper Fisher Jurvetson, Emergence Capital Partners, Meritech Capital Partners, Scale Venture Partners, and U.S. Venture Partners. To learn more about Box, please visit www.box.com.
Copyright @ Marketwire
Page: 1
Related Keywords:
Box, Applications, Education, Document Management, Productivity Applications, Security, Internet, Business Issues, Other Applications, Security, Internet Server Applications, Management, CEO/CFO, USA, Marketwire, , IT (Information Technology), Apple Computer, Business,
---