Box Transforms Mobile Enterprise With Box OneCloud
Introduces New Mobile Suite for the Cloud Connected Enterprise
(March 28, 2012)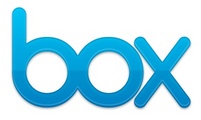 PALO ALTO, CA -- (Marketwire) -- 03/28/12 -- Box today announced Box OneCloud, the first mobile cloud for the enterprise to unify business information across devices and applications. Box OneCloud provides a suite of more than 30 powerful, easily discoverable productivity applications that enable workers to securely access, edit, and share content from their mobile devices. Available immediately on iOS for all users, Box OneCloud delivers the best tools and services for the post-PC era enterprise.
"Today there are thousands of mobile applications storing data in a variety of information silos, stalling business processes and efficiencies," said Aaron Levie, co-founder and CEO of Box. "Box OneCloud unifies your business applications across devices to power enterprise productivity in the post-PC era. We're fueling the engine of mobile innovation, making enterprise workers more informed, agile and productive."
iOS- and Android-powered mobile devices have reshaped the business landscape. According to a recent report by Forrester(1) one-third of devices used by business professionals are non-Microsoft. Further, Window's device share will fall below 50% by 2016, pressing CIOs to update device and security policies to ensure employees are productive and their data is safe.
Box OneCloud Partner Integrations
Box is introducing over 30 Box OneCloud apps that help users discover, create and share content from their mobile devices. Four premier Box OneCloud integration partners, including Quickoffice, Adobe EchoSign, Nuance PaperPort Notes and PDF Expert, support the deepest level of integration with Box through a new round-trip workflow. The round-trip workflow ensures that content updates for each app are instantly stored and secured on Box. These premier partners provide advanced document editing, secure e-signature, digital note taking and PDF annotation. All OneCloud integrations are accessible today via a new Box mobile app gallery, enabling users to easily browse and download Box OneCloud apps to their iOS device.
"Box and Quickoffice recognize the importance of empowering the mobile workforce with tools and services that accelerate business productivity," said Alan Masarek, CEO of Quickoffice. "Our ability to seamlessly edit, store and share Office documents brings a new level of usability and efficiency to Box users managing their business critical content from their tablet or smart phone."
Additional Box OneCloud partner integrations include BrainShark, Call Trunk, DocuSign, Fileboard, GoodReader, JotNot, Openera and Podio. For more information on Box OneCloud, please visit the Box blog.
New Application Developer Tools
The Box OneCloud platform will also include a collection of developer tools to make it easier than ever to build mobile application integrations with Box. The new Box App to App Integration Framework significantly reduces the amount of time -- from weeks to days -- to develop apps with Box by integrating directly to the file management capabilities of Box's mobile platform. This new framework provides seamless access to content stored in Box, including offline access.
Box OneCloud will provide millions of Box users with a centralized and secure business productivity suite. Box OneCloud is available today for iOS and will be extended to Android and other mobile operating systems.
About Box
Founded in 2005, Box provides a secure content sharing platform that both users and IT love and adopt. Content on Box can be shared internally and externally, accessed through iPad, iPhone, Android, TouchPad and PlayBook applications, and extended to partner applications such as Google Apps, NetSuite and Salesforce. Headquartered in Palo Alto, CA, Box is a privately held company and is backed by venture capital firms Andreessen Horowitz, Draper Fisher Jurvetson, Emergence Capital Partners, Meritech Capital Partners, Scale Venture Partners, and U.S. Venture Partners. To learn more about Box, please visit www.box.com.
(1) "Forrester's Info Workers Using Mobile And Personal Devices For Work Will Transform Personal Tech Markets," February 22, 2012
Copyright @ Marketwire
Page: 1
Related Keywords:
Box, USA, Marketwire, , IT (Information Technology), Productivity Applications, Apple Computer, Computer Science, Business, Business Professionals, Other,
---