Box Launches First Cross-Platform Sync for the Enterprise
With 100,000 Businesses on Its Platform, Box Unveils Vision for Making Organizations Smarter
(September 28, 2011)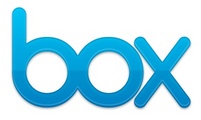 PALO ALTO, CA -- (Marketwire) -- 09/28/11 -- Box today launched the first cross-platform enterprise sync solution, designed to help individuals and organizations get more value from their business information. The company also announced new features to enhance the security and manageability of information in the cloud, and shared its roadmap for bringing social capabilities to Box before an audience of IT leaders at BoxWorks, Box's first annual customer conference.
"To date, sync technologies have focused on solving the problem for the individual consumer -- how can I make my locally stored content accessible from any device?" said Aaron Levie, co-founder and CEO of Box. "The complexity of this problem is greatly magnified in the enterprise, where massive amounts of content need to be connected to the cloud, secured, and then integrated into business workflow. At Box, we want to help companies realize a future where they get infinitely more intelligence from their information and can make better decisions, faster -- and it won't be a future owned by Microsoft."
Box has seen tremendous traction in 2011, with consistent 3X year-over-year enterprise revenue growth, and adoption in 100,000 businesses, including 77% of the Fortune 500. The company has raised more than $100M in total venture capital to fuel its continued worldwide expansion and out-innovation of legacy competitors.
Connecting Business Information to the Cloud
The all-new Box Sync for Windows and first-ever Box Sync for Mac make it easy for information workers to connect desktop content to the cloud, integrate that content into workflow, and access it from anywhere, on any device. Box is enabling workers to work offline in native applications, seamlessly sync edits back to their Box account, and quickly access synced content from any mobile device. Customers including Turner Construction, TaylorMade, Pandora and LinkedIn are early users of Box Sync and, on average, share and collaborate vastly more than companies that have not deployed sync.
Box Sync for Windows and Box Sync for Mac will be available as free downloadable desktop clients for Business and Enterprise customers starting in October. To learn more about Box Sync, visit www.box.net/boxsync.
Securing Cloud Content
To ensure the security of data in the cloud, Box unveiled a number of security features that will roll out to Business and Enterprise customers in Q4. Enhancements include a new Trusted Access section that tracks which browsers, applications, and devices are connected to Box. Additionally, Box will roll out Trusted Sharing controls to make it easy for organizations to define sharing permissions by domain and user group.
Box also highlighted a number of trusted partners including Good Technology and MobileIron to bring customers even more sophisticated ways to securely manage data and applications on mobile devices. Additionally, Box announced a strategic collaboration with Okta to enable customers to better manage identities in the cloud, adding to existing integrations with VMware and Ping Identity.
Making Content Social
To help businesses get more value from their information once it's stored securely in the cloud, Box shared a glimpse of its roadmap for bringing new social capabilities to users over the next few quarters. These changes include making Box updates more personalized and intelligent, surfacing relevant content that permeates users' views of Box, and enabling a social workflow that is more intuitive, but also far more powerful.
Box will also extend its cloud content into the social enterprise through an integration with Salesforce Chatter, the employee social network for the enterprise. Leveraging Chatter Connect, which makes other applications social by extending Chatter to custom and third-party applications, businesses will be able to collaborate in Chatter not only with their Chatter colleagues, customers, data and content, but now with content stored on Box. At BoxWorks, salesforce.com also announced its participation as an investor in Box's funding round.
"Like Box, salesforce.com believes in the power of open platforms, and wants to help organizations accelerate their transformation into social enterprises by connecting all business applications to Chatter," said George Hu, EVP, platform, marketing and operations, salesforce.com. "Salesforce.com is excited about what Box is doing as a company, its upcoming integration with Chatter and the value that it will bring to our joint customers."
To learn more about Box, please visit www.box.net.
About Box
Founded in 2005, Box provides a secure content sharing platform that both users and IT love and adopt. Content on Box can be shared internally and externally, accessed through iPad, iPhone, Android, TouchPad and PlayBook applications, and extended to partner applications such as Google Apps, NetSuite and Salesforce. Headquartered in Palo Alto, CA, Box is a privately held company and is backed by venture capital firms Andreessen Horowitz, Draper Fisher Jurvetson, Emergence Capital Partners, Meritech Capital Partners, Scale Venture Partners, and U.S. Venture Partners.
Copyright @ Marketwire
Page: 1
Related Keywords:
Box, Mac, OS9, OSX, USA, Marketwire, Apple Computer, Business, Browsers, Other,
---