Box Expands Globally With First International Headquarters
Announces New European Customers and Expanded Strategic Relationship With HP
(June 19, 2012)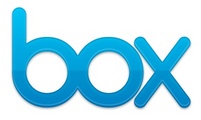 LOS ALTOS, CA and LONDON -- (Marketwire) -- 06/19/12 -- Box today announced the opening of its first international headquarters to support its growing European customer base, which has doubled in the last year. Today, users located outside the United States generate 50 percent of overall traffic among the company's more than 11 million users worldwide. Box also announced the addition of several European customers to the community of more than 120,000 businesses using Box -- which includes such leading global companies as Ben Sherman, Procter and Gamble, and O2 -- as well as an expanded strategic relationship with HP in Europe, the Middle East and Africa (EMEA).
"A tremendous shift is taking place in Europe. Businesses are looking for solutions that help them move to the cloud and transition away from costly, inflexible legacy technologies," said Aaron Levie, co-founder and CEO of Box. "We've seen significant customer growth across Europe in the last year and are thrilled to be building out a local presence to support our customers."
The new Box European headquarters, located in central London, is expected to grow aggressively, with plans to hire 100 local employees across Europe by the end of 2013. Box veteran Greg Strickland will take on the role of International General Manager and VP of Global Operations, heading up the London office and overseeing future expansion across Europe. Strickland has served as Box's VP of Business Operations for the previous four years.
Box provides a simple and secure way for workers to share, access and collaborate on content in the cloud and across devices. The company has consistently tripled enterprise revenue year over year, and has raised a total of $162 million in venture capital since its founding in 2005, including funding from strategic investors SAP Ventures and salesforce.com.
"It's great to see Box's expanding customer base in Europe, and now is the time for the company to expand its presence on the ground in the region," said Alys Woodward, research director, European software, IDC. "Significant barriers exist for European organizations when collaborating both internally and externally, and collaborative, content-sharing tools like Box are extremely helpful in breaking these barriers down. As the speed of business increases, the ability to share information and collaborate quickly and easily is vital for organizations to keep pace with this acceleration. The alternative is to fall behind."
​European Customer Growth
Box has already delivered significant value for customers in Europe, including O2, the UK's leading provider of mobile phones and broadband:
"With Box, we were able to build our customized iPad app quickly, mobilizing our sales force and giving us the competitive edge we need to remain on top," said Charlie Hunter-Schyff, head of planning at O2. "Box has been a great partner for us -- it saves our business both time and money and empowers our employees to easily ​and​ securely share and access information from anywhere."
Building on this foundation, the new European customers Box announced today represent a diverse set of industries and use cases:
Strategic Alliance with HP
Box also announced today that it has expanded its existing collaboration with HP to drive adoption of the cloud across Europe. The two companies will work closely together to deliver an exclusive offer targeted at HP's small and medium-size customers using the Box cloud collaboration platform.
"Our small and medium-size customers are entering a new era of data management and storage, and they need a simple, cost-effective way to collaborate and share information in the cloud," said Eric Cador, senior vice president, EMEA, personal systems and printing group, HP. "We are focused on helping redefine the way organizations manage and share information in the cloud, and together with Box, we can empower the next generation of knowledge workers."
With its new headquarters, Box will also further invest in its partner program -- which currently includes global brands such as HP, Google, NetSuite, Good Technology, MobileIron, LG, Samsung and many more -- to cultivate an ecosystem of powerful cloud solutions for the European market.
Other Resources
About Box
​Founded in 2005, Box provides a secure content sharing platform that both users and IT love and adopt. Content on Box can be shared internally and externally, accessed through iPad, iPhone, Android and PlayBook applications, and extended to partner applications such as Google Apps, NetSuite and Salesforce. Headquartered in Los Altos, CA, Box is a privately held company and is backed by venture capital firms Andreessen Horowitz, Bessemer Venture Partners, ​​Draper Fisher Jurvetson, Emergence Capital Partners, Meritech Capital Partners, NEA, Scale Venture Partners, ​and U.S. Venture Partners, and strategic investors salesforce.com and SAP Ventures. To learn more about Box visit, www.box.com.
​
ADDENDUM: Box Customer Quote Sheet:
Cuisine Solutions, France:
"In this post PC-world, where our employees are using mobile devices to access business content outside of the brick and mortar workplace, we needed a solution that kept our data safe, but was easy enough that all employees could use it with little IT resources and training," said Stephane Moulec, IT Director at Cuisine Solutions' US Headquarters. "Box has given us the flexibility we need to keep our business competitive. Accessing critical information when traveling to different countries to source food or visit our plants is no longer challenging, and at the same time, we know Box provides the security necessary to keep our mission-critical business assets safe and secure."
Datix, UK:
"With Box, collaboration between customers and staff in different countries is made easier; there is so much efficiency when sharing content, both internally and with external partners and vendors," Derek Colvin, CTO of Datix. "Box does a better job of managing, storing and securing documents than most internal IT departments. We trust Box to look after our assets and it has proven to be scalable -- supporting the growth of our business."
Historic Futures, UK:
"As a global company, we needed a secure solution that allowed us to easily share and collaborate on documents across our disparate workforce and with our key stakeholders," said Simon Warrwick, CTO of Historic Futures. "Using Box has transformed the way we communicate. Accessing and sharing documents on any device, anywhere in the world has significantly improved internal and external collaboration."
H.R. Owen, UK:
"Box provides us with the tools we need to change the way we work -- increasing productivity and allowing for flexibility and mobility," said Ian Ayliffe, head of marketing at H.R. Owen. "Our marketing ​department and external agencies have been able to work faster and more seamlessly, accessing marketing materials from remote locations and dealerships up and down the UK. We trust Box to help us build our brand, putting H.R. Owen in the driver seat."
Matrix42, Germany:
"Our headquarters are in Germany, but as we expand to the UK and U.S., it was critical for the success of our business to find a file sharing and collaboration service that didn't change our operations ​and allowed our employees to access their data quickly and easily at any time," said Jochen Jaser, CEO of Matrix42. "With Box, every employee can access and share information from any device and the​ layer of security and administrative control drastically reduces the burden on IT -- giving us peace of mind, while still maintaining a focus on end-user experience."
SAS London, UK:
"We work with some of the largest, most well-known brands in the UK and reliable, secure communication is key to keeping our clients happy," said James O'Leary, head of IT at SAS London. "Box has significantly improved our collaboration and communication with our clients -- helping us deliver greater business value and build stronger relationships."
Copyright @ Marketwire
Page: 1
Related Keywords:
Box, Digital Media Software, Communications, Digital Audio, Web, iPods, iphone, iPad, Search, Applications, Security, Training, Research, Google, Africa, Germany, USA, Marketwire, HP, Apple Computer, Business, middle east, Other,
---