Boost Software Development Productivity 10-Fold Using Revolution by RunRev, Available Now in Free Version
Whether Creating Educational Coursework, Facebook Apps or Enterprise Solutions, Revolution Brings Dramatic Time and Resource Savings Over Traditional Tools Such as Flash, Silverlight, Java, and C++
(November 11, 2009)

SAN FRANCISCO, CA -- (Marketwire) -- 11/11/09 -- Software development company Runtime Revolution Ltd introduced today Revolution 4.0 for application and Web development, available for the first time in a free version. The flexibility of Rev allows developers to author on any platform and deploy true, native apps or Web content to any desktop -- for example, author on Mac and deploy to Windows, author on Windows and deploy to Linux. Rev enables remarkable efficiencies by using an English syntax that requires 90-percent less code than traditional languages, and empowers people who would never have attempted programming to create successful applications. Projects that would take weeks can be done in days, while hours of tedious development work can be reduced to minutes.
A modern descendant of natural-language technologies such as Apple's HyperCard, Rev enables software construction for everyone. The revTalk programming language is easy-to-use and memorable, making it easy to comprehend months after code is written, and therefore more effortlessly maintained. Where once companies would be forced to hire or acquire programming talent, professionals within academia, science and business are turning to Rev, spiking its popularity at a time when organizations are forced to increase productivity but with less time and fewer resources.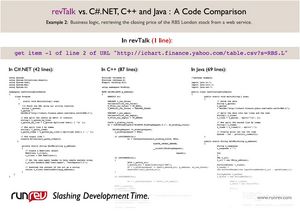 "The last two years have seen the most impressive growth in our business, pointing to a correlation between a tough global economy and the resourcefulness of professionals who need to do more with less," said Kevin Miller, RunRev CEO. "Our goal is to enable rapid creation of applications, and that's exactly what we're doing with Rev 4.0. With a free version and Web plugin, anyone can begin writing software right away -- empowering students to model and explore the real world, businesses to excite customers with new products, or organizations to improve productivity with customized tools."
Development Productivity in Academia, Small Business and Enterprise
Businesses in today's economy can't sustain a traditional cycle of software development that often takes so long the requirements or budgets change before the code is complete. Rev enables rapid delivery of applications -- integrated across the range of information systems already in place -- that can adapt to new market realities with low maintenance and costs. For professional developers, Rev's productivity advantages mean they can compete more aggressively for larger projects and deliver higher quality results in less time.
Mark Pezzo, associate professor of Psychology at the University of South Florida St. Petersburg, uses Rev for both his research and teaching. He states, "I've found Rev much easier -- learning it, teaching it, and implementing it -- than any other language or IDE, such as Visual Basic, Silverlight, Flash or Authorware. We're using Rev in several of our experiments, and I'm developing a class to teach students how to create their own research tools. A lot of these tools already exist, but students can only 'use' them. The big advantage of using Rev in education is that students can actually 'create' the tools they use, which is a more effective way to learn."
Max Shafer, president of Underdog Educational, is introducing an entirely new generation of young software programmers to Rev. "Rev is so rich with features and supporting products that I don't need to hire additional programmers. Getting started in Rev is so inexpensive, yet I still have access to animation, databases, graphs and charts, reporting features, and localization. The scripting language is so friendly I plan to have all my fifth graders creating great programs using the new revMedia."
Three Editions for Varying Projects and Experience Levels
Rev 4.0 is offered in three editions for individual customer needs, programming experience and project requirements. To get started, authors simply link to the revWeb plugin from their Web page; their content quickly downloads, much like Flash animations. The free revMedia edition appeals to individual creators and educators who require powerful features with little to no investment. revMedia's ease of use and low barrier to entry attract the next generation of programmers, those with little formal programming experience but a desire to build Web applications, games, and multimedia projects.
The revStudio edition features 100 additional commands and keywords for professional functionality, and is frequently used to create commercial software, standalone desktop applications, and in-house productivity improvements. Users can create rich, Web-enabled apps for multiple platforms with a single click, and harness the power of multi-user database systems. revEnterprise is the most powerful authoring environment for mission-critical applications. With its enhanced security features, a high-performance internal database engine, and access to RunRev development team support, revEnterprise helps serious programmers create solutions across the enterprise.
Noted author and veteran programmer Wallace Wang has compared Rev alongside the most-established programming languages, and recommends it for even the most sophisticated projects. "The more lines of code you need to write, the longer it will take to create a program, and the more potential for error. By providing commands that solve high-level problems, Rev lets you focus on making your program work rather than forcing you to write, test, and debug multiple lines of code. Given the choice between less wasted time and more functionality (Rev), or more wasted time and less functionality (traditional programming languages like C++ or Java), why would you choose the latter?"
About RunRev Ltd.
Founded in 1997, RunRev empowers rapid creation of applications for enterprise, commercial, creative and academic environments using an intuitive and robust programming language. Rev authors on deploys to all major platforms -- Windows, Macintosh, and Linux -- using the plain-English programming language revTalk, and simple Web-based development. The company offers Rev in three editions: revMedia for beginning projects with multimedia elements; revStudio for rich, Web-enabled applications; and revEnterprise for mission-critical applications with added security. RunRev is based in Edinburgh, Scotland. For more information on RunRev, please visit the company on the Web at http://www.runrev.com.
RunRev, revMedia, revStudio, and revEnterprise are trading names of Runtime Revolution Ltd. All trademarks are the property of their respective owners.
Image Available: http://www2.marketwire.com/mw/frame_mw?attachid=1112515

Media Contact:
Samantha Steinwinder
Concept Communications for RunRev
1-206-760-9809
Email Contact


Copyright @ Marketwire
Page: 1
Related Keywords:
software development, application development, programming languages, Silverlight, Flash, apps, Applications, Education, Productivity Applications, Security, Database, Internet, Business Issues, Software Development, Desktop Applications, Other Applications, Other, Security, Internet Server Applications, Languages, Tools, Platforms, Dynamic Languages, Java, Animators, Business, Programming, Flash, Scripting, language, Authoring/Programming, Graphics/Design, Authoring, Interactive/Multimedia, Unix, Mac, Linux, OS9, OSX, Marketwire, Internet Technology, Computer Science, Business, Science, Other,
---