BoeFly and the International Franchise Association Establish a Strategic Alliance to Expand Credit Access for Franchisees
BoeFly and the IFA Will Collaborate on Credit Access Initiatives for the Franchise and Lending Industries
(February 13, 2012)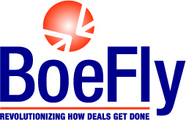 NEW YORK, NY -- (Marketwire) -- 02/13/12 -- BoeFly, the premier online marketplace connecting small business borrowers with lenders, announced today a strategic alliance with the International Franchise Association (IFA), the world's oldest and largest organization representing franchising, representing the nation's 825,000 franchise businesses which support nearly 18 million jobs and contribute more than $2.1 trillion in economic output. The strategic alliance was announced at IFA's 52nd Annual Convention in Orlando, FL.
"Access to capital is one of the foremost challenges facing franchise business owners in the current economic climate, and BoeFly's strategic alliance with the International Franchise Association will allow for the expansion of credit access resources to more franchise borrowers nationwide," said Mike Rozman, Co-president of BoeFly. "BoeFly already works with over 100 franchise brands, helping them offer their franchisees financing support, and by working with the IFA and its members, we expect to greatly expand credit access for this vital job-creation engine."
Under the terms of the strategic alliance, BoeFly and the IFA will jointly develop and conduct educational programs focused on credit access for franchise businesses. Additionally, BoeFly will develop and release two research reports based on its own small business loan request and small business lender profile data, and BoeFly and IFA will jointly create a monthly Franchise Lending Index providing heightened visibility into the volume and demand for small business lending.
In connection with the alliance, BoeFly is proud to become a sponsor of VetFran -- an IFA program that helps returning service members access franchise opportunities through training, financial assistance, and industry support. BoeFly will provide a 50-percent discount for its service to all veterans seeking financing to acquire a franchise from a franchisor participating in VetFran.
"By working with financial service innovators like BoeFly, IFA is working to close the gap between franchise demand for growth and lenders' ability to supply loans to meet that demand," said IFA President and CEO Steve Caldeira. "Access to credit is the number one priority for the franchise industry, especially if we are to meet our forecast demand for two-percent growth in jobs and establishments in 2012. We are confident that our alliance with BoeFly will be an important step forward for the franchise industry to expand credit and create jobs."
About BoeFly
BoeFly makes it easier to obtain small business loans (http://www.boefly.com/) by reducing the time, cost, complexity, inefficiency and frustration associated with small business lending. Its online proprietary matching technology connects small business borrowers with multiple lenders from among its over 1500 participating banks, based on the lending profiles provided by the banks and the information provided in the borrower's loan request.
Borrowers build a complete decision-ready loan request online using BoeFly's exclusive "SmartForm" technology which, when completed, provides the information that over 1500 lenders nationwide indicated to BoeFly they want to see before moving forward with a loan request. The SmartForm is easy to use and guides borrowers through the process. Once BoeFly's matching technology identifies compatible lenders, borrowers then have complete control over which lenders can instantly access their loan request. Using BoeFly, borrowers can connect with multiple lenders quickly and easily, providing a greater probability of obtaining a loan, as well as more favorable loan terms resulting from the creation of a competitive marketplace. Lenders benefit by being presented with only those loan requests that fit their lending profile, dramatically lowering their cost and time of origination. BoeFly is not a broker. Borrowers pay a small one-time fee and lenders pay an ongoing subscription fee; BoeFly never charges transaction or referral fees.
BoeFly's Franchise Solution brings these benefits to the large and growing small business franchisee community and is the choice of over 100 brands including Dunkin' Donuts, Carl's Jr., Express Personnel and Kiddie Academy, among many others.
BoeFly's Affiliate Solution is the financing exchange chosen by the Association of Small Business Development Centers, representing approximately 1,000 centers nationwide, which are funded in part by the U.S. Small Business Administration, to serve small businesses, and Franchise Gator, the leading site for information on franchise opportunities.
BoeFly was founded by small business owners and small business lending experts with extensive small business lending experience. The company is privately-held and is based in New York City. http://www.boefly.com.
About the International Franchise Association
The International Franchise Association is the world's oldest and largest organization representing franchising worldwide. Celebrating over 50 years of excellence, education and advocacy, IFA works through its government relations and public policy, media relations and educational programs to protect, enhance and promote franchising. Through its media awareness campaign highlighting the theme, Franchising: Building Local Businesses, One Opportunity at a Time, IFA promotes the economic impact of the more than 825,000 franchise establishments, which support nearly 18 million jobs and $2.1 trillion of economic output for the U.S. economy. IFA members include franchise companies in over 300 different business format categories, individual franchisees and companies that support the industry in marketing, law and business development.
Add to Digg Bookmark with del.icio.us Add to Newsvine
Media inquiries:
Bill Fallon
keating/co.
212.925.6900
Email Contact


Copyright @ Marketwire
Page: 1
Related Keywords:
BoeFly, LLC, Sales & Marketing,Education,USA,Marketwire, ,Financial,Discount,Business,
---