Blist Widgets Make Sharing Data and Publishing Website Forms Easy
New Embeddable Widgets for Data Publishing and Collection Embraced by President Obama's Transition Team, TechFlash, and the Washington Technology Industry Association -- Blist Raising the Stakes for Easily Collecting and Sharing Data on Websites
(February 03, 2009)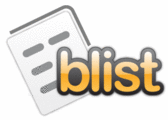 SEATTLE, WA -- (Marketwire) -- 02/03/09 -- Today, Blist announces the release of Blist Widgets, its next step to become the best way to easily create and share data on the web. Now, with a simple snippet of HTML code, consumers and businesses can share everything from a personal to-do list to a project management database directly within their blog or website. And with Blist Form Widgets businesses can easily collect data, like potential sales leads, using a form integrated within their corporate website.
The new Blist Widgets are already being used by Change.gov, the official website of President Barack Obama's transition team; TechFlash, a popular venture capital and technology news outlet in Seattle; and by the Washington Technology Industry Association (WTIA), a technology trade association who needed a website form solution.
"We needed a way to collect information from thousands of online users and Blist was the perfect answer. The system [blist Form Widget] was easy to set up, integrate with our website, and manage. We simply could not have created this system ourselves without spending a good deal of time and money," said Ken Myer, President & CEO of WTIA.
Blist Widgets position Blist as a better data sharing solution than Excel or traditional databases, and deliver four primary benefits:
-- Easy to create -- Blist Widgets are easy and intuitive to create, with a clear step-by-step wizard. During this process, Blist enables users to customize widget dimensions, providing the flexibility to integrate Blist Grid Widgets in any website or blog design. And with the release of Blist Form Widgets, businesses can easily create a form from any blist to capture potential sales leads or new project management tasks. Both widgets are easily embedded in a website or blog with a small snippet of HTML code.
-- Easy to share and update -- The Blist Grid Widget makes it easy for viewers to republish your widget, spreading the reach of your content and your site's awareness. Keeping your Blist Widgets up to date is easy -- simply make a change to one blist and any republished Blist Widget will be instantly updated.
-- Visually rich and interactive -- The Blist Grid Widget allows site visitors to search and sort tabular content, creating an engaging experience for interacting with data. Trying doing that in an HTML table.
-- Ready for business -- Advanced permissions make it possible for users to create Blist Widgets which are only accessible by designated individuals. Businesses can feel safe using a Blist Grid Widget to share their CRM or project management data on an internal site or wiki.
"We're excited to see President Obama's transition team usher in a new era of government transparency and we're honored that they have chosen Blist to help share their data," said Kevin Merritt, founder and CEO of Blist. "With the release of Blist Widgets, we believe Blist continues its commitment to being a better choice than Excel or traditional databases for sharing data with family, friends, or colleagues."
Learn More and Resources
Learn more about Blist Grid Widgets and Blist Form Widgets
Change.gov, the official website of President Barack Obama's transition team, is using a Blist Grid Widget to publish donor records, ushering in an unprecedented transparency in government.
Washington Technology Industry Association has created a "solar system" map, linking 781 technology companies in the Seattle high-tech universe. Visitors to the site can submit suggestions to the map, using a Blist Form Widget.
TechFlash, a popular venture capital and technology news outlet is using a Blist Grid Widget to track popular applications for Apple's iPhone platform.
About Blist
Blist is revolutionizing how consumers and small businesses create and share the information that's important to them. Blist delivers unprecedented ease of use through a visual and intuitive user interface, making the complex process of organizing and sharing data simple. Small and mid-size businesses use blist for Customer Relationship Management (CRM), Project Management, and custom database needs; while consumers love Blist for To-Do lists and personal hobby databases.
Blist launched in beta at DEMO in February 2008, and is funded by Frazier Technology Ventures and Morgenthaler Ventures. The company has received positive accolades from industry experts at TechCrunch, Webware/CNET, ZDNet, Mashable, PC World, Entrepreneur Magazine, and more. For more information, visit www.blist.com.
Blist, and its respective logos are trademarks, registered trademarks, or service marks of Blist. Other products and company names mentioned are the trademarks of their respective owners.
Add to Digg Bookmark with del.icio.us Add to Newsvine
Media Contact:
Jon Byrum
Senior Product Manager
Blist
http://www.blist.com/company-info/press
206-340-8008 x215
[email protected]


Copyright @ Marketwire
Page: 1
Related Keywords:
online database, crm, project management, to-do list, sales tracker, customer relationship management, Sales, Applications, CRM - Customer Relationship Management, Sales & Marketing, Database, Internet, Other, Search, Internet Server Applications, Search Servers, Management, Sales, CEO/CFO, Sales, Marketwire, Apple Computer, Internet Technology, Business, Family, Other,
---