BlackboardEats Launches in Chicago, Serving Up Editorial Reviews and Deals for the Windy City's Tastiest Restaurants
Celebrated Chicago Chef and Food Journalist Louisa Chu Will Serve as City Editor for Leading Food-Enthusiast Club
(July 21, 2011)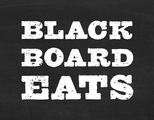 LOS ANGELES, CA -- (Marketwire) -- 07/21/11 -- BlackboardEats (www.blackboardeats.com), the free insider's club that provides perks and reviews of handpicked restaurants and artisanal foods, launches its highly-anticipated Chicago edition today. BlackboardEats is the first food-focused site to offer specials on the most buzzed-about restaurants, while providing anonymous editorial reviews by some of the food industry's most respected writers. The site is already a go-to resource for foodies in Los Angeles, New York, and San Francisco, and now brings its fresh take on daily deals to the Windy City.
By signing up for BlackboardEats, adventurous diners can be tempted via email or iPhone app with 30-percent-off deals to Chicago's most mouth-watering restaurants like Vie, iNG, and Calumet Fisheries, as well as secret menu items and complimentary bottles of wine. With no fees for diners or upfront costs to restaurateurs, BlackboardEats is set to be Chicago's next big thing in food.
BlackboardEats' team of local food editors anonymously send in top food writers to review select local restaurants to find the best dining experiences for its subscribers. If the dining experience meets or exceeds the food writer's expectations, the restaurant is offered the opportunity to provide a free Special, comprised of an editorial review and an exclusive deal delivered to BlackboardEats subscribers. Unlike traditional deal sites that provide advertorial opportunities for restaurants and other small businesses, BlackboardEats remains the only editorial-based service, creating deals and features that are free to both diners and restaurateurs.
Chicago's own Louisa Chu, a noted chef and food writer within local and international culinary circles, will curate the Chicago edition based on her vast knowledge of local and national culinary trends. Raised in Chicago, Chu mastered the ways of the knife and pen by staging at Chicago's own Alinea and Moto, and writing for culinary tastemaker publications such as Gourmet and CHOW.
About BlackboardEats
Founded in 2009 by Maggie Nemser, BlackboardEats is the first food-centric company to offer free perks and reviews of handpicked restaurants and artisanal foods to food enthusiasts. Its staff of celebrated food editors curates exclusive dining experiences and artisanal offerings for its readers, and connects restaurants and food manufacturers to a passionate and loyal group of food enthusiasts. The editorial restaurant reviews and Specials are available in New York, Los Angeles, and San Francisco and the artisanal foods offered on BBE Market can be enjoyed anywhere in the country. For more information about BlackboardEats please visit www.BlackboardEats.com.
Contact:
Atomic PR for BlackboardEats
Allie Mayer
[email protected]
415.963.9840


Copyright @ Marketwire
Page: 1
Related Keywords:
BlackboardEats, Marketwire,Apple Computer,Restaurants,Email,Other,
---