Big Screen Entertainment Group, a Film Distribution and Production Company, Hires New Head of International Sales
(April 12, 2012)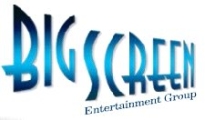 BEVERLY HILLS, CA -- (Marketwire) -- 04/12/12 -- Big Screen Entertainment Group (PINKSHEETS: BSEG) is very pleased to announce the addition of Lars Bjorck, a prominent, third generation, film business executive, as a consultant to Big Screen's International Sales Division.
Lars has thirty years of experience in selling star-driven feature films, film acquisitions and distribution in the international, independent movie business.
Lars joined his father, Lennart Bjorck, in establishing the first independent, international distribution company in Los Angeles. The company was the exclusive representative in the U.S. for international distributors such as Shochiku Co - Japan, Cathay Org. - Singapore, Egmont-Nordisk - Scandinavia to mention a few.
Lars brings to Big Screen Entertainment with him many great and meaningful personal relationships in the distribution and production arenas. He has worked on numerous blockbuster films in an international acquisitions capacity including Evil Dead, Dances with Wolves, Amadeus, Rambo, Four Weddings and a Funeral, The Shawshank Redemption and The Lord of the Rings Trilogy.
Lars is known for his personal relationships with key executives of established international and domestic distribution companies, and with executives of most sales companies the world over. He has served in positions ranging from president, co-managing director, consultant and VP of sales and acquisitions for feature films and television series.
"We are very excited about the opportunities Lars brings to Big Screen Entertainment and the bright outlook for expansion in the near future," said BSEG's CEO Kimberley Kates.
About Big Screen:
a fully integrated, entertainment company -- is a leader in the creation, production, distribution, licensing and marketing of all forms of creative content, across all current and emerging media and platforms. BSEG currently distributes films and television internationally and in the U.S.


Forward-Looking Statements:
A number of statements contained in this press release are forward-looking statements that are made pursuant to the safe harbor provisions of the Private Securities Litigation Act of 1995. These forward-looking statements involve a number of risks and uncertainties, including timely development, and market acceptance of products and technologies, competitive market conditions, successful integration of acquisitions and the ability to secure additional sources of financing. When used in this press release, words such as "could," "plan," "estimate," "expect," "intend," "may," "potential," "should," and similar expressions are forward-looking statements.
Add to Digg Bookmark with del.icio.us Add to Newsvine
Copyright @ Marketwire
Page: 1
Related Keywords:
Big Screen Entertainment Group, USA, Japan, Singapore, Scandinavia, Marketwire, , Film, Television, Business, Entertainment,
---