Biamp Systems Introduces AudiaVOIP(R)
Newest Audia(R) Processor Includes Sona(TM) AEC for Optimal Audio in VoIP Teleconference Systems
(June 13, 2012)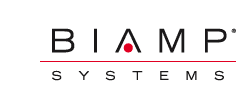 BEAVERTON, OR -- (Marketwire) -- 06/13/12 -- Biamp Systems, a leading provider of innovative, networked media systems, today introduced AudiaVOIP. Designed for AV integrators who need a dedicated, self-contained Voice over IP (VoIP) teleconferencing solution, AudiaVOIP is the latest innovation from Biamp and its newest Audia product. With plug-and-play simplicity, AudiaVOIP includes all of the necessary features and functionality needed for today's most demanding VoIP systems.
"We developed AudiaVOIP based on feedback from our partners who requested a very specific type of processor for VoIP systems," said Justin O'Connor, Audio Product Manager, Biamp Systems. "It features the same power and reliability that integrators have come to expect from Audia, with the necessary features included for an optimized VoIP conference system. We have extensive experience with VoIP technology and projects, our industry-leading expertise has been incorporated in this new solution."
AudiaVOIP relies on Sona, the industry-leading acoustic echo cancellation (AEC) algorithm, to handle the stringent audio demands of VoIP conferencing systems and provide precise, intelligible audio. AudiaVOIP also provides a range of I/O options via IP-2, OP-2e, VoIP, and PA-2 amplifier cards, and ships with a DAP file loaded to allow quick and easy configurations. A pre-designed Biamp daVinci™ control file is also available for use with the AudiaVOIP.
AudiaVOIP, the newest product in the Biamp Audia line, also includes AudiaFLEX, AudiaFUSION and AudiaSOLO. Each Audia unit can provide the power of an entire rack of processors, with the ability to be customized for nearly any size project. Audia products use CobraNet® technology for scalable design and flexible networking, and are available with a range of options for expansion (AudiaEXPI and AudiaEXPO) and control.
AudiaVOIP will be available in mid-July. For more information on all Biamp Audia products, visit http://www.biamp.com/products/audia/index.aspx
For the latest Biamp news and information, visit the Biamp blog, http://biampsystems.wordpress.com/ or follow along on Twitter, https://twitter.com/Biamp.
About Biamp Systems
Biamp Systems is a leading provider of innovative, networked media systems that power the world's most sophisticated audio/video installations. The company is recognized worldwide for delivering high-quality products and backing each product with a commitment to exceptional customer service.
The award-winning Biamp product suite includes the Tesira® media system for digital audio networking, Audia® Digital Audio Platform, Nexia® digital signal processors, Sona™ AEC algorithm and Vocia® Networked Public Address and Voice Evacuation System. Each has its own specific feature set that can be customized and integrated in a wide range of applications, including corporate boardrooms, conference centers, performing arts venues, courtrooms, hospitals, transportation hubs, campuses and multi-building facilities.
Founded in 1976, Biamp is headquartered in Beaverton, Oregon, USA, with additional engineering operations in Brisbane, Australia. For more information on Biamp, please visit www.biamp.com.
Media Contact:
Karl Pawlewicz
Horn Group
(646) 202-9778
[email protected]

Amanda Roe
Biamp Systems
(503) 641-7287
[email protected]


Copyright @ Marketwire
Page: 1
Related Keywords:
biamp, audia, network media systems, VOIP, AEC, teleconference systems, Applications,Networking,USA,Australia,Marketwire,AEC Attendees,
---