Biamp Showcasing Tesira(R) Networked Media System at ISE 2012
With Tesira Presentations During ISE, European Integrators and Consultants Will Have the Opportunity to See Biamp's AVB Compliant Tesira in Action
(January 31, 2012)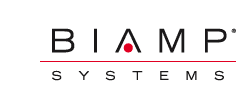 AMSTERDAM, THE NETHERLANDS -- (Marketwire) -- 01/31/12 -- Biamp Systems, a leading provider of innovative, networked media systems, will be giving international distributors and consultants their first chance to get an up-close look at Tesira at ISE 2012. Tesira is Biamp's first digital signal processor (DSP)-based networked media system to use Audio Video Bridging (AVB) as the primary digital media transport.
Biamp will be hosting product presentations at Booth #1H80 at 10:00, 12:00, 14:00 and 16:00 on the 31 January and 1 February, and 10:00 and 12:00 on the 2 February, to showcase Tesira's entire product platform, including hardware and software, partition features and AVB functionality. These sessions will give show attendees an opportunity to speak directly with Biamp's sales and technical team, and experience Tesira's robust features including unprecedented power, scalability and sound quality.
Tesira is an enterprise-wide solution made up of intelligent network modules that share and boost performance. It is equipped with modular scalable inputs and outputs, DSPs and networked end-points, providing system design capabilities for unlimited scenarios, including centralized, distributed and hybrid type applications. Integrators have the option of customizing Tesira with up to eight DSP cards (16 DSPs) in a single chassis with up to 420 by 420 audio channels over a scalable digital media backbone (AVB).
Tesira greatly improves programming efficiency by allowing for system configuration in a partitioned approach. Ideal for systems that require a higher level of scalability, partitions make it possible to configure, update or maintain distinct sections of a system without affecting those that are currently in use, and without having to reconfigure the entire system. Partitions also minimize the time spent redrawing and compiling.
Additionally, Tesira's advanced compiler automatically creates the digital audio transport connections and automated hardware specifications needed to complete a system design. This added level of design sophistication reduces the potential for costly errors, saving time and hardware costs.
Tesira will begin shipping on May 14, 2012. For more information on Tesira, please visit www.biamp.com/tesira.
About Biamp Systems
Biamp Systems is a leading provider of innovative, networked media systems that power the world's most sophisticated audio/video installations. The company is recognized worldwide for delivering high-quality products and backing each product with a commitment to exceptional customer service.
The award-winning Biamp product suite includes the Tesira® media system for digital audio networking, Audia® Digital Audio Platform, Nexia® digital signal processors, Sona™ AEC algorithm and Vocia® Networked Public Address and Voice Evacuation System. Each has its own specific feature set that can be customized and integrated in a wide range of applications, including corporate boardrooms, conference centers, performing arts venues, courtrooms, hospitals, transportation hubs, campuses and multi-building facilities.
Founded in 1976, Biamp is headquartered in Beaverton, Oregon, USA, with additional engineering operations in Brisbane, Australia. For more information on Biamp, please visit www.biamp.com.
Media Contact:
Josh Turner
Brands2Life
0207 592 1200
[email protected]


Copyright @ Marketwire
Page: 1
Related Keywords:
Biamp Systems, Sales, Applications, Shipping & Receiving, Sales & Marketing, Networking, Hardware, Sales, Sales, Pro AV, Post/Production, Presentors, Programming, Authoring/Programming, Business Issues, Presentation, Corporate/Company, USA, Australia, Marketwire, , AEC Attendees, Shipping,
---