Bestselling Author and Screenwriter Prepares His Memoir for the Big Screen
Andrews Leadership International, an Affiliate of Books That Will Enhance Your Life, Is Currently Developing Author John A. Andrews' Two Volume Autobiography as: "How I Raised Myself From Failure To Success in Hollywood"
(December 14, 2011)
HOLLYWOOD, CA -- (Marketwire) -- 12/14/11 -- Prolific, national bestselling author and screenwriter John A. Andrews, known for his twisted and gritty writing style in his hit title "Rude Buay ... The Unstoppable" and its upcoming first sequel "Rude Buay ... The Untouchable," is poised to turn his "True Hollywood Story" into a major motion picture. The newly released two volume bio: "Whose Woman Was She?" and "When The Dust Settles - I Am Still Standing" is expected to be encapsulated in the title: "How I Raised Myself From Failure To Success in Hollywood."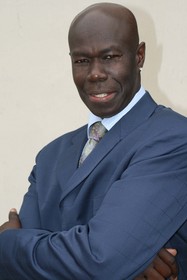 John Andrews, once a struggling actor, moved from New York to Hollywood in 1996 to pursue his acting career. With some early success Andrews excelled as a commercial actor landing several national TV campaigns. Then tragedy struck: a divorce in 2000, followed by a series of setbacks including near bankruptcy at his Hollywood modeling agency in 2002. His dream of becoming all he could be in Hollywood now took on nightmarish qualities.
In pursuit of a comeback, Andrews not only watched films but studied them. As a result, he fell in love with a 1970s classic film which he so badly wanted to remake. According to Andrews, "I made phone calls for almost three weeks to find out who held the rights to that film. Upon locating the studio, I was told that they were not willing to give up the rights. It was then that I decided to write my own and vowed that they would one day come begging me for my work."
Not knowing how to write, Andrews launched his vision, although it was circumvented by many failures including being told that he was a novice and writing was not for him. After writing multiple screenplays, he wrote his first book, "The 5 Steps To Changing Your Life," in 2007, and has since written and published over two dozen titles. He is on schedule to release three hard-hitting novels: "Rude Buay ... The Untouchable," "Cross Atlantic Fiasco" and "Who Shot The Sherriff" in 2012.
It is not often a story like this gets written, published and targeted for the big screen. Hollywood is constantly in search of true stories, especially those which inspire and motivate, since Will Smith played the role of Chris Carter in the 2006 epic "The Pursuit of Happyness." Intriguing stories which take others' excuses away have been almost non-existent on the big screen. John Andrews' account is a "main course" about beating the odds and a survival of the fittest Hollywood Story.
Rick Scott, founder of the James Mason Classic British Book Club, gave 5 stars to this thrilling, inspirational and motivational story.
Mark Burg, Producer of SAW and CEO of Twisted Pictures, had this to say about Andrews' autobiography: "Undeniably compelling... John A. Andrews' story is one of tremendous vision and determination. John has certainly taken away the excuses of many for their failure to rise in the world."
Andrews, like Sidney Poitier, is a son of the Caribbean soil, and is one of the producers of the two upcoming films in his "Rude Buay" series: "Rude Buay ... The Unstoppable" and "Rude Buay ... The Untouchable." These two films, part of a twin production, have entered pre-production and are expected to shoot in Puerto Rico, Jamaica and Hawaii next summer.
"How I Raised Myself from Failure to Success in Hollywood" is currently available in paperback according to its publisher Books That Will Enhance Your Life.
Image Available: http://www2.marketwire.com/mw/frame_mw?attachid=1831966

Add to Digg Bookmark with del.icio.us Add to Newsvine
Books That Will Enhance Your Life
Contact: 818-297-2189
Email: Email Contact


Copyright @ Marketwire
Page: 1
Related Keywords:
Books That Will Enhance Your Life, Camera/Film, Marketwire, , Film, Television,
---