Ben Franklin to Invest $330,873 in PA Technology Companies
(March 08, 2012)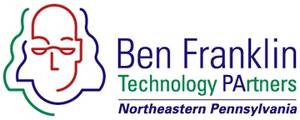 BETHLEHEM, PA -- (Marketwire) -- 03/08/12 -- The Ben Franklin Technology Partners of Northeastern Pennsylvania (BFTP/NEP) board approved the investment of $330,873 in regional companies. BFTP/NEP is an award-winning, state-funded economic development organization that links early-stage technology firms and established manufacturers with experts, universities, funding, and other resources to help them prosper through innovation.
Since beginning operation, BFTP/NEP has helped to create 14,922 new jobs and retain 21,358 existing jobs, to start 420 new companies, and to develop 1,017 new products and processes. Ben Franklin has returned $3.50 to Pennsylvania for every $1.00 invested in the program.
BFTP/NEP will invest in three early-stage technology firms:
Cernostics, Inc., Danville - $55,000
Validate a diagnostic and prognostic test that predicts the risk of developing esophageal cancer in patients with Barrett's Esophagus. The test employs a "spatial systems biology approach" to anatomic pathological testing, in contrast with the current pathology testing that is a largely manual and subjective process. Cernostics will continue further development of this molecular diagnostic test with biopsy specimens and clinical data from Geisinger Health System, Danville, in order to select and refine biomarkers and complete software development. Additional clinical validation studies will lead to commercialization of the test via Cernostics' clinical reference laboratory.
Taylored Building Solutions, LLC, Taylor - $60,000
Complete a computer program to manage the financial function of this manufacturer of high-end modular homes and components for traditional stick-built homes. With this investment, the company will also implement novel marketing and sales strategies.
XiGo Nanotools, Bethlehem - $50,000
Organize manufacturing policies and procedures to prepare for expanded sales at this manufacturer of Acorn Area™. The Acorn Area is a patented, shoebox-size device that rapidly measures the wetted surface area of nano-particles using magnetic resonance imaging technology. Nano-particles are minute; they typically have diameters that are 1/1,000th the diameter of a human hair. Measuring the wetted surface area of nano-particle directly relates to product performance in many industrial applications including energy, electronics, ceramics, and pharmaceuticals. Nanoparticle properties are key predictors of material performance, and currently there are no efficient methods to measure wetted nano-particle surface area.
BFTP/NEP announces the following established manufacturer company investments.
Bemis Polyethylene Packaging Division, West Hazleton - $7,454
With Penn State Hazleton, identify solutions which utilize waste heat streams to offset existing energy consumption at this manufacturer of flexible packaging for the bakery industry. The bakery packaging market is highly competitive. This investment will help Bemis to identify opportunities to reduce manufacturing costs.
Carpenter Technology Corporation, Reading - $50,000
With Northampton Community College, complete investigation of methods to recover waste heat from high-temperature exhaust streams at this producer of specialty cast-wrought and powder metallurgy and titanium alloys. Carpenter manufactures for niche applications in the automotive, aerospace, consumer products, energy, defense, industrial, and medical markets.
Hitachi Metals Automotive Components USA, Blossburg - $36,750
With Penn State, continue the development of a collagen-based core binder system that can displace the phenolic urethane and resin binders now used at this foundry. This binder system will reduce emissions and energy consumption, allowing this ductile iron caster to double production. Hitachi produces primarily for the automotive industry, and competes internationally.
Quadrant EPP, Scranton - $12,288
With Northampton Community College, complete assessment of a geothermal application that utilizes mine water as a method to reduce energy costs in Quadrant's manufacturing process. Quadrant produces engineered polymer products in sheets, rods, and tubes. The investment will allow the company to assess the feasibility of displacing the need for chilled process water using mechanical refrigeration with mine water as a coolant. Implementing this environmentally friendly process will enhance the company's profitability and competitiveness in its cost-sensitive market.
Palace Foods, Inc., Reading - $11,881
With Lehigh University, optimize and upgrade the current company facility to increase capacity and efficiency to meet increasing demand. Palace Foods manufactures Indian cuisine and ethnic specialty foods.
Simplex Homes, Inc., Scranton - $17,500
With Lehigh University, increase productivity and decrease production costs in order to enable sales growth in Simplex's line of energy-efficient modular homes. The company is a regional leader in high quality modular construction, and is positioning itself as an industry-leading builder of energy efficient homes. Simplex is involved in building a prototype Net Zero home that is both environmentally conscientious and economically prudent for homeowners.
Tobyhanna Army Depot, Tobyhanna - $30,000
Tobyhanna repairs circuit card assembly (CCA) of various older technologies including through-hole and surface-mount. With this investment and the help of Lehigh University, Tobyhanna will develop a new capability to test and repair all CCA technologies including fine-pitch surface-mount and ball grid array CCA within a new centralized CCA test and repair facility. This will significantly reduce energy costs on the base and allow Tobyhanna to greatly expand its capacity and workload. Tobyhanna is the U.S. Defense Department's recognized leader in the areas of automated test equipment, systems integration, and downsizing of electronic systems. With almost 5,500 employees, Tobyhanna is the largest employer in Monroe County.
Contact:
Laura S. Eppler
Director of Marketing
Phone: (610) 758-5237
e-mail: Email Contact


Copyright @ Marketwire
Page: 1
Related Keywords:
Ben Franklin, Ben Franklin Technology Partners, Seed Funding, Entrepreneurs, Manufacturers, USA,Marketwire, ,Financial,Lifestyle,Medical Technology,Medical,Computer Science,Cancer,Military,Other,
---