Beer Universe Announces Launch of Dynamic Widget
(March 29, 2011)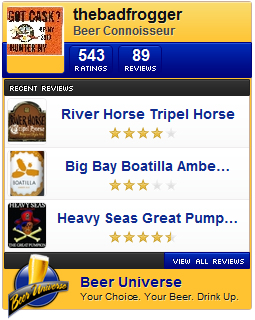 New York, NY (PRWEB) March 29, 2011
Beer Universe, Inc. (http://www.beer-universe.com), a leading online community / e-commerce website that revolutionizes the online experience for beer enthusiasts, today announced the launch of the Beer Universe Widget, which provides a dynamic stream of beers reviewed by individual users. The widget is readily available to all users through the member's area on Beer Universes website.
The Beer Universe widget is the fourth application developed by Beer Universe over the past year to help its users maximize their own personal beer experience. The launch of this widget follows the successful launches of its free iPhone news app, and its iPhone and Android apps that feature the Websites proprietary beer recommendation system, as well as unrestricted access to its huge database of beer profiles which users are able to explore, rate, and review. The Beer Universe widget was developed specifically for users personal websites, blogs, or iGoogle homepages.
Commenting on the launch, Co-Founder and President Heath Gray said, We are delighted to announce the launch of the Beer Universe widget, as it marks the fourth application developed by the Company to improve our users overall beer drinking experience.
Specifically, the Beer Universe widget streams the list of latest reviewed beers by an individual user. The widget is perfect for users who want to share their latest reviews with their friends through a personal website or blog. To help bloggers, Beer Universe has created a WordPress and Blogger plugin. Additionally, the widget integrates into iGoogle so that users can track their activity on their own iGoogle dashboard.
Marisa Ranalli, lead developer on the project, stated, Beer Universe encapsulates beer consumption from a social perspectivethe widget is our next step to help users easily share their reviews and Beer Universe activity with friends.
Related to the release of the widget, Beer Universe has also launched its new members area section. The new members area enhances users abilities to see beer recommendations; recently rated beers, bars and breweries; as well as featured products from Beer Universes universal store.
About Beer Universe
Beer Universe is a leading online community / e-commerce website that provides beer lovers with an enhanced online experience, complete with the one of the most comprehensive beer databases on the web, including profiles, user reviews and contact information, as well as a featured beer of the week, and a 'Universal Store' comprised of the best beer related products available on the web.
For more information, please visit http://www.beer-universe.com.
Apple, the Apple logo, iPod, and iTunes are trademarks of Apple Inc., registered in the U.S. and other countries. iPhone is a trademark of Apple Inc. iTunes is for legal or rightholder-authorized copying only. Don't steal music.
Android is a trademark of Google Inc. Use of this trademark is subject to Google Permissions.
# # #
Read the full story at http://www.prweb.com/releases/beeruniverse/widget/prweb5202144.htm.
Page: 1
Related Keywords:
computing and information technology, satellite technology, wireless technology, science and technology, technology (general), identification technology, agricultural research and technology, computer crime, society, internet, computing and information technology, satellite technology, wireless technology, science and technology, technology (general), identification technology, agricultural research and technology, mass media, news media, media, social security, social sciences, social issue, social issues (general), social conditions, social problems, social services, social conflict,
---