Battelle, Greif Work With Donna Karan to Preserve Haitian Art
International Fashion Designer Helps Artists From Haiti Who Use Steel Drums as a Medium
(February 01, 2012)

COLUMBUS, OH -- (Marketwire) -- 02/01/12 -- In the aftermath of 2010's devastating earthquake in Haiti, fashion and science are working together to restore hope. Battelle is working with Donna Karan, founder of the international fashion brand Donna Karan, to make life better for Haitian artists.
In late January, Karan and key members of her staff visited Battelle with officers of Columbus-based Greif, one of the world's premier industrial packaging manufacturers. They came to see the completion of work done by Battelle scientists who were able to expand the palette of options for Haitians by offering better coatings and integrating a larger variety of pigments into their artistic process.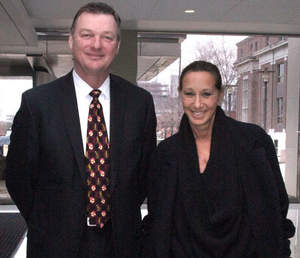 In addition to her world-famous fashion designs, Karan started the Urban Zen Foundation for the preservation of culture and the integration of healthcare and education. Inspired by the creativity of the Haitian people, Karan and her foundation championed the Haitian Artisan Project, which helps Haitian people create artwork and jewelry from steel drums. The art is sold in the United States and the profits go back to Haiti. As part of its working relationship with the Clinton Global Initiative, Greif has supplied 40 tons of steel drum lids to the artisans of Croix-des-Bouquets, Haiti, because their traditional supply of used steel drums was disrupted by the earthquake.
Because there's a risk of the steel artwork rusting or deteriorating, Karan called on Battelle's expertise in coatings. "Battelle worked with Greif to identify a durable coating for the art pieces," said Kathy Mitchell, a Principal Research Scientist at Battelle. "The coating will protect the artwork from corrosion and also create a matte finish that Donna desires. She came here with a very specific idea of the finish she wanted, and we were delighted that we could offer some options she liked and that would also be safe for the Haitian artists to use."
Kathy and Battelle Research Associate Kurt Bosworth combined their technical expertise with their personal interests to create the coating. Mitchell brought her expertise in ceramic art and Bosworth has experience working with the people of Haiti.
"This was an occasion where we saw the Battelle mission of 'science for the benefit of mankind' come to life," said Bosworth. "We're excited to be involved in this collaborative effort that helps the Haitian people and supports artisans."
Battelle also is working along with Greif on a project with another fashion icon, Joey Adler, the founder of Diesel Canada and the ONEXONE Foundation. Adler is building a green manufacturing facility and community for workers in Haiti and is consulting with Battelle and the National Renewable Energy Laboratory (which Battelle co-manages) to maximize the supply of renewable energy.
As the world's largest independent research and development organization, Battelle provides innovative solutions to the world's most pressing needs through its four global businesses: Laboratory Management; National Security; Health and Life Sciences; and Energy, Environment and Material Sciences. It advances scientific discovery and application by conducting $6.5 billion in global R&D annually through contract research, laboratory management and technology commercialization. Headquartered in Columbus, Ohio, Battelle oversees 22,000 employees in more than 130 locations worldwide, including seven national laboratories which Battelle manages or co-manages for the U.S. Department of Energy and the U.S. Department of Homeland Security and a nuclear energy lab in the United Kingdom.
Battelle also is one of the nation's leading charitable trusts focusing on societal and economic impact and actively supporting and promoting science, technology, engineering and mathematics (STEM) education.
Image Available: http://www2.marketwire.com/mw/frame_mw?attachid=1873185

Add to Digg Bookmark with del.icio.us Add to Newsvine
For more information contact
Katy Delaney
(614) 424-7208
Email Contact

T.R. Massey
(614) 424-5544
Email Contact


Copyright @ Marketwire
Page: 1
Related Keywords:
Donna Karan, Battelle, Haiti, science, innovation, coatings, Greif, Canada, USA, Marketwire, , Lifestyle, Environmental Technology, Green Technology, Geology, Mathematics, Science, england,
---