Badoo.com, the World's Largest Social Network for Meeting New People, Unveils Its First U.S. Advertising Campaign
Brings Social Discovery to the Masses With Innovative, Integrated "I Want" Campaign
(April 26, 2012)

NEW YORK, NY -- (Marketwire) -- 04/26/12 -- Badoo, the world's largest site for meeting new people and the fourth largest social network, is launching its first U.S. advertising campaign on April 26 as part of its official American launch. Entitled "I Want," and with a bold mix of offline, experiential treatments and digital elements, Badoo is focusing on bringing its message to a mainstream consumer audience.
Starting on April 26, Badoo will launch an outdoor advertising campaign within the New York area, which will run until the end of May, as well as a digital program that starts April 30. The campaign is the culmination of Badoo's launch into New York City, dubbed The Badoo Project, which saw more than 1,000 New Yorkers receive the ultimate online profile picture, and which was the largest public fashion shoot the city has ever seen.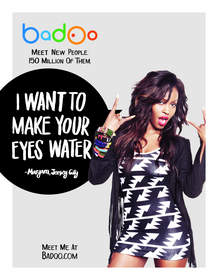 The campaign stars 26 finalists from The Badoo Project, who will have their profile picture transformed into various outdoor treatments, along with a cheeky and personalized "I Want" tagline, that reflects their individual personalities and signals what they are looking for when meeting new people. The "I want" taglines used in the new ads -- ranging from "I want to wake up in a strange city" to "I want a reason to hit snooze" -- were chosen by the finalists themselves.
The 26 finalists, who hail from all corners of New York, will appear on a mix of taxi-tops, subway cars, bus-shelters, painted wallscapes and phone kiosks around the city, as they star in the ultimate profile picture.
The digital campaign reflects and complements Badoo's outdoor launch in a fresh and humorous way. Three digital shorts have been created which explore the diversity of people and personalities on Badoo. They will appear on Zoom, panel and taxi TV, as well as YouTube, Facebook, Yahoo and other assorted consumer digital media, from April 30 through June 10.
The integrated mix of online and offline ad treatments used in the campaign aligns closely with Badoo's mission for its users -- giving people online and mobile tools that help them make new friends, and encourage them to meet up offline, for fun and new experiences. Badoo was a pioneer in helping people transform their social lives in this way -- a trend now called "social discovery" -- and wanted to communicate its core benefits through the campaign and in its bridging of the offline and online elements.
"Badoo is a very social, fun experience, and we wanted to bring that to life through the outdoor and digital campaigns," said Jessica Powell, CMO at Badoo. "Even though we might be considered a 'tech' brand by some, we're really about bringing people together in a very human way, and we felt the best way to do that was to use real people, who are genuinely interested in making new connections. The 26 people we used in the outdoor treatments all have a ton of personality and individuality, yet they all reflect a universal human need, which is to bond with other people. That's what Badoo is all about."
The creative agency responsible for the new campaign is Exposure America; the outdoor media agency is Macdonald and the digital media agency is KSL.
For more information, advertising imagery or interview requests with Jessica Powell (Badoo's CMO) or New Yorkers appearing in the new campaign, please contact Danielle Katz at Exposure on 516.641.1955 or Danielle.Katz@exposure.net.
About Badoo
Badoo.com is the world's largest Social Network for meeting new people. First launched in 2006, it is now one of the leading social networks in both Europe and South America, with more than 148 million registered users worldwide. The business is continuing to grow very fast with over 125,000 new users signing up every day and 35+ million unique users enjoying the service every month.
Badoo has become one of the top 65 most visited websites in the world (Google Ad Planner data) by providing a fun, useful service that works. Badoo is available to use in 40 different languages in over 180 countries worldwide. Badoo is for people age 18 and up.
Users create their own profile including where they want to meet new people, individuals can then chat with one another and choose to meet. Additionally, users may pay to be introduced to a larger number of people for their profile to be given more prominence on the site for a limited time.
Image Available: http://www2.marketwire.com/mw/frame_mw?attachid=1961662

For interviews and additional information, contact:
Danielle Katz
Exposure
516.641.1955
danielle.katz@exposure.net

Louise Thompson
Badoo
415.216.6759
louise.thompson@corp.badoo.com


Copyright @ Marketwire
Page: 1
Related Keywords:
Badoo, USA, Marketwire, , Television, Lifestyle, Business, Other,
---