BIO-key(R) International, Inc. & Indigo Identityware, Inc. Provide Strong Authentication Solutions for Healthcare
(July 23, 2012)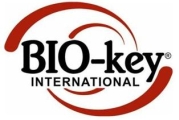 WALL, NJ -- (Marketwire) -- 07/23/12 -- BIO-key International, Inc. (OTCBB: BKYI), a global leader in fingerprint biometric identification solutions and advanced mobile identification technology, today reported Indigo Identityware and BIO-key have successfully implemented Indigo's Password-free Strong Authentication & Single Sign-On solution along with BIO-key's award winning fingerprint biometric software to access electronic medical records for a variety of healthcare providers.
"BIO-key relies upon partnerships to expand our business and the partnership with Indigo shows tremendous promise," said Mike DePasquale, CEO of BIO-key. "Indigo offers comprehensive authentication and single sign-on solutions and our finger biometric technology is the perfect complement. Healthcare providers use Indigo's healthcare software for fast access to medical records with BIO-key's integrated biometrics for security and convenience," added DePasquale.
BIO-key's technology, which already has a strong presence in hospitals, blood centers and eye care centers, is now being utilized in two additional healthcare specialties. Upon integrating BIO-key technology at Central Minnesota NeuroSciences and Twin Cities Orthopedics, the company continues to expand its footprint in healthcare.
To date, Indigo and BIO-key have partnered to provide advanced technology solutions for secure and compliant access to electronic medical records systems at Lifelong Medical, Summit Orthopedics, Midwest Eye Care, Mille Lacs Health Systems, and many others.
"BIO-key's biometric algorithm is fast, accurate, and seamlessly integrates into Indigo's Strong Authentication and SSO solutions. We have enjoyed years of consistent success together and the healthcare opportunities for biometric authentication are increasing," stated Terry Banbury, Indigo's Vice President of Sales & Client Services.
About Indigo Identityware
Indigo Identityware, a leader in the identity and access management industry, distinguishes itself by providing password-free mobile and virtual strong authentication. Indigo's software-only architecture was built from the ground up for mobile, virtual and clinical cloud computing. This differentiates Indigo from all other identity management solutions. Indigo's solution works in any virtual environment and has been certified as Citrix Ready. Its flexible design supports multiple strong authentication methods, including next-generation biometrics, providing users with secure and fast access to information. Indigo's software-only solution increases workflow productivity while helping customers ensure regulatory compliance.
About BIO-key
BIO-key International, Inc., headquartered in Wall, New Jersey, develops and delivers advanced identification solutions to commercial and government enterprises, integrators, and custom application developers. BIO-key's award winning, high performance, scalable, cost-effective and easy-to-deploy biometric finger identification technology accurately identifies and authenticates users of wireless and enterprise applications. Our solutions are used in local embedded OEM products as well as some of the world's largest identification deployments to improve security, guarantee identity, and help reduce identity theft. BIO-key's technology is offered directly or by market leading partners around the world. (http://www.bio-key.com)
BIO-key Safe Harbor Statement
Certain statements contained in this press release may be construed as "forward-looking statements" as defined in the Private Securities Litigation Reform Act of 1995 (the "Act"). The words "estimate," "project," "intends," "expects," "anticipates," "believes" and similar expressions are intended to identify forward-looking statements. Such forward-looking statements are made based on management's beliefs, as well as assumptions made by, and information currently available to, management pursuant to the "safe-harbor" provisions of the Act. These statements are subject to certain risks and uncertainties that may cause actual results to differ materially from those projected on the basis of these statements. These risks and uncertainties include, without limitation, our history of losses and limited revenue, our ability to develop new products and evolve existing ones, the impact on our business of the recent financial crisis in the global capital markets and negative global economic trends, and our ability to attract and retain key personnel. For a more complete description of these and other risk factors that may affect the future performance of BIO-key International, Inc., see "Risk Factors" in the Company's Annual Report on Form 10-K for the year ended December 31, 2011 and its other filings with the Securities and Exchange Commission. Readers are cautioned not to place undue reliance on these forward-looking statements, which speak only as of the date made. The Company also undertakes no obligation to disclose any revision to these forward-looking statements to reflect events or circumstances after the date made or to reflect the occurrence of unanticipated events.
Contacts:
BIO-key International, Inc.
Scott Mahnken
732-359-1113


Copyright @ Marketwire
Page: 1
Related Keywords:
BIO-key International, Inc., Sales, Applications, Sales & Marketing, Productivity Applications, Security, Software Development, Cloud Computing, Other Applications, Authentication, Access Management, Authentication, Biometrics, Management, Sales, CEO/CFO, Sales, Marketwire, Inc., IT (Information Technology), Enterprise Applications, Financial, Business, Other,
---