BAM Strategy's Innovative User Experience Lab on the Cutting-Edge of Usability Testing
Leading digital marketing agency's clients benefit from user-experience research
(May 01, 2012)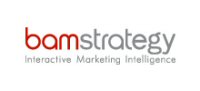 MONTREAL, QUEBEC -- (Marketwire) -- 05/01/12 -- Imagine if you knew how your clients would react to your website before spending the resources on launching it live to the world. Leading digital marketing agency BAM Strategy is now giving clients that unique opportunity with the launch of its innovative User Experience (UX) Lab.
"We are very proud to be among the pioneers in the field of usability testing. We strongly believe that perfecting the right consumer experience is essential for any website and the UX Lab will ensure that we can do that for our clients," said BAM Strategy President Chris Emergui. "The creation of the lab will allow us to significantly improve the usability of the sites that we develop, providing our clients with the highest-quality finished product."
On the cutting-edge, the UX Lab uses recording equipment, cameras, computers and other tools to discreetly monitor and analyze users real reactions, expressions and behaviours while visiting a website on a computer or mobile device. BAM Strategy's marketing experts will follow scientific methodology to understand this user-experience research, and then will use that information to provide specific recommendations to improve the usability and performance of the site.
"Usability labs have proven over and over that there is a real difference between what users say and what they actually do. With our UX Lab, we will benefit from crucial information that was difficult for us to get before. This knowledge will allow us to greatly improve the user-experience on our products and services," said Calin Birlean, BAM Strategy's Director of Production and Technology, who raised the idea of creating the user experience lab. "The information we obtain from our analysis will be implemented before the product development, ensuring efficiency and success of our clients' marketing strategies. The User Experience Lab is really just an extension of the innovative and industry-leading digital marketing services BAM has always provided to our clients."
For more information on BAM Strategy's digital marketing services and the new UX Lab, please contact Jon Selig at (514) 875-1500 x263.
About BAM Strategy
BAM Strategy is a full-service digital marketing agency located in the heart of Montreal's Old Port. With brand name clients including CoverGirl, Heinz, Gillette, Herbal Essences, Reebok/CCM, Catelli and Mead Johnson Nutrition, BAM Strategy helps companies embrace emerging technologies and leverage their social power to directly reach and connect with their audience. BAM's expertise includes and extends beyond website design, contests, newsletters, eBlasts, Facebook apps, media buying and banners. For more information, please visit www.bamstrategy.com.
Contacts:
Adam Muscott
BAM Strategy
(514) 875-1500


Copyright @ Marketwire
Page: 1
Related Keywords:
BAM Strategy , Marketwire, , Marketing Services, Other,
---